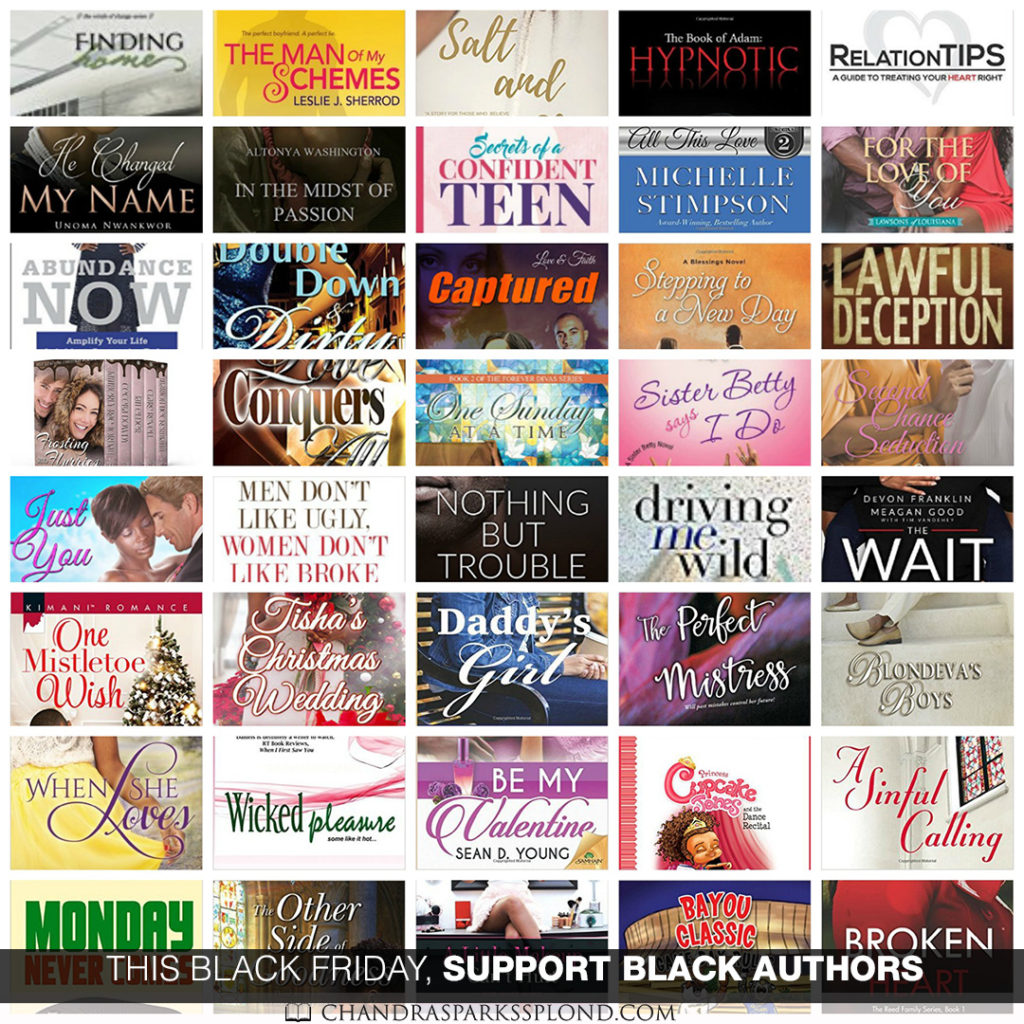 It's no secret I love books, and I am just as passionate about promoting authors who write stories about people who look like me. For me, it's been a year filled with great books and great author interviews. If you're looking for books to purchase this holiday season, check out the latest titles—and my interviews—of some amazing authors.

Please note this post contains affiliate links.
Kids
Princess Cupcake Jones and the Dance Recital by Ylleya Fields
Follow Princess Cupcake Jones as she learns that determination and practice bring positive results and surprises.
Bayou Classic Game Day Rules by Sherri Graves Smith
Learn good sportsmanship while exploring the rivalry of Grambling State and Southern University.
You've Gotta Have Faith by Chandra Sparks Splond
Ten-year-old Destini Daniels is finally going to get adopted…or is she?
Young Adult
Secrets of a Confident Teen by Dr. Joyvina Evans
This devotional is designed to help teenage girls learn to face their everyday challenges with godly confidence.
Make It Work by Chandra Sparks Splond
Sixteen-year-old Reagan Davis has landed an internship at the hottest radio station in town. This summer, she's determined to make it work.
Daddy's Girl by Jacquelin Thomas
Madison was her daddy's whole world until the day he left her mother for another woman. Will this experience leave Madison forever changed?
Fiction
Finding Home by Stacy Hawkins Adams
What happens when you find yourself so desperate to succeed that anything goes?
Driving Me Wild by Maria Benson and A.L. Ford
In a dating scene full of well-educated, ambitious, and attractive players, is the "terminally single" woman her own worst enemy?
The Perfect Mistress by ReShonda Tate Billingsley
The daughter of an adulterous father deals with the long-rippling effects of his actions in her own love life.

The Book of Adam: Hypnotic by Iris Bolling
What happens when two geniuses meet? Their lives collide and the world literally becomes a dangerous place.
Wicked Pleasure by Angie Daniels
The last person office manager Kingsley Walker expects to slam into is Charlie Batum…
Sister Betty Says I Do by Pat G'Orge-Walker
For Sister Betty, the marriage proposal from trustee Freddie Noel is a once-in-a-lifetime surprise blessing.
The Other Side of Goodness by Vanessa Davis Griggs
Like Lawrence Rudolph Simmons, Gabrielle Mercedes will fight for what she wants, even if it means the truth could ruin someone else's life and career….

Love Conquers All by Lisa Dumas Harris
Lynn Williams, a successful day care owner is devastated by an unexpected health issue.
Captured by Terri J. Haynes
Will Savannah and Will's decisions, past and present, bring them love and safety or will they lose everything, including their lives?
Salt and Sky by Norma Jarrett
Two women bound to one powerful family by the same generational sin.
Stepping to a New Day by Beverly Jenkins
In Henry Adams, Kansas, you can't start over without stirring things up . . .
One Sunday at a Time by E.N. Joy
In this soap opera in print, the main character, Deborah, asks herself, "What does crazy look like?"

Double Down and Dirty by L.A. Lewis
Jade Bordeaux escaped her Southern Baptist family and moved to New York because they would never respect the choices she made or the secret she kept.
When She Loves by Tia McCollors et al
A collection of short stories from the bestselling authors you love and an introduction to the works of six new literary voices.
Broken Heart by Tyora Moody
How can Detective Josephine "Jo" Reed-Powell keep her mind on finding a killer when her life is falling apart?
Blondeva's Boys by Kendra Norman
In the fictitious small town of Nona, Alabama, Blondeva Turner is known for three things: her bluntness, her baking, and her boys.
He Changed My Name by Unoma Nwankwor 
Ayanti "Yanni" Effiong enters and wins The Next World Star. Apart from fulfilling her dream, her move to America offers the perfect opportunity to help young female immigrants.
Tell Me Lies by Michelle Lindo-Rice
A marriage on the rocks, a wedding in the works, and the woman who will change all their lives.
A Sinful Calling by Kimberla Lawson Roby
Dillon hadn't been called by anyone. He'd called himself and he wasn't ashamed of it. But no good can come from . . . A SINFUL CALLING
The Man of My Schemes by Leslie Sherrod
Having a fake boyfriend comes with a real price.

All This Love by Michelle Stimpson
Knox meets a stranger who just might change his mind about his future.

Nothing but Trouble by Tiffany L. Warren
In the thrilling conclusion of the Shady Falls series, Yolanda Rivers is at a breaking point.
Lawful Deception by Pamela Samuels Young
As the two lawyers go head-to-head, their legal battle quickly escalates from merely contentious to downright deadly.
Romance
One Mistletoe Wish by A.C. Arthur
Grayson Taylor is putting sexy visions in schoolteacher Morgan Hill's head.
Tisha's Christmas Wedding by Janice Dennie
As Tisha Underwood's wedding date approaches what else could go wrong?
Sugar and Spice (from the Frosting and Flurries series) by Cecelia Dowdy
Can Sheila Parks learn to trust a man who looks just like her ex?
For the Love of You by Donna Hill
He has never found the right woman…until now.
Just You by Marcia King-Gamble
Divorced, single parent, Juliette Sanders desperately needs to find a match for her ailing daughter, Halle.
Second-Chance Seduction by Monica Richardson
It may take the threat of losing everything to see just how wonderful love's rewards can truly be…
In the Midst of Passion by AlTonya Washington
To protect the woman he loves, Alex may have to submit to his relentless ghosts and kill again.
Be My Valentine by Sean D. Young
Warning: Contains a driven businesswoman so close to success she can smell it.
Self-Help
Men Don't Like Ugly, Women Don't Like Broke by Angela Benson
Angela Benson helps women get inside their own hearts to discover what they really want in a life partner.

The Wait by Meagan Good and DeVon Franklin
Hollywood power couple candidly shares about their courtship and marriage, and the key to their success—waiting.
Abundance Now by Lisa Nichols
New York Times bestselling author shares her journey from scarcity to abundance.
A Little Makeup Can't Hurt by Kym Nicole Oubre
Learn how a little makeup helped improve the author's confidence and self-worth.

Monday Never Comes by Liana Sims
It's more than a weight loss journey. Monday Never Comes is a story of triumph and victory in the face of what seemed impossible.
RelationTips by Anthony D. Sparks
Filled with raw truth, this book gets to the heart of who you are and who you love.