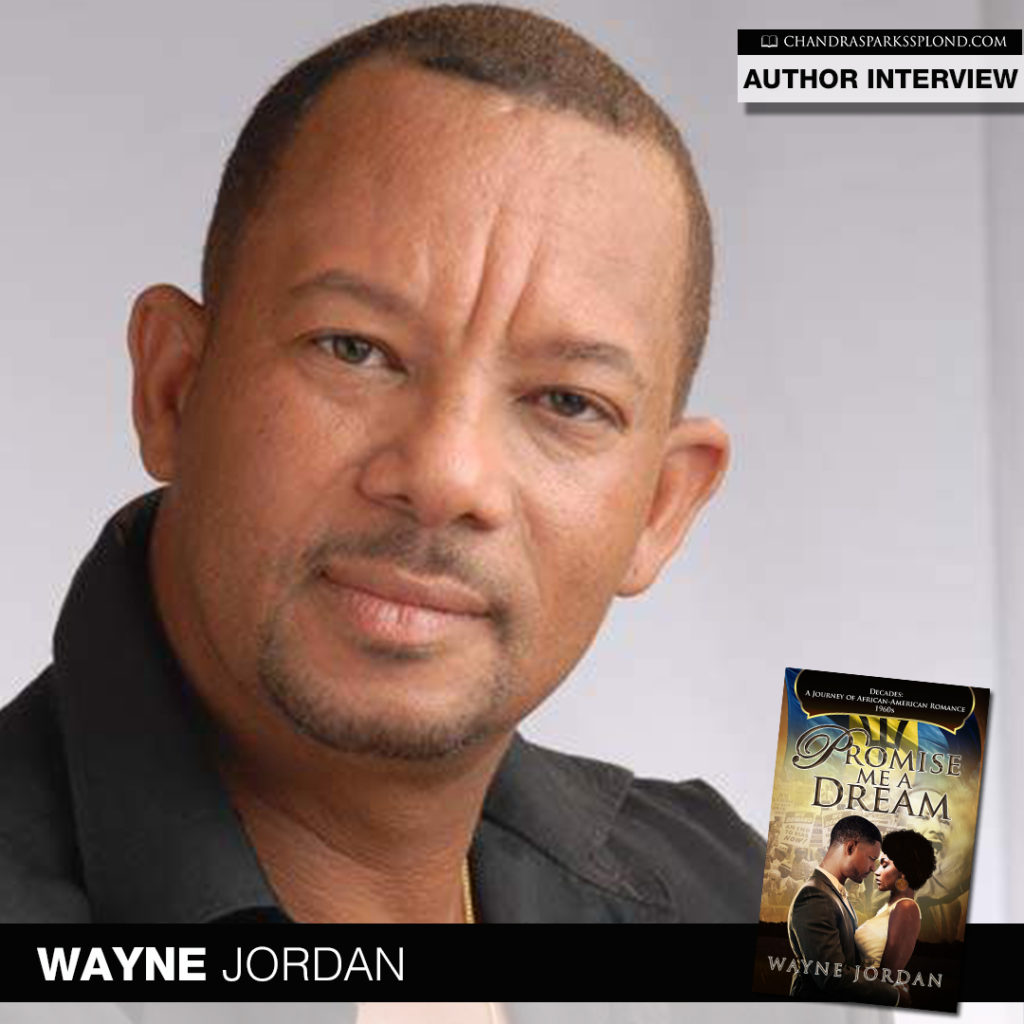 Teacher and author Wayne Jordan is here today to discuss his contribution to the yearlong Decades project, Promise Me a Dream.
Tell me about your latest book.
Promise Me a Dream is the seventh book in the Decades: A Journey of African American Romance series.  Each story is set in a decade between the 1900s and 2010s. My story is set in the 1960s and will be released in July 2018. Here is the cover blurb:
Chandra Williams's dream of becoming an actress carries her from her home on Barbados to the bright lights of Broadway. But it's the 1960s, and her goal of gracing the stage is obstructed by the limited opportunities for black actresses. Driven to help end discrimination and inequality, Chandra joins the Civil Rights movement.
Joel Donovan doesn't understand the need for the Civil Rights movement. His life of privilege has sheltered him from the struggles of the black community. However, he's intrigued by the courage and commitment of the beautiful immigrant from Barbados. Their attraction is immediate and powerful, and Joel is persuaded to join the movement.
When their efforts result in Joel's freedom being challenged, Chandra gives him her unwavering support, but can their growing love survive the racial tensions and conflicts of the times?
Why did you decide to write it?
I wanted to highlight the African American Experience during that decade. Along with that, I wanted to explore the diaspora, the movement of black from the West Indies to the US.  Many West Indians, Barbadians included, emigrated to the US to find better lives.
What do you want readers to learn from the story?
About their history and the importance of the Civil Right Movement and Martin Luther King Jr. I wanted them to see the struggle and fight that took place for us to achieve "equality."
What do you want readers to learn from your life?
Since I am currently recovering from a stroke, I have a difference perspective on life. (1) Live life to the fullest (2) avoid stress and (3) focus on realizing your dreams.
Who is your favorite author and why?
I would have to say Beverly Jenkins. I particularly love her historical books. I learn so much about the history of black people for her books. Along with that I get an excellent story.  And James Patterson – No one does suspense as well. Alex Cross and Michael Bennett are two of my favorite series.
What's next for you?
I'm going to be releasing a book originally for Kimani Romance called Promise Me Forever and then I want to rerelease two novellas and a short story I wrote in a three-in-one volume.
Do you have anything you would like to add?
I want readers to embrace diversity and support black authors.
To learn more about Wayne Jordan, visit his website, email him or connect with him on Facebook.