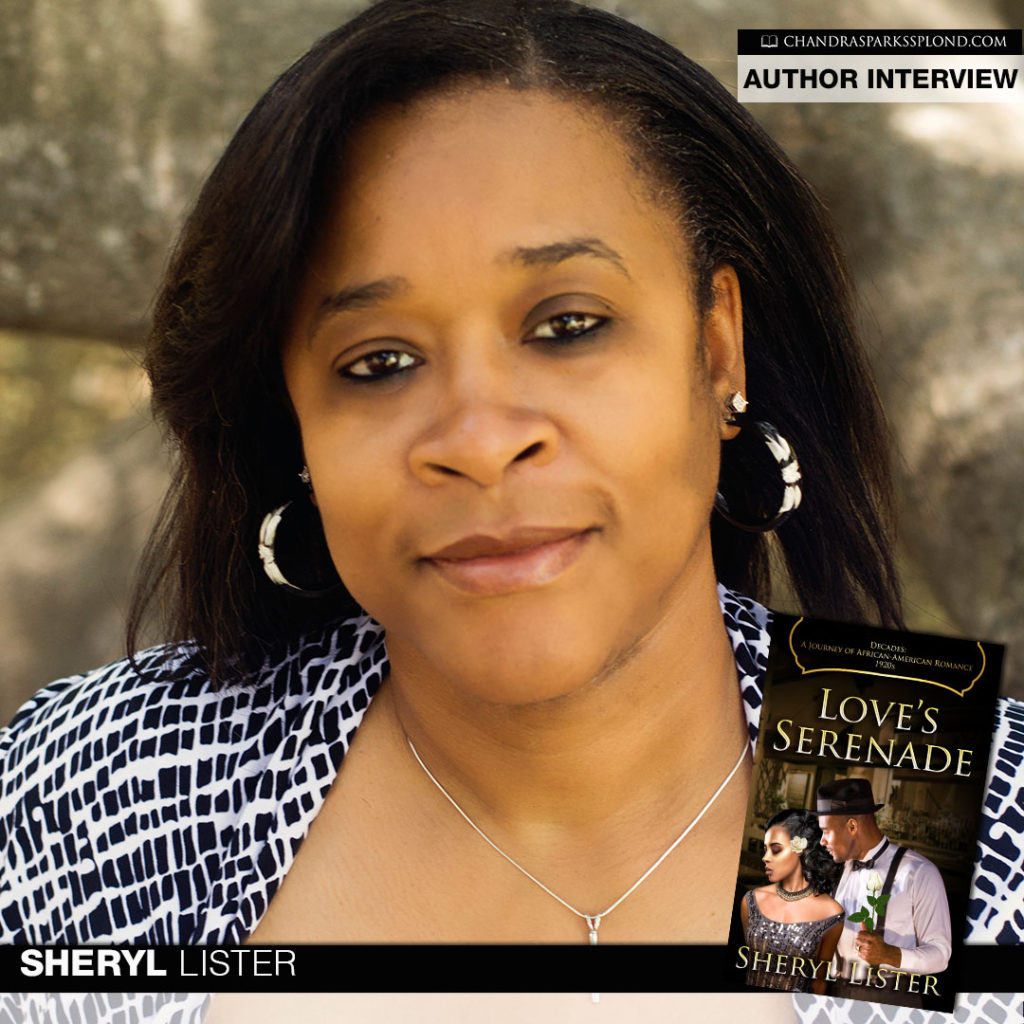 Sheryl Lister knows there's nothing better than love. I recently spoke with her about the latest installment of the Decades series, Love's Serenade.
Tell me about Love's Serenade.
Love's Serenade is the third book in the Decades: A Journey of African American Romance series. This series consists of 12 books, each set in one of 12 decades between 1900 and 2010.  Each story focuses on the romance between African-American protagonists, but also embraces the African American experience within that decade. Join the journey on our Facebook page.
A little about Love's Serenade…
Escaping an arranged marriage, Leigh Jones flees her southern hometown for Harlem's vibrant jazz scene to pursue her dream of becoming a singer. She finds more than she expected, namely Miles Cooper. The smooth-talking musician walked out on her three years ago, taking her music and her heart with him. Leigh has no intentions of falling for Miles or his charms again, until he tempts her with the one thing she can't resist: a recording contract. But when her past comes calling, she realizes Miles is the one person who can save her from a man who won't take no for an answer.
Miles isn't one for putting down roots or staying in one place for longer than a season. Yet, memories of Leigh's sultry voice, beauty and sass make him long for the life and love he forfeited. Having walked away once, but never again, Miles sets out to prove he's a changed man willing to go to any lengths to protect his woman. He's determined to show Leigh, one passionate note at a time that the music they make together will last a lifetime.
Why did you decide to write it?
I am a music lover and have always been fascinated with the history of jazz and blues. I naturally gravitated to 1920s Harlem because I was intrigued by the Harlem Renaissance (known then as the New Negro Movement). It was a time of cultural rebirth via the arts and music where African Americans sought to create a new sense of identity and pride.
What do you want readers to learn from the story?
First and foremost, I want readers to see and feel the love between Miles and Leigh. I also want them to experience the vibrancy of 1920s Harlem and the determination of the heroine to pursue her dreams at a time when society still thought of women as second-class citizens.
What do you want people to learn from your life?
From my life, I'd like people to learn that it is never too late to pursue your dreams. Though it took me over two decades to start this writing journey, I wouldn't change a thing.
Who is your favorite established author and why?
This is a tough question because I have so many favorites. But I'll say Beverly Jenkins because her ability to infuse history within her love stories makes me feel like I'm there. Also, not only is she a fabulous author, she is a gracious and selfless person.
What's next for Sheryl Lister?
Coming in April is the final book in The Grays of Los Angeles series, Still Loving You. It features Malcolm Gray, the youngest brother (and twin to Morgan). When the pro football running back finds out the new dietitian hired for his team is the college sweetheart who broke his heart, things will get a little heated…in more ways than one.
Do you have anything you would like to add?
I'd just like to take time to thank you for having me, Chandra. I wish you continued success!
Connect with Sheryl Lister via her website or social media.
Website:  www.sheryllister.com
Facebook:  www.facebook.com/sheryllisterauthor
Twitter:  https://twitter.com/1Slynne
Instagram:  sheryllister