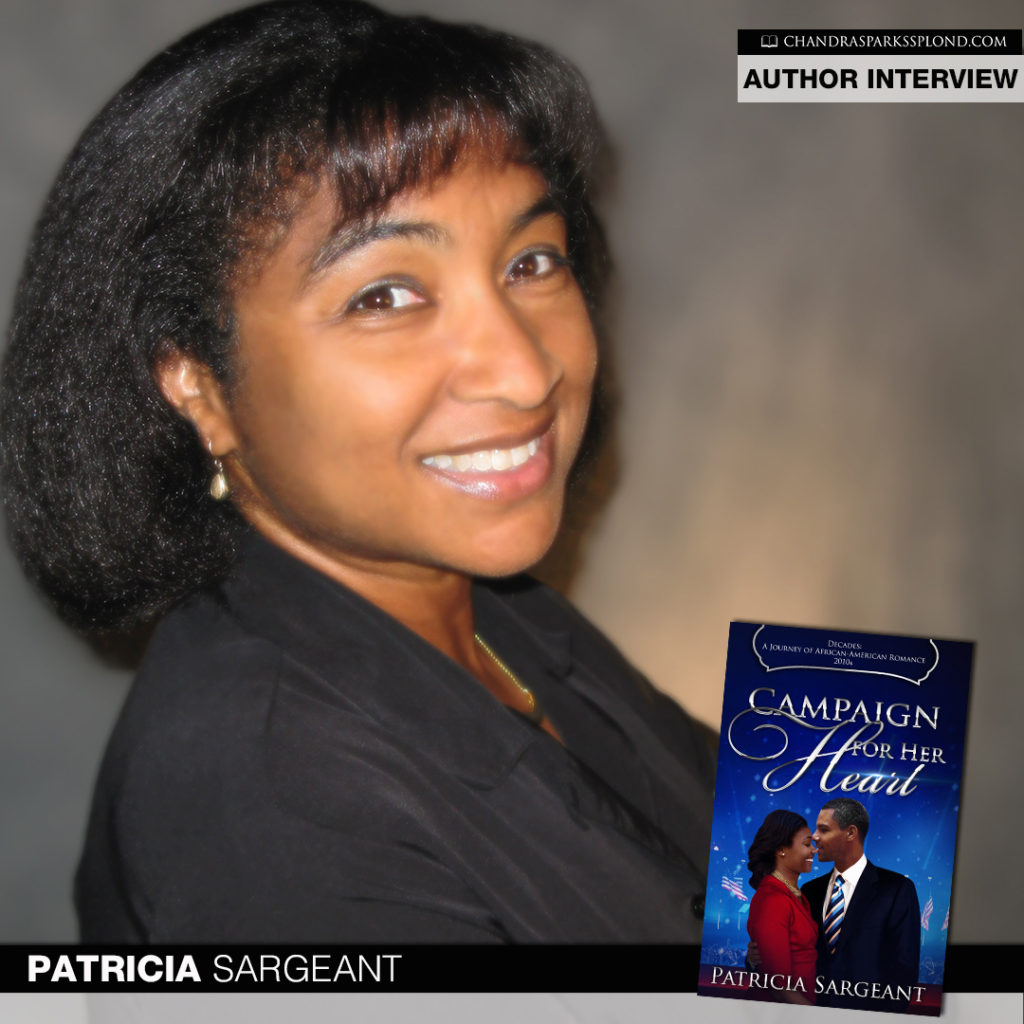 All good things must come to an end.
Today I'm interviewing Patricia Sargeant about Campaign for Her Heart, the final book in the yearlong Decades: A Journey of African American Romance series.
Tell me about your latest book.
Hi Chandra. Thank you so much for the opportunity to chat with you and your community about Campaign for Her Heart, book 12 of the Decades: A Journey of African American Romance.
Campaign for Her Heart is set in the 2010s, specifically 2012. As you know, Decades puts the spotlight on major events that occurred in the United States during each of the 12 decades from the 1900s to the 2010s. My event is set around the murder of Trayvon Martin by George Zimmerman on Feb. 26, 2012. My heroine, Gwen Taylor, is a member of a community activist organization. Trayvon Martin's murder makes her confront the murder of unarmed black and brown men, women and children with even greater urgency. When her incumbent U.S. senator refuses to even meet with her group to discuss racial profiling and community policing, Gwen decides to challenge the senator in the upcoming election for his seat. My hero, Noah Barrow, is the incumbent senator's campaign manager. When his boss demands that Noah run a smear campaign against Gwen, Noah is forced to choose between his career and his principles.
Why did you decide to write it?
I was thrilled when author Wayne Adrian Jordan invited me to participate in this series, which I view as not only a celebration of black love, but also a celebration of black courage. It gave me a platform to show that history is cyclical. If we don't know our history, if we don't hold our public servants accountable, we will be forced to relive our history—good, bad and indifferent.
What do you want readers to learn from the story?
I would be thrilled beyond measure if the story inspires readers to be even more vigilant in holding our public servants accountable, to be even more well-informed voters and to stay engaged with current events. Voting matters. People—men, women and children—died for our right to vote. Honor their ultimate sacrifice by being informed voters.
What do you want readers to learn from your life?
You know, Chandra, in the past, this question scared me. Seriously. Ha! But I had an epiphany this time. I would like readers to realize that they should never give up on their dreams. It took me 15 years to get my first publishing contract. Now, I'm getting ready to share my 20th novel, Campaign for Her Heart, and I'm telling stories that really, really matter to me. So, don't give up on your dreams. Don't set a time limit on them. They will take as long as they take. But one thing is certain, if you give up on your dreams, they will never come true.
Who is your favorite author and why?
I must respectfully skip this question, please. I have so many very favorite authors and the list grows each month. It would break my heart if I left anyone off the list. And some people might even go so far as to give me the side eye. Ha!
What's next for you?
We've already chatted about my excitement over my December 2018 Decades release, Campaign for Her Heart. It will be available for preorder early November 2018. And I am wildly excited about 2019, which kicks off with the release of Alibis & Angels: A Sister Lou Mystery in March 2019. Alibis & Angels is the third cozy mystery in my Sister Lou Mystery series, which I write as Olivia Matthews.
Do you have anything you would like to add?
Yes, please, I do have a couple of things to add. I'd like to thank Wayne Adrian Jordan for conceiving of the Decades: A Journey of African American Romance series and for inviting me to participate. I'd also like to thank all of the readers who've supported and encouraged this project. Thank you for keeping us lifted and inspired.
And I'd like to give you, Chandra, a very special thank you for helping us spread the word about this celebration of black love and black courage. Huge hugs!!!
Campaign for Her Heart by Patricia Sargeant is the 12th book in the Decades: A Journey of African American Romance series. This series consists of 12 books, each set in one of 12 decades between 1900 and 2010. Each story focuses on the romance between African-American protagonists, but also embraces the African-American experience within that decade. Campaign for Her Heart takes place in the 2010s. Join the journey on our Facebook page.
To learn more about Patricia Sargeant, visit her website, her Facebook page or follow her on Twitter (@BooksByPatricia).