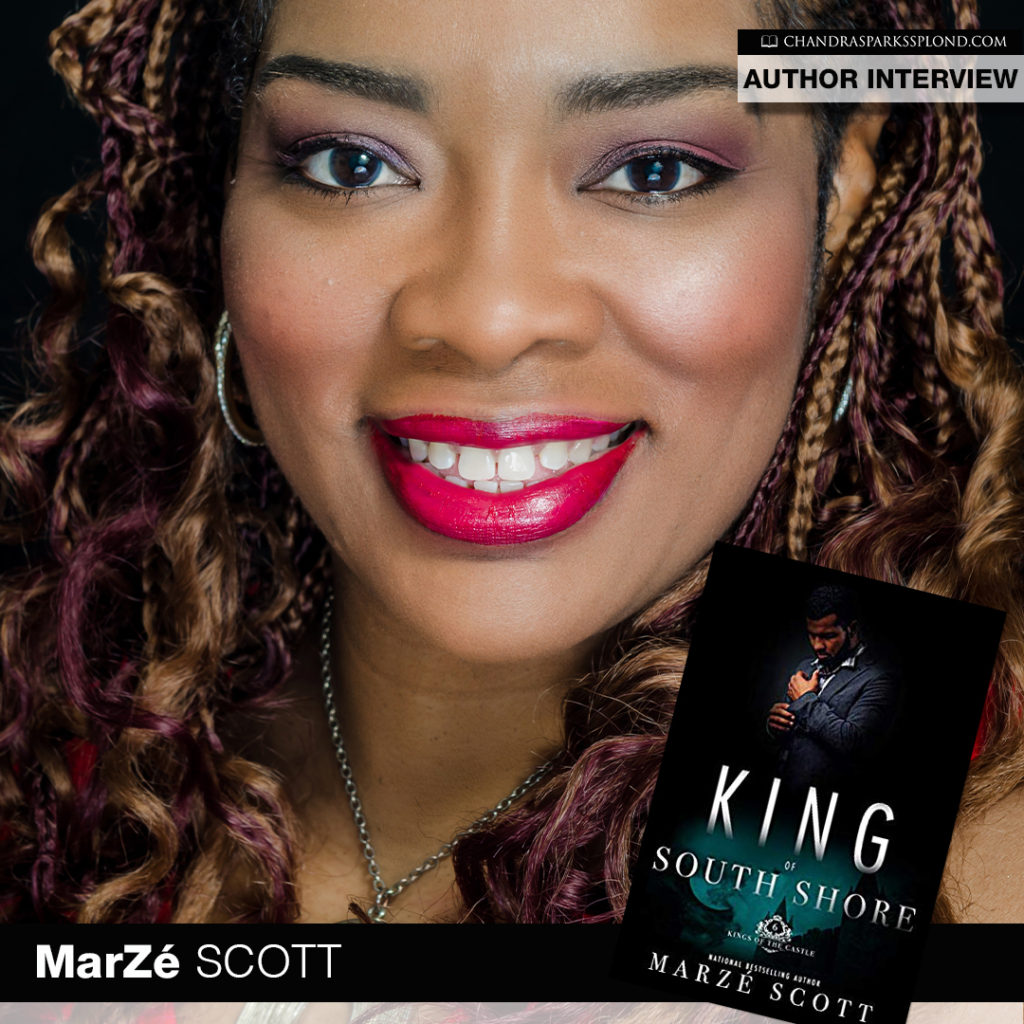 National bestselling author MarZé Scott is keeping things real with her contribution to the Kings of the Castle series. I recently spoke with her about King of South Shore.
Tell me about your latest book.
My latest work is King of South Shore, Book 6 of Kings of the Castle. The main character of the story is real estate developer, Kaleb Valentine. Even though he attended the same high school as the other kings, he was an outsider to the group. After the tragic loss of his father, Kaleb was sent away to live with family members in Detroit to escape the criminal elements he had become involved in.  There, he was encouraged and succeeded in getting back on the right path. Partnering with his cousin, Zephyr Gray, he developed an award-winning business, but one investment property back in his hometown quickly sweeps him back into a lifestyle he thought was long forgotten and puts him and his family in danger.
Why did you decide to write it?
Naleighna Kai, the mastermind of this project, invited me to write for this series. I loved the concept and so I was more than excited to participate. She edited my first work of fiction, Gemini Rising, and it debuted to rave reviews.
What do you want readers to learn from the story?
The King of South Shore is a story about a healing—healing from one's past issues, healing relationships, and healing communities. I'd like for my readers to understand Kaleb as a man who was accomplished in his career, but that was it. He wasn't successful in love, and his trust issues halted relationships outside of family. This is due in part to him not addressing the problems of his past. Kaleb has to take an inventory on his decisions and consider how they've affected his life and the lives of others. Facing one's fears and fleshing out one's motivations is important to living your healthiest best life.
If you could pick another profession, what would it be and why?
The choices are abundant, so it's hard for me to say which profession I'd retire from because I'm an artist. I love to create. I'd love to be a makeup artist, a fashion designer, a muralist. I would act/produce/direct. I've always wanted to entertain and always have ideas for television series. I love kids, and at one time wanted to open my own school that focused on the arts. So many options, so little time.
What's the best part of being an author? 
The best part of being an author is the power and liberty to create people and worlds. I'm often inspired by people I meet or read about and sometimes questions arise, especially when a problem is presented at the same time as the individual. My first novel, Gemini Rising, was inspired by a young woman who was involved in the sex trade and was convicted for murdering a client. So, I wrote a story with a different outcome. I changed the environment she was raised in, the reason for her involvement in the activity, and the steps she took to get to an alternate end.
What's the worst part of being an author?
There really isn't a bad part of being an author to me. The cost of editing and marketing as a self-published author can be daunting, but otherwise I love being an author.
What's next for you?
More writing. More traveling. More book club meetings. More of living my best life.
Do you have anything you would like to add?
Thank you so much for the opportunity to share your world. You are appreciated beyond measure. For the readers, I'd love for them to pick up my debut novel, Gemini Rising.
About Gemini Rising: Aisha couldn't have known how much her existence would change the summer before her tenth birthday. Her family, and life as she knew it, was turned upside down after a tragic accident that left her an only child to her widowed mother. A family secret and an arrangement sent her two hundred fifty miles from her home only to be given into the hands of her treacherous new guardian, Angel. A new identity and routine were given in exchange for her freedom—Gemini was born.
Twelve years later, Gemini has secrets of her own that she needs to keep from her coworkers at the accounting firm of McFadden and Tate and Zephyr Gray, a top executive at the company. Gemini fights to keep her attraction for Zephyr hidden, but a turn of events uncovers her feelings and her secret. Now, she has to figure out how to reclaim her freedom without getting herself or Zephyr, killed.
Use my affiliate link to purchase The King of South Shore and Gemini Rising.
To learn more about national bestselling author MarZé Scott, connect with her on social media.
Facebook: https://www.facebook.com/marzefabulous
Instagram: @marze_fab
Twitter: @marzefab