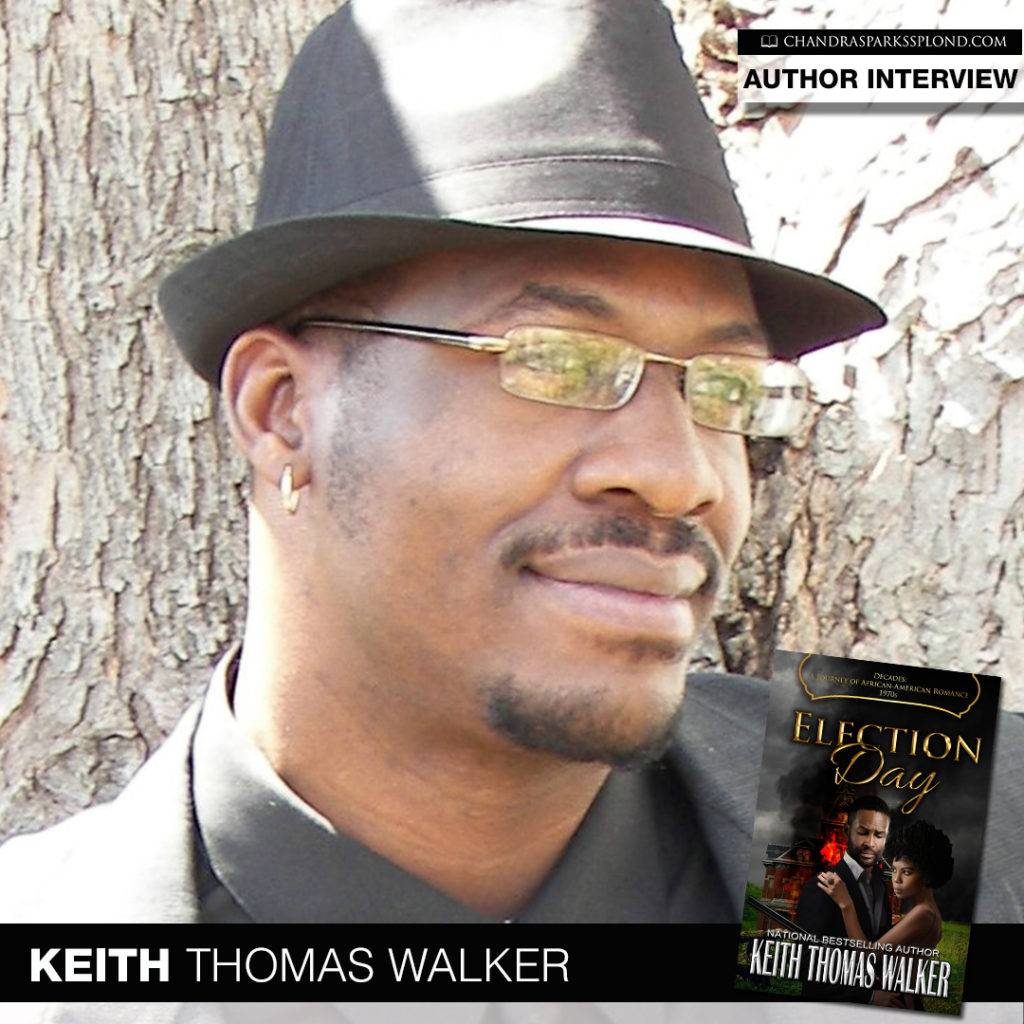 What a day, what a day here at the Book of Splond. Today, I'm interviewing Keith Thomas Walker about his book Election Day, the latest installment of the Decades project.

Tell me about your latest book, Election Day.
Election Day is my first historical romance, and I'm very excited about it.  Had a lot of fun producing it.  Here's the blurb:  Despite legal efforts to integrate schools, black students continue to struggle with separate and unequal environments in 1970.  Leo Davis, an ambitious mayoral candidate, seeks to close a dark chapter in Overbrook Meadows' history, but the opposition is fierce.  Falling for his campaign manager was never part of the plan.  Leo and Carla must fight for their love, their safety, and the future of their beloved city.
Why did you decide to write it?
The Decades series wasn't my idea.  One of my peers, Wayne Jordan, reached out to me and asked if it wanted to be a part of this awesome endeavor.  When he told me what it would entail, I was all for it.  One of my favorite authors is Beverly Jenkins.  I've always wanted to try my hand at a historical romance, and this was the perfect opportunity.
What do you want readers to learn from the story?
Well, as with all of my books, the main thing I want is for the reader to be entertained.  My focus is not to teach.  That said, there is a lot of information in Election Day and plenty of teachable moments.  The history of school integration in America is very interesting.  It's sordid, depressing at times.  If you do enough research, it will make you downright angry.  I want my readers to understand what it took get black and white students in the same school and how hard segregationists fought to avoid it.  Readers will also learn about city politics and witness a beautiful love story.
What do you want readers to learn from your life?
I hope, by the end of this book, readers can tell I'm passionate about civil rights issues, and I'm diligent when it comes to doing research and presenting factual information.  I would like them to know writing is my life, and I love to produce poignant, meaningful stories.
Who is your favorite author and why?
Stephen King will always be my favorite because he's the first author I started reading, and he inspired me to become an author myself.  I think I was in the fifth grade when I cracked open my first super-long novel and read it from cover to cover.  I don't write horror like King does, but he taught me a lot about suspense, which is something I employ in every book I write.  Without suspense, what reason does a reader have to turn the page again and again?  My favorite romance author is Beverly Jenkins.
What's next for you?
I recently acquired the rights for my first seven books (which is an amazing blessing that took a lot of time, patience and energy), and I'm in the process of revising and re-releasing them.  I've released four so far, and I have three to go.  The next one on my to-do list is The Finley Sisters' Oath of Romance.  This is a beautiful story about three best friends from high school who reunite as adults and realize how much they still need each other.  If I don't start working on that novel, I'll write the sequel to Might be Bi.  In this story, Angela makes a final decision about her sexuality.
Do you have anything you would like to add?
I'd like to encourage readers to visit my website, especially if they've never heard of me.  Counting my short story and poetry collections, I have over 30 publications.  I've written everything from romance, to urban fiction, murder mystery, Christian romance, young adult, lesbian romance and erotica.  No matter what genre you're into, I'm sure I've written a book you'd love!
To learn more about Keith Thomas Walker, visit his website or connect with him on social media.
Website: http://www.keithwalkerbooks.com/
Facebook:  https://www.facebook.com/keith.t.walker?ref=name
Twitter:  https://twitter.com/kwalkerbooks
Instagram:  https://www.instagram.com/keithwalkerbooks/
Please follow and like us: