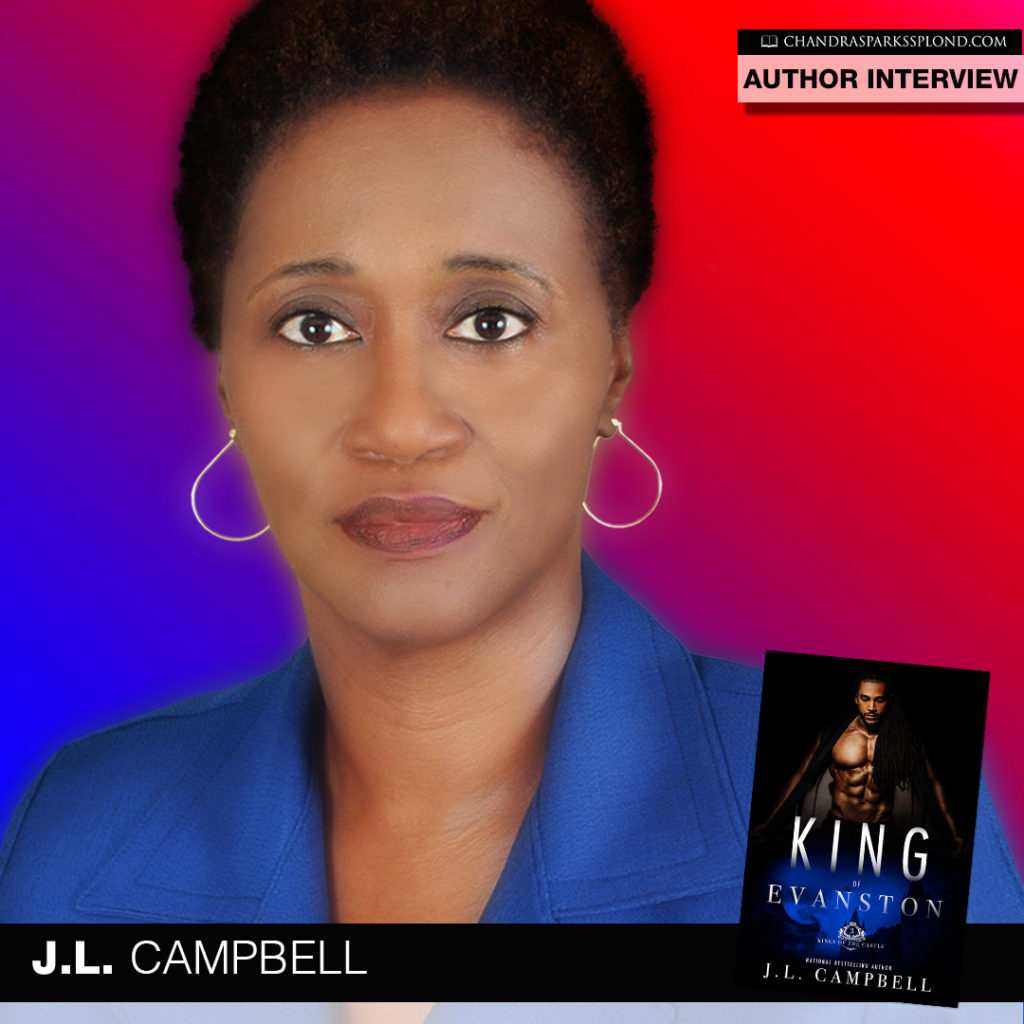 J.L. Campbell wants readers to hold on to hope. I recently spoke to her about her latest release King of Evanston. 
Tell me about your latest book.
King of Evanston is part of the Kings of the Castle series, conceptualized by Naleighna Kai. Shaz Bostwick's mentor survives an assassination attempt and gathers a small group of his past students to right the wrongs being perpetrated inside The Castle, an organization meant to foster dreams and help people achieve their goals. A desperate mother, in danger of losing her baby in an underhanded adoption, appeals to Shaz for help. Her situation strikes a chord with him as he is part of an immigrant family from Jamaica and understands the devastation of separation. In his role as a King of the Castle, Shaz will learn there's power in numbers and that love shows up when least expected.
Why did you decide to write it?
King of Evanston is a natural followup from the Kings of the Castle. Collaborating on that book was a fascinating experience that stretched me as a writer, so following up with this book was a no brainer. Given the storyline and the instances of family separation happening now, the subject is a timely one that I hope I've handled with tact and sensitivity.
What do you want readers to learn from the story?
We go through so many unexpected issues in life, but with faith and inner strength, we can overcome them. In King of Evanston, I hope people come away feeling that it is counterproductive to lose hope, no matter how dark the circumstances seem in the middle of our situation. I also want readers to realize that people are placed in our lives for many different reasons and that we are never alone. In hard times, the best thing we can do is to put pride aside and reach out for help. Most importantly, good lives in all of us and does conquer evil.
If you could pick another profession, what would it be and why?
I'd be a teacher. It's what I wanted to be when I was much younger and, to a certain extent, I lived that passion while doing classroom workshops on the elements of fiction. More to the point though, some of the young people I've met (and continue to interact with) have such rough edges and are so lacking in social graces that I wonder how some of them will navigate through life successfully. Many do not understand the importance of education and realize their limitations too late in the day.
What's the best part of being an author?
The ability to share my culture between the pages of a book is a privilege I'm aware of each time I sit to craft a story. There are so many people who will never be able to come to Jamaica, so when they pick up one of my books, I want them to have an authentic experience. This is why the island is a character in all my stories—the sights, the sounds, the smell and taste of the food, the island breezes caressing the skin…everything. I also love the chance to show readers that we are resilient and can make it through the challenges life throws at us, no matter how dark things look.
What's the worst part of being an author?
The doubts that come, whether you've written one or 50 books. At some point in each story, I ask myself why I should bother with that one. I'm wasting my time and readers will hate it are some of the thoughts that beset me with each book. Making it past this stage is always a challenge. Silencing the negative voices and getting over the hump with my sanity intact keep me focused on the finish line. Nobody ever won a race by quitting halfway through.
What's next for you?
I'll be re-releasing a couple of contemporary fiction stories I'd taken off the market. I've also been working on a novel that's more along the lines of inspirational fiction, but it will be a while before I write "The End." DNA has been in the works for several years. It's a painful story to write that includes infidelity and a fractured family, but I believe it's time to wrap my head around the story and complete it.
Do you have anything you would like to add?
Thanks for letting me share this journey on your blog. I'm hoping people will love the Kings of the Castle. The early responses have been good, so here's to having all our stories resonating with readers.
Use my affiliate link to purchase your copy of King of Evanston.
About the author
National bestselling author J.L. Campbell writes contemporary, paranormal, and sweet romance, romantic suspense, women's fiction, as well as new and young adult novels.
Campbell, who features Jamaican culture in her stories, has penned over 30 books. She is a certified editor, who also writes non-fiction. When she's not writing, Campbell adds to her extensive collection of photos detailing Jamaica's flora and fauna. Visit her on the web at www.joylcampbell.com and connect with her on social media. https://linktr.ee/jl.campbell