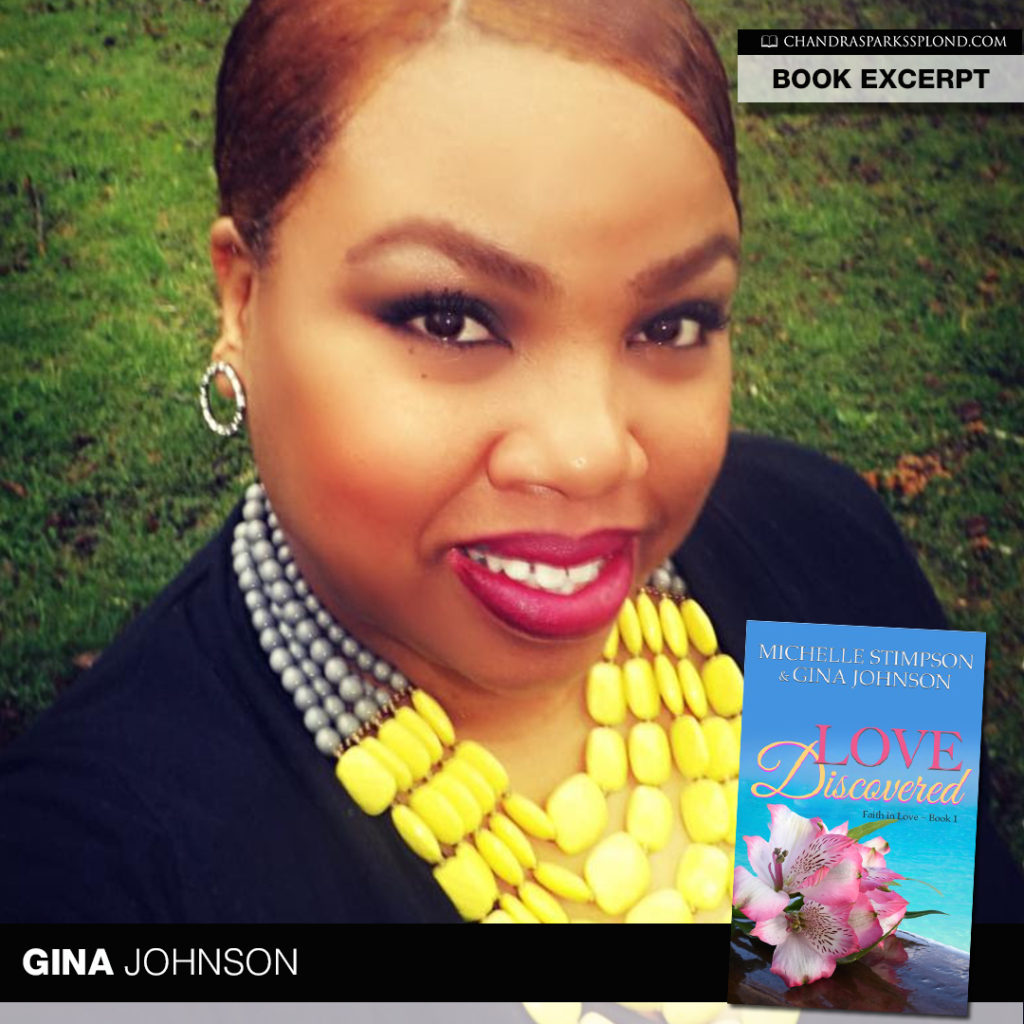 Today, author Gina Johnson is visiting with part two of an excerpt of her sweet romance called Love Discovered, which she has coauthored with Michelle Stimpson.
About the Book:
A rule-following banker who doesn't want to take a chance…a world-renowned musician with a huge regret…
After Faith Caldwell calls off the cruise with her trifling boyfriend, she decides she might as well not waste her money – she'll go alone. Having packed very little makeup and no hair extensions, she wasn't quite ready to meet the man of her dreams on the ship. But what good does is it to meet an awesome guy when you'll only know him for a few days? Life has taught Faith that more often than not, you just can't depend on people. Why would this person be any different?
Blaise Hawthorne is a well-paid musician whose talents keep him traveling the globe. The cruise is an opportunity for him to reconnect with his loving, boisterous family. But then he meets the snappy, naturally beautiful woman who makes him think twice about his jet-setting future.
***********************************
I thought I had cried all my tears away, but they paid me another visit as I tried to sleep that night. I kept replaying the events of the morning that led to my depressive do-nothing day and now my can't-sleep night, starting with the phone call to Granny C. I didn't talk to her every day. In fact, I had only made the 2-hour trip to see her a few times every year. But when I was growing up, she'd sent me a card every year for my birthday. And always Christmas gifts. It wasn't so much the material things, though, it was how getting anything from her reminded me of how she received me when I was in her presence. A twinkle in her eye when she saw me, an all-encompassing hug, a smile that said, "Nothing's more important to me right now than you." She was a pure, flowing fountain of love. You just don't get many people like that in life. For all I knew, I was only getting one—and she was leaving me.
This burden wouldn't be so great if Alfonso was the man of my dreams. Somebody who was sensitive, who knew how to hold me. Who had a job. Did that man even exist? I didn't know, but I certainly would never find out if I stayed with him.
More tears streamed down my face. I had wasted the last sixteen months of my life with a man who was easy on the eyes, but had the depth of a thimble.
I couldn't figure myself out. I mean, I knew better. People always said that the women who ended up with guys like Alfonso were the ones who didn't grow up with their fathers. Or maybe their fathers were alcoholics or workaholics—the kinds of fathers who weren't there for them.
But that wasn't my case. Not entirely. I grew up with a father. We weren't particularly close, but we weren't…far or estranged. In a tough time, I could call him and he'd help in any way possible.
So what's wrong with me?
I sat up in my queen-sized pillow top bed and considered turning on the TV but decided instead to turn on the lamp and simply sit with myself.  I wondered what was making me pick terrible boyfriends. How I could be so bright at work and so dim in love. I also wondered if I'd ever know a love like Granny C's again. I mean, my father was good. He and my mother raised me to be a kind, hard-working, decent person. I was never close to my mom, but then again, maybe one day we'd be closer. It just seemed like she loved me deep down inside, but she didn't want me to depend on being loved. Life could be hard on a woman. Maybe, when I grew up and had my kids, I'd see the softer side of her. People said parents were total softies to their grandchildren. Maybe. I wouldn't hold my breath, though. My mom hadn't been the same since my sister, Sophie, died.
"Help me, God," I whispered. I had muttered the words so effortlessly I surprised myself. I couldn't remember the last time I'd had a conversation with God, but felt a longing to talk to Him. I couldn't even remember how to do it properly. Granny C used to get on her knees each night before bed, so I decided to do the same. If nothing else, it would make me feel closer to her.
"God, I don't even know where to start. Granny used to say that You never sleep or slumber, so I guess You're up right now even though it's three o'clock in the morning." More tears. "God, I need You to heal my heart. I'm losing Granny C and I can't deal with this. I wish I could love Alfonso, but he doesn't love me. Will You fix this? I don't even know how to ask You to, but I guess You know the best way. Please fix it, God. And if there's a man out there who is actually the man of my dreams, will You introduce me to him? I'm sick of trying to find him myself. Thanks, God. Peace out. Amen."
I got up and looked in the mirror. The plaits in my hair reminded me of kool-aid, hop-scotch, and summer days. I was always amazed by how different I looked without my fake hair and makeup. Basic. I leaned in, gazing upon my reflection, and frowned. My once clear, copper skin looked blotchy, and were those crow's feet starting to form around my eyes? How could I be getting crow's feet at age twenty-eight? I thought black didn't crack. Maybe it did crack when you had cracked-up relationships.
And your grandmother was dying.
Maybe I needed to get back to the basics. Maybe I needed to rid myself of everything familiar so I could get back to what was truly original. And giving my skin a break definitely wasn't a bad idea. I ran my hand over my velvety plaits as I looked at the array of wigs adorning the Cherrywood dresser. "I'll miss you, ladies," I whispered. "But it's time for a change." I stood still for a moment and listened to the hum of the ceiling fan. "Change is good and it needs to start right away."
I got back into bed and pulled the Tiffany-blue comforter up around my shoulders.
"Just do it, Faith," I said, aloud. I picked up my iPhone from my nightstand and texted two simple words: Goodbye Alfonso.
***
Kya batted her lashes seductively, but Hanson didn't seem to notice. She sucked her teeth, then reluctantly focused on me again. "Okay. He's so oblivious. Back to you. Now, what are you going to do about the cruise? Isn't it coming up soon?"
"It's in five days, and we are not going," I replied.
"He doesn't want to go?" Kya said, gasping.
"No, I told him that we are not going. It's not like he put much on it anyway. I'm just going to cancel and see if I can get a refund." I checked my iWatch. "Maybe I can get it done on the rest of this lunch break."
Kya slapped my wrist. "Cancel it? Girl, don't do that. Just go on without him and have a great time. After all, Mr. Right might be waiting for you on that cruise ship."
"I may still go, but the last thing on my mind is another man. I need some time to find myself again. And get over Alfonso."
Kya pretended to be choking on her water. "Get over what? Faith, Alfonso is a rescued mutt. Let that puppy go."
"Wait. What? I thought you were team-Faith-and-Alfonso?"
"I was, until he started doin' tha fool. I'm team-Faith-needs-a-new-boo now." She snapped her fingers.
"So, just like that. Call it quits and move on. How am I supposed to ever, like, work through stuff and have, like, a real relationship that stands the rest of time if I'm always calling it quits?" I snapped my fingers, too.
Kya scrunched her face. "Ain't nobody got time for that. Look, Faith. We're young. We're beautiful." She swept an arm up and down her body as though she were a game show hostess highlighting a prize refrigerator. "We have no kids. We have options. We don't have to settle. Somebody wants to start actin' cray-cray, we move on to the next one. A better one. You don't sign any papers until you're, like one hundred percent sure he is not going to freak out on you at some point."
"But how can you know that one hundred percent?" I asked.
She shrugged. "I don't know. But when I find out, I'll be wearing a ring and I'll let you know all about it. Until then, I'm out the moment a man shows me his true colors and they're ugly. Like, purple and green together. Unless it's on a king cake, it don't match."
Read part one of the excerpt here.
Use my affiliate link to purchase your copy of Love Discovered.