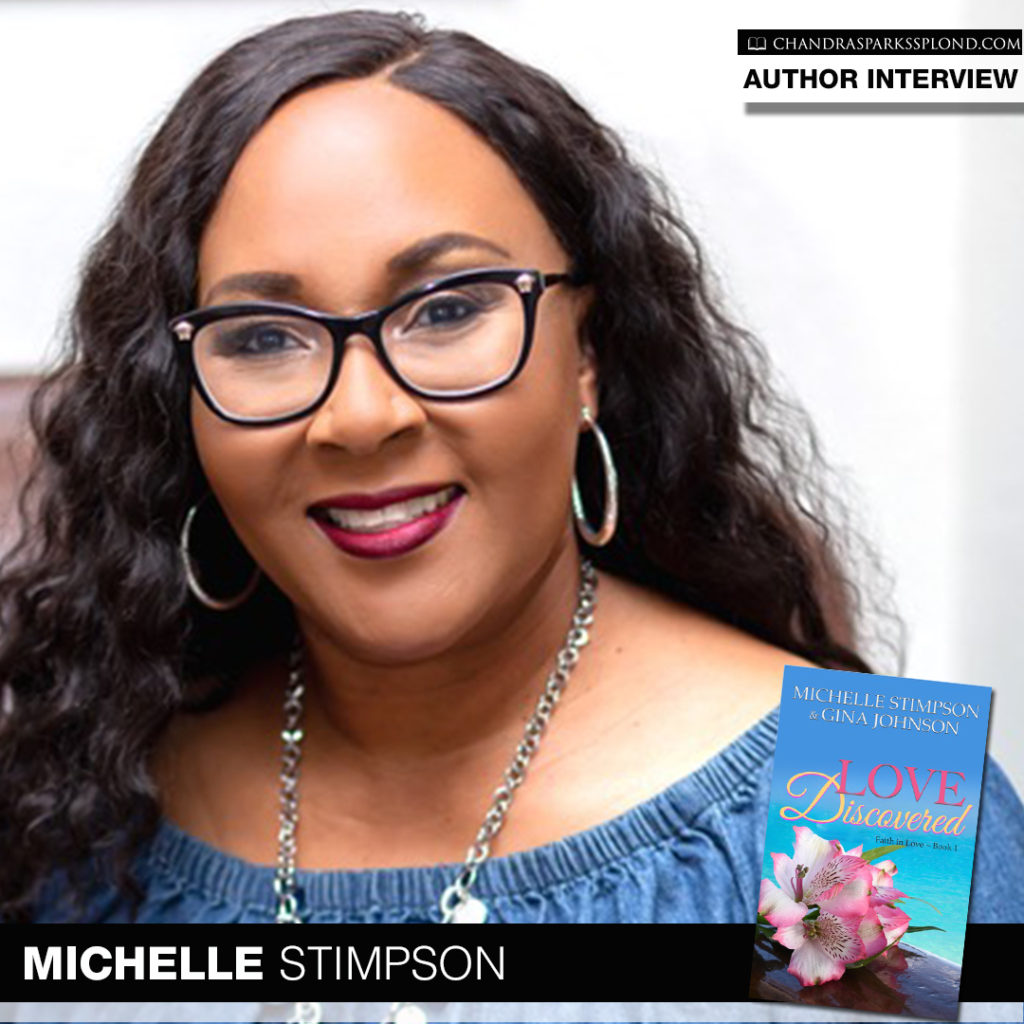 Today, author Michelle Stimpson is visiting to share an excerpt of her newest book, a sweet romance called Love Discovered, which she has coauthored with Gina Johnson.
About the Book:
A rule-following banker who doesn't want to take a chance…a world-renowned musician with a huge regret…
After Faith Caldwell calls off the cruise with her trifling boyfriend, she decides she might as well not waste her money – she'll go alone. Having packed very little makeup and no hair extensions, she wasn't quite ready to meet the man of her dreams on the ship. But what good does is it to meet an awesome guy when you'll only know him for a few days? Life has taught Faith that more often than not, you just can't depend on people. Why would this person be any different?
Blaise Hawthorne is a well-paid musician whose talents keep him traveling the globe. The cruise is an opportunity for him to reconnect with his loving, boisterous family. But then he meets the snappy, naturally beautiful woman who makes him think twice about his jet-setting future.
***********************
My heart was pounding and breaking at the same time. "Granny C, it's me. Faith," I barely whispered into the phone, fighting back tears.
"Faith who?" My grandmother's voice rose an octave with fear and confusion.
"Faith Caldwell," I said slowly. "Your favorite granddaughter. Your son, Jed's daughter. Remember?" I tried smiling with my voice, but I was crumbling inside. My precious grandmother, my heart for as long as I could remember, no longer remembered me.
"I know my son, Jed, but I don't know anybody named Faith. So don't call here anymore tryin' to get my credit card number."
"Granny C, wait. Please don't—" But my pleas were not heard. She had hung up on me.
Hold it together, Faith. Be strong. She didn't remember you today, but maybe she will the next time. My inner voice coached me as I walked barefoot across my condo's laminate wooden floors, into the kitchen. I opened the white cabinet and pulled out my favorite mug. I didn't feel like crying. Crying would mean admitting defeat, and I wasn't ready to throw in the towel yet. Chamomile tea to my rescue. Maybe, if I had picked up the habit of drinking, I would have had something stronger. But given the situation, I was glad I'd never started drinking alcohol because this whole scenario might have driven me to a terrible place.
I filled the black and white damask teapot with water and placed it on the stove while the lump in my throat grew bigger.
How could Granny C not know me? Her not knowing my brothers, I could understand. When we visited her as children, they were always outside playing with the other boys in the neighborhood. Catching frogs, riding bikes, fishing for craw dads in the stream that ran through the area. But my sister, Sophie, and I were inside cooking, talking, and bonding with Granny C. And I had clung to Granny C all the more when Sophie passed.
I had been dreading this day since the doctor confirmed my worst fear for my grandmother. "Mr. Caldwell." The white-coated, stone-faced doctor had addressed my father as though I weren't even in the room. "Given your mother's symptoms, the results of her memory test, her general state of confusion, and what we've already been able to rule out, I'm fairly certain that we're looking at Alzheimer's."
My father had taken a seat in the conference room, but I stood up. I crossed my arms over my chest, my heart thumping wildly. "You say you're fairly certain. But you don't know for sure, right?"
The doctor tipped his head. "Alzheimer's isn't a direct diagnosis. We take several things into account—"
"So you could be mistaken?" I pressed for a different conclusion.
"Given what I've seen in the tests and my experience, I am certain she's suffering from Alzheimer's."
His diagnosis seemed silly. Unscientific. Invalid. I had held out hope that the doctor had been wrong. But when Granny C put her shoes in the refrigerator and turned the air conditioner down to 60 during my visit with her last Thanksgiving, I had to acknowledge the idea that her mind was a little rusty.
Still. No matter how much I had tried to prepare myself, the reality of this awful disease stole the very oxygen from my lungs because, now, her brain was playing tricks on her about me. She thought I, the granddaughter who had scratched her scalp and glazed her lemon cake, was some kind of scam artist.
My precious Granny C had Alzheimer's.
Numbly, I traveled back to my living area, plopped deep into the cushion of my brown leather sofa and stared down at the glass dining room table. I gathered my hair and twisted it into a bun at the base of my neck. Then, I started rocking back and forth slightly.
I caught my reflection in the bedazzled, full-length mirror to the side of my television. I'd placed that mirror there so I could take one last look at myself each day before leaving for work. From the swoop of my bangs to the mink eyelashes, down to the body-shaping Spanx and the ombre tips of my toenails, everything had to be amazing. Pretty much always.
Not today, though. What good were mink eyelashes when your grandmother couldn't remember your name? I felt exactly like I looked—like blah. Like Plain-faced, yoga-dressed, bum with a hair bun who didn't even have a grandmother.
Don't lose it, Faith. I took a deep breath and closed my eyes. I remembered Granny comforting me as a little girl when I was afraid of the dark.
"God is in the dark as well as the light," she'd said. "Sweetie, you can trust Him no matter what. Now, come on and get in the bed with Granny. I need some company."
I'd climb up the step stool and into Granny C's big bed. The giant quilt covering her bed was so heavy. So comforting. I'd snuggle up next to my grandmother, feeling the weight of the quilt all the way down to my toes. And I'd go to sleep as she sang her favorite hymn. "Great is thy faithfulness, oh God my Father…" Even now, I could still hear her rich alto voice. I wondered if she still loved that song. Would I ever even hear her sing it again? And just like that, the lump in my throat rose up to my vocal chords and I began wailing.
"Granny," I cried. "Oh Granny C." I wondered if I would ever be able to laugh again, smile during a movie, or fully enjoy a sunset without its beauty fading at the thought of having no grandmother to love me.
Between heaving and tears, I looked up from my couch and saw Alfonso running his fingers between his cornrows as he walked into the room, but I didn't acknowledge his presence. I threw my head back on the head cushion, and continued mourning audibly. What I wanted, what I needed, was for my boyfriend of sixteen mediocre months to comfort me. I wished I could have felt his muscular, 5'10" frame holding me. I wished he would have wiped my tears from my eyes and did his best to console me. But he opened his mouth and snapped me back to the reality of our dead-end relationship.
"Faith, did Granny C die?"
I was crying too hard to speak. All I could do was shake my head.
"Okay good," Alfonso said, smiling and smoothing the front of his wife beater. "Because Thanksgiving is coming up, and Granny C makes the best pies."
As if that comment wasn't ridiculous enough, he decided to keep talking.
"Wait. Do she remember how to make the pies?"
I went from grieving to boiling with anger.
"It's does she even remember..How dare you talk about my Granny C's pies at a time like this? Is that why you think I'm crying? Over pies?"
"Why are you trippin'?" Alfonso snapped. "Granny C makes bomb pies. That's a compliment."
"But her memory is slipping away, Alfonso. She doesn't remember me." I tried to make him understand.
He smacked his lips and sat on the adjacent couch. He grabbed the remote and turned the TV to a sports channel. "Well, at least you have a grandmother. I mean, dang, here you are, almost thirty, and you still got a grand momma. I say count your blessings and try to get that sweet potato pie recipe before it's too late."
"You are completely ignorant. Get out," I shrieked. "Get out of my house now."
"Really?" Alfonso chuckled slightly. "Are you serious? I'm only trying to help you see the bright side of things, Faith."
I walked to the front door, picked up Alfonso's Timberland boots that were sitting on my interior mat, opened the door, and tossed them out onto the porch.
"Are you crazy? Do you know how much those boots cost?"
"Of course I do," I shouted. "I paid for them. Now get out."
Alfonso glared.
I glared back in a stare-off that lasted a good minute. It wasn't the first time I had thrown him out, but something in me kind of hoped it would be the last. Every time I threw him out, it got easier and easier.
He threw my remote on the couch. "Whatever. Call me when you've come down from your bi-polar high."
"The stress of being with you is probably making me bi-polar. Seriously," I admitted. "Like, the chemicals in my brain are getting completely out of balance just talking to you."
He grabbed his keys from the plant stand as he exited.
My teapot began whistling as I slammed the door behind him.
***********************
Use my affiliate link to purchase your copy of Love Discovered.