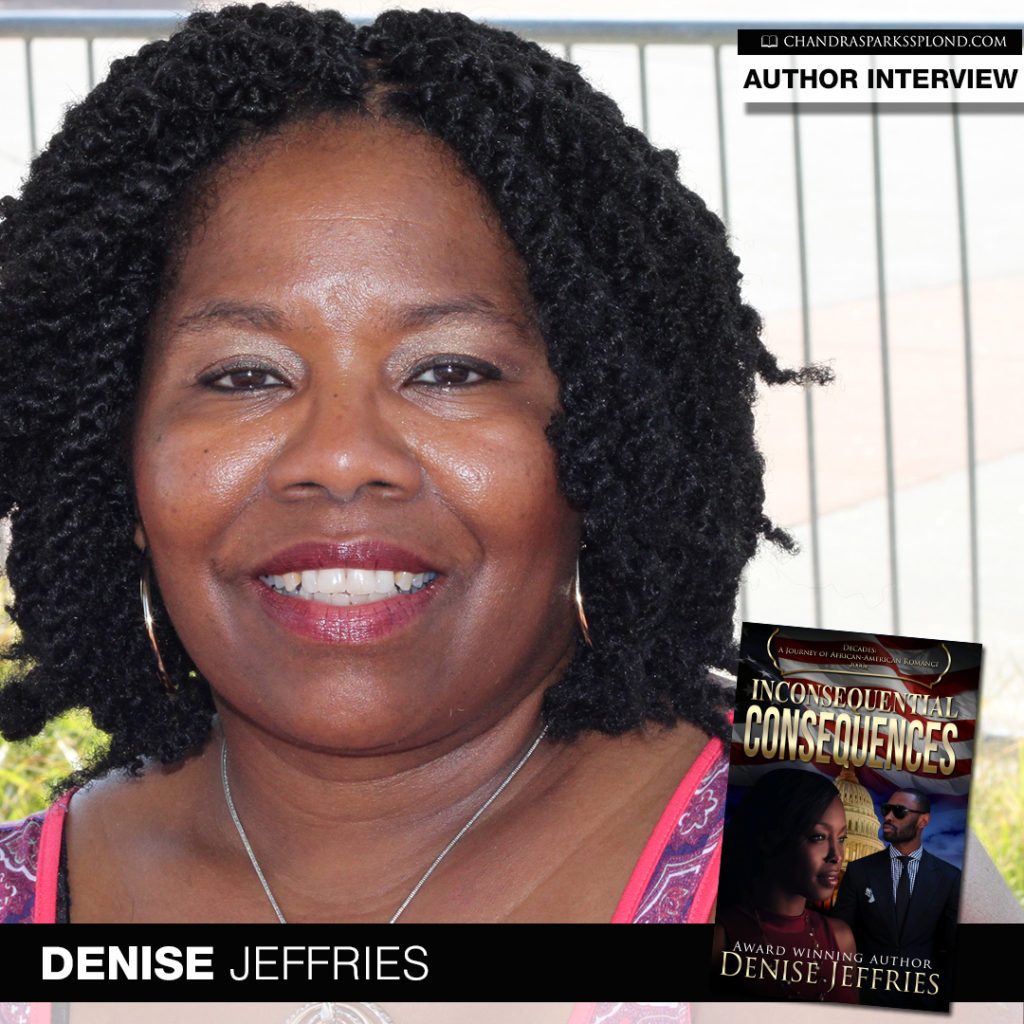 Author Denise Jeffries is give us a peek into romance in the new millennium with her contribution to the Decades project, Inconsequential Consequences.
Tell me about your latest book, Inconsequential Consequences.
Decade 2000s. When Blair C. Freeman accepted the position as public relations counsel to the presidential hopeful, the one thing she didn't expect was to have to battle head to head with past nemesis, Daniel Tara. And she certainly didn't plan or understand the sudden attraction her body has toward the man she swore she would never give the time of day. Are there enough hours and energy to successfully do her job and divert this unwanted attraction? Only time will tell.
Why did you decide to write it?
I love contemporary romance. I also love the turn of events that happened in the early 2000s. Woman in politics amaze me. While people may oppose, however, I think it opens the doors for other women to continue the hard drive they have to be better, get involved and change the world.
What do you want readers to learn from the story?
Strong women and strong men make mysterious and wonderful bedfellows.
What do you want readers to learn from your life?
My life is full of surprises, ups and down. On a good day, I am cheerful and easy going. On a rough day, not so much. However, no matter how my life is going, I'm a full believer we only live once. We have to live life to the fullest. I love to travel, visit different cultures and learn something new, eat wonderful food and read.
Who is your favorite author and why?
I have a multitude of favorite authors, but to be honest with you and myself, I would have to say I have three ultimate authors. Felicia Mason foremost because when I was not even an aspiring author, it was her book Body and Soul that pushed me out of my comfort zone and got me to writing. She introduced me to contemporary romance. I've loved it every since. Second, I would have to say Yvette Hines. She is and will always be my rock and encouragement when it comes to writing beyond the barriers. Next but certainly not last, Beverly Jenkins. She is such an inspiration and encouragement. She refuses to let you give up and when there are clouds above, she puffs out her cheeks and blows them away. I don't know where I'd be without the authors that have held my hand and wrapped me in their love to get the writing done.
What's next for you?
I have several works tucked away that I need to get back to. They are mostly finished and are in the editing process. With a little good luck, I will have two single titles out in 2019. Fingers crossed.
Do you have anything to add?
I'm praying the readers are enjoying this series, Decades: A Journey of African-American Romance. There is some serious romance going on.
To learn more about Denise Jeffries, visit her website, or connect with her on Facebook or Twitter.