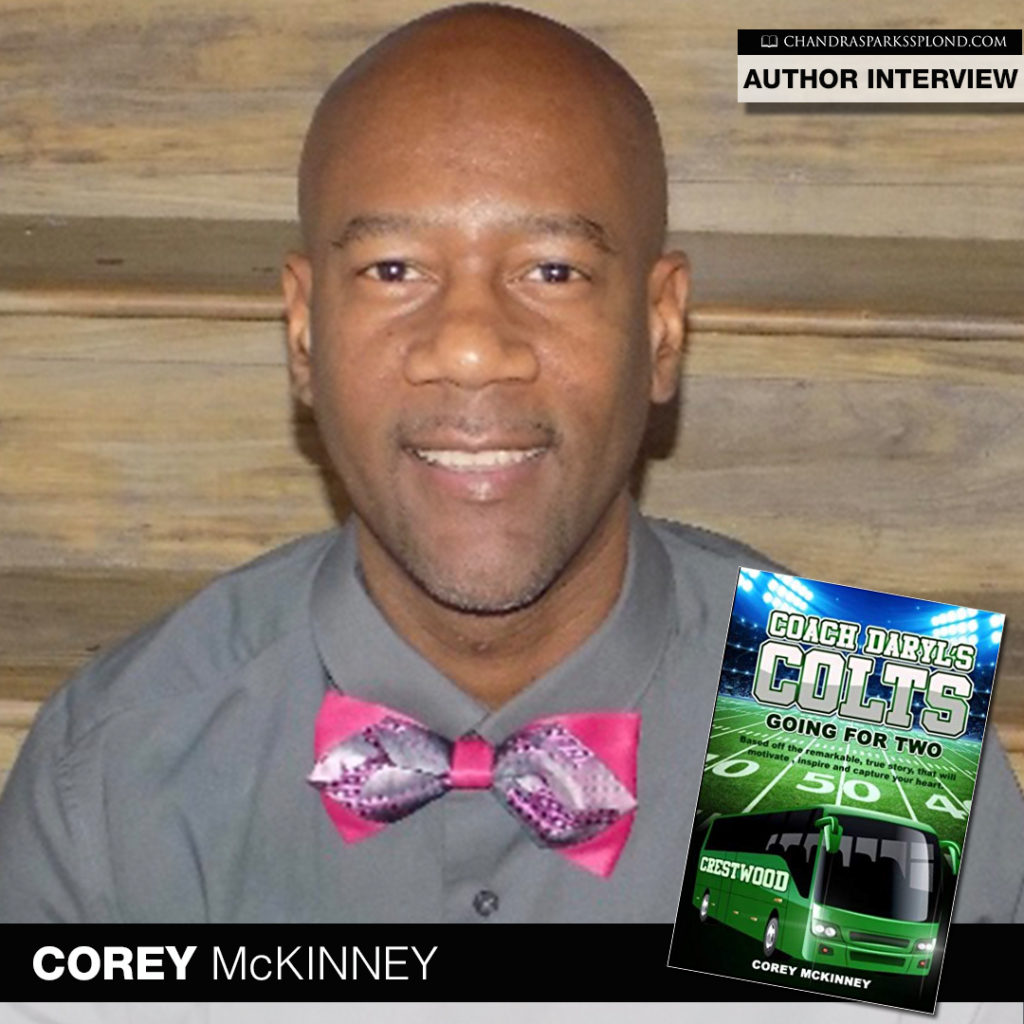 Corey McKinney's book Coach Daryl's Colts (Going for Two) is proof that one person can make a difference.
Tell me about your latest book.
Coach Daryl's Colts (Going For Two) is an amazing true inspirational sports story that took place in Birmingham, Alabama. It's about a white male who formulated a youth football team made up of guys from various walks of life. Some from suburban areas but mostly from predominantly black drug- and gang-infested neighborhoods. Through teaching discipline, hard work, and perseverance he turned a awful team into champions. Coach Daryl was a father figure off the field as well to approximately 40 kids during a six year period from 1984 to 1989. It's a true testament that one person can make a difference and impact lives forever. Coach Daryl's Crestwood Colts arguably was the best youth football team of all time.
Why did you decide to write it?
Writing this book was something that I have been wanting to do for nearly 20 years. Like many others I procrastinated and did a lot of starting and stopping. After my coach passed away back in 2012, I felt bad that I had not gotten this story out yet. So that prolonged the book even further. Ultimately I knew that this was a story that needed to be shared and God kept it in my heart and mind to do it. Last year I attended the Steve Harvey Act like a success conference and got around like minded individuals and they gave me the spark to commit to finishing what I started.
What do you want readers to learn from the story?
How impactful one person can be in the lives of others by going the extra mile. Also when taught properly, sports can teach kids life lessons that will positively affect them for the rest of their lives.
What do you want readers to learn from your life?
That someone is always watching what you do and how you live. The next thing is that I'm trying to make a difference in others lives in my community by being a mentor and foster parent to young boys.
Who is your favorite author and why?
Tony Evans. The reason is that his work illustrates how God is the focal point and center of being a man. Also his books shows you that your help and strength of being a good father, mentor, and husband comes from above. This reminds you whenever you don't have the answer or know the right thing to say that we have someone who will be be there for us to direct and help guide out path.
What's next for Corey McKinney?
I will be in Atlanta, Georgia at the African American Book Expo September 15, 2018.
Do you have anything you would like to add?
Going the extra mile in the lives of others is the way that we all should live. I know for a fact that God blesses us when we bless others. You make others hearts smile when you go the extra mile. That in turns make your own heart smile. If we all took Coach Daryl's lead then I know our communities and this world would be a safer and better place to be.
To learn more about Corey McKinney, visit his website, GO For 2.