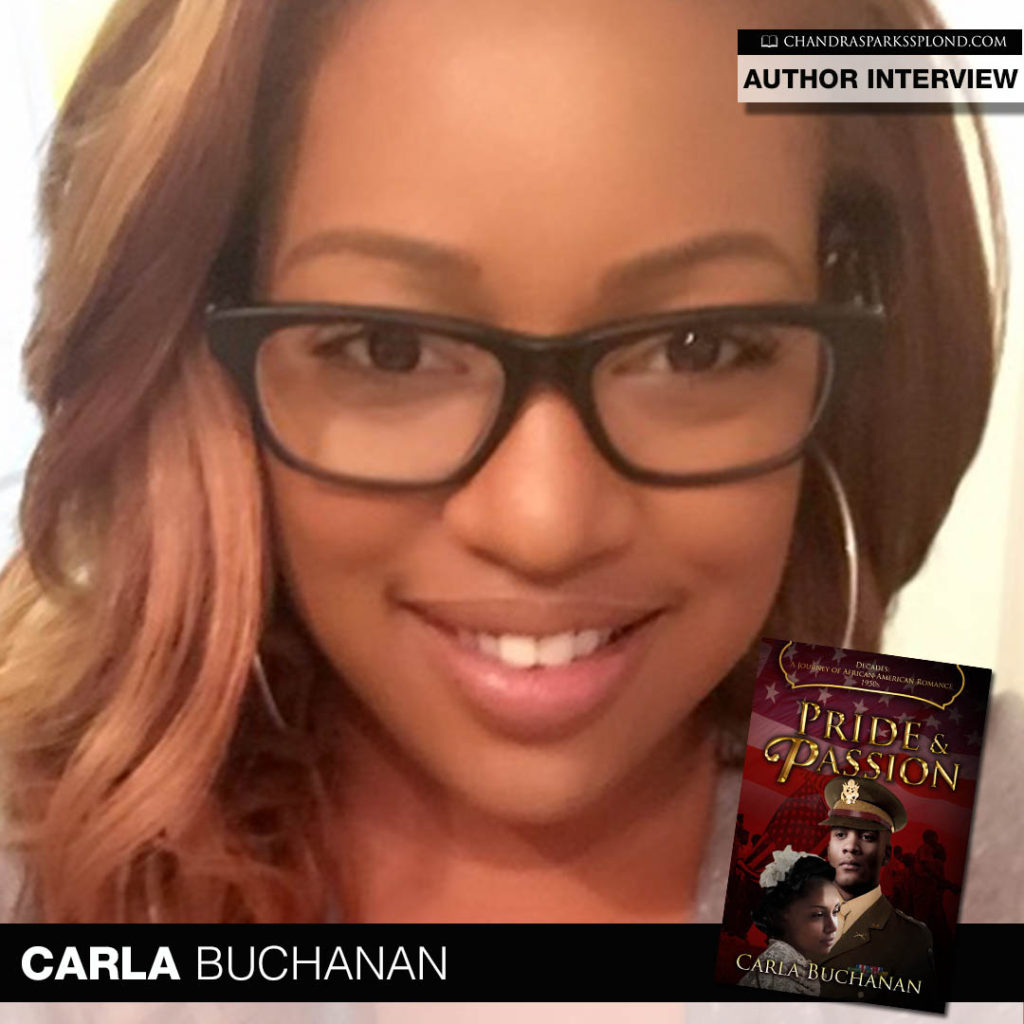 I'm excited to have author Carla Buchanan visit today to talk about the latest entry in the yearlong Decades project. Take it away, Carla.
My latest book is Pride and Passion. It's a historical romance taking place in 1950's Georgia in the fictional town of Perlshaw. It takes place with the backdrop of an emerging civil rights movement but doesn't focus on the movement itself. Instead, the focus of Pride and Passion is the healing power of love even when the world seems to be against that happening.
Constance Ray, the heroine is a widow struggling to deal with how to grieve. She's conflicted with the idea of trying to move on versus what people expect of her—to never get over her husband's death. Enter Nathaniel Kelly, a friend and fellow serviceman of her ex-husband who tempts her out of her sadness and makes her internal conflict worse. When he elicits feelings Constance knows she shouldn't have about a friend of her dead husband, Constance does what she thinks she should, she continues to grieve outwardly, ignoring her inner desires. But Nathaniel isn't about to allow Constance to martyr herself for her husband's memory and takes her on a journey to discover she's more than just a widow. He reminds her she's a woman when she needs to hear it the most.
I wrote this book because it's a story that needs to be told. I think in the back of our minds, as people who didn't live during that time, all we think about are the voting rights battles, the school segregations, and the bus boycotts. We tend to think everyone supported the civil rights movement. However, for a long while there were some who were reluctant in their support. There were some who would've avoided being a part of marches, protests, and the larger movement and only wanted to live their lives as they always had.
Pride and Passion is a story showing that there were people who were removed from the larger movement. There were people who wanted to continue their simple lives and didn't want upheaval and change to touch the simple lives they'd built, especially in small towns reminiscent of Perlshaw.
I think people need to see people were still living their regular lives while the world changed around them, which is also what I want people to learn when they read Pride and Passion. They'll learn how far removed some people were from the civil rights movement even though the events seemed to be going on right on their doorstep. Characters like Constance and Nathaniel still had a life to live and a love to muddle through regardless of the seriousness of the country's political climate or what happened yesterday or what might happen the day after.
In regard to my writing life and what I want people to learn from it is that I'm learning right along with my readers. There are things I didn't know, things I learn during the process of writing every one of my novels. I enjoy how it comes together just as much as my readers enjoy the end result.
A part of myself is in every novel I write, and this one is no different. My heroine is a small-town pastor's daughter, which was taken directly from my own life. So as much as you're learning about my characters with every story, you're learning little tidbits and insights into my life outside of being an author as well.
Being an author, people think I am this bibliophile, but I'm not. I read a lot, but I like what I like and don't really have favorites. A book's description before the author pulls me in. I've started to read a book not knowing who the author is until after it was over when I needed to find another one of their books. But if we go by number of books owned, there would probably be a tie between Brenda Jackson and JR Ward. I own more of their books than any other author because I like family dynasty series. I love families like the Westmorelands and clans like Black Dagger Brotherhood because they have a close family dynamic I never experienced in my own life.
If you're looking for what's coming once my current project, look no further than the Fostering Love series, whose first book is entitled My Future with You. It's a contemporary romance series about five foster sisters whose backgrounds and reasons for being sent to foster care affect how they find and keep love. The series consists of five novella-length stories, the first to be released the first week of May.
To learn more about Carla Buchanan, visit her website, email her at authorcarlab@gmail.com or connect with her via social media.
Facebook: http://www.facebook.com/carlabuchananauthor
Twitter: @authorcarlab
Instagram: @authorcarlabuchanan