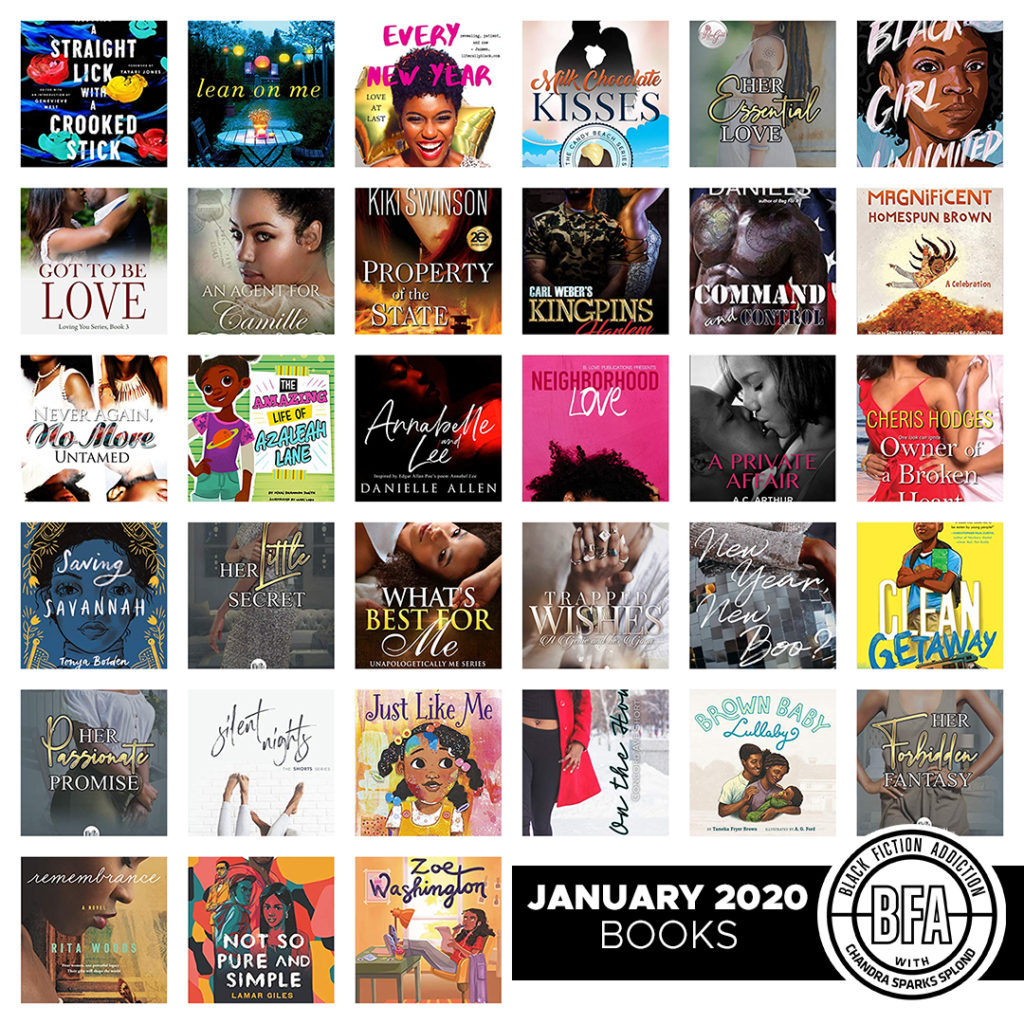 The new year in books is starting with a bang. Check out these books released in January 2020 that are sure to get you addicted.
Children's
Brown Baby Lullaby by Tameka Brown
With Spanish words sprinkled throughout and featuring warm art by New York Times-bestselling and NAACP-Award-winning illustrator AG Ford, Tameka Fryer Brown's Brown Baby Lullaby is the perfect new baby or baby shower gift.
Magnicificent Homespun Brown by Samara Doyon
A story—a song, a poem, a celebration—about feeling at home in one's own beloved skin.
Just Like a Mama by Alice Faye Duncan and Charnele Pickney Barlow
Celebrate the heart connection between adopted children and the forever families who welcome them with kindness, care, and unconditional love in this powerful picture book. 
Just Like Me by Vanessa Newton
An ode to the girl with scrapes on her knees and flowers in her hair, and every girl in between, this exquisite treasury will appeal to readers of Dear Girl and I Am Enough and have kids poring over it to find a poem that's just for them.
Freedom Bird by Jerdin Nolen
In this inspiring story in the tradition of American black folktales, an enslaved brother and sister are inspired by a majestic and mysterious bird to escape to freedom in this dramatic and unforgettable picture book.
---
Middle Grade
From the Desk of Zoe Washington by Janae Marks
Zoe Washington isn't sure what to write. What does a girl say to the father she's never met, hadn't heard from until his letter arrived on her twelfth birthday, and who's been in prison for a terrible crime? 
The Amazing Life of Azaleah Lane by Nikki Shannon Smith
Can Azaleah get to the bottom of a mystery in time to finish her extra credit?
Clean Getaway by Nic Stone
Set against the backdrop of the segregation history of the American South, take a trip with an eleven-year-old boy who is about to discover that the world hasn't always been a welcoming place for kids like him, and things aren't always what they seem.
---
Young Adult
Black Girl Unlimited by Echo Brown
Echo Brown is a wizard from the East Side, where apartments are small and parents suffer addictions to the white rocks. Yet there is magic . . . everywhere. New portals begin to open when Echo transfers to the rich school on the West Side, and an insightful teacher becomes a pivotal mentor.
Not So Poor and Simple by Lamar Giles
Del has had a crush on Kiera Westing since kindergarten. And now, during their junior year, she's finally available. So when Kiera volunteers for an opportunity at their church, Del's right behind her. Though he quickly realizes he's inadvertently signed up for a Purity Pledge.
---
Romance
Annabelle and Lee by Danielle Allen
A contemporary romance inspired by Edgar Allan Poe's poem "Annabel Lee." 
A Private Affair by A.C. Arthur
Rivals for the runways. Enemies in the industry. And for a single sinfully hot night, they're about to indulge in the one thing they're not allowed…each other. 
Her Essential Love by Anita Davis
Teegan needs Kevin to see beyond the bottom line, and Kevin wants Teegan to go with the flow, but in the mix of things, will they find out just how essential they are to each other?
Her Undeniable Distraction by Sherelle Green
Leasing manager Burgundy Anderson needs to figure out her next step with no distractions. Insert Kane Brooks, otherwise known as, the delicious distraction determined to make his presence known.
Her Passionate Promise by Sheryl Lister
After kissing one frog too many, Kathi Norris is content to remain unattached. But her well-ordered plans are turned upside down the moment she meets Eric Dawson.
Her Forbidden Fantasy by Angela Seals
Skylar Johnson has lived her life defying the odds. Following in her father's footsteps, she finally lands a job as an FBI agent and moves from her small Alabama hometown to Santa Monica for training. Even better, she snags the last loft in swanky, Park Manor. She's excited for her first day on the job … until she runs into her trainer, Special Agent Hawks.
Her Little Secret by Elle Wright
As a favor to his boss, Bishop Lang agrees to help Paityn develop her new business. The only thing he knows about her is that she's off limits, but the moment he sees her, he realizes staying away might be harder than he thought.
---
Fiction
Trapped Wishes: A Genie and Her Goon by B. Love
Will Hareem be the key to Genie's freedom, granting her wish for love in a way that no other man can? Or will he be the karma that causes her to be trapped for yet another two-hundred years?
Saving Savannah by Tonya Bolden
Set against the backdrop of the press for women's rights, the Red Summer, and anarchist bombings, Saving Savannah is the story of a girl and the risks she must take to be the change in a world on the brink of dramatic transformation.
Command and Control by Angie Daniels
Senior Master Sergeant Dayana Meeks has sworn off dating military men for good. So when she's asked to attend a deployment briefing the last thing she's looking for is romance. Unfortunately, the moment she locks eyes with irresistibly sexy Keim Howard, she realizes that sometimes promises are impossible to keep. 
Never Again by Delaney Diamond
Carmen Reeves was heartbroken when Carlos left but threw herself into work and learned to live without him. She never stopped loving him, though, and when they meet again, she's willing to do whatever it takes to be with him. But Carlos might not be the man she thinks he is.
Silent Nights by Nia Forrester
As an up-and-coming blogger and YouTuber, Summer's stock will increase considerably if she documents her experience at the wedding celebration of the year. But when an unforeseen obstacle presents itself, Summer must share accommodations with the insufferable Lloyd Winston, a conservative, stuffy wannabe politico whom Summer is shocked even got an invite. But whatever…she can tolerate him for one winter weekend, right?
Owner of a Broken Heart by Cheris Hodges
Sportswriter Nina Richardson had the perfect life away from her family's famous shadow. But a social media blowup and rejection by her boyfriend brought her back to their peaceful Charleston, South Carolina B&B to figure out what went wrong. So there's no way she's going to trust the crazy-hot sparks flying between her and handsome new employee Clinton Jefferson. It's just reckless, rip-his-clothes-off, one-night-and-forget-it lust—right?
Vexed by Honey
Blood isn't always thicker than water, especially in matters concerning love, lust, and passion. 
Hitting a Straight Lick with a Crooked Stick by Zora Neale Hurston
A collection of stories about love and migration, gender and class, racism and sexism that proudly reflect African American folk culture. Brought together for the first time in one volume, they include eight of Hurston's "lost" Harlem stories,
Every New Year by Katrina Jackson
As 2019 ends, Candace and Ezra are both running away from their broken hearts. They board a plane hoping to finally move on from their relationship, only to run right into each other's arms.
What's Best for Me by Danesha Little
Free spirit, Chanel Henderson, has finally found happiness in her first genuine relationship. That euphoria is challenged when her "friendship" with R&B singer, Darian Russell, exposes the cracks in their foundation. 
Where You Are by Tucora Monique
Canvassing between intuition and insecurities, will Kross and Hollis be able to find solace in the space between?
Riot Baby by Tochi Onyebuchi
Ella has a Thing. She sees a classmate grow up to become a caring nurse. A neighbor's son murdered in a drive-by shooting. Things that haven't happened yet. Kev, born while Los Angeles burned around them, wants to protect his sister from a power that could destroy her. But when Kev is incarcerated, Ella must decide what it means to watch her brother suffer while holding the ability to wreck cities in her hands.
Carl Weber's Kinpins: Harlem by C. N. Phillips
Kleigh never wanted Tron to fall in love with her, or vice versa. She isn't who he thinks she is, but how can she tell him that the kingpin he is gunning for, Kevin "Klax" Turner, is her big brother?
Love and Hiplife by Nana Prah
Blaise Ayoma is on the verge of taking African Francophone countries by storm with his new style of music. Multi-linguist Lamisi  Imoro is the key to his success. When his presence in her life puts her in danger, will he end the budding relationship in order to keep her safe?
Ready, Set, Love by Harleigh Rae
By chance encounter, both the girl and the guy cross paths and find themselves in a race all their own. Quickly they realize it's the only race that they can't run alone. Ready. Set. Love. 
Love Trifecta by Storm
The Graham sisters are in for the fight of their lives. Follow these triplets as they discover that loving the wrong man could be lovely or deadly.
Property of State by Kiki Swinson
A young woman serving time must survive a prisoner-abuse conspiracy . . .
Never Again No More by Untamed
Follow four friends who learn that to win in life, sometimes you have to lose. Journey with these ladies as they try not to fall victim, never again, no more.
When's the Last Time by Monica Walters
If abandonment had a face, Enzo Saint Rideaux's fit the bill perfectly. Being raised by his father since the age of four without any involvement from his mother, makes him feel like he's been missing something. After his dad is shot and killed, his hopes are high for reuniting with his mother, but once again, he is left without her love. However, when he meets Ulanni Alvarez at a spoken word performance, he has a different outlook on life just from that moment of being in her presence. When she leaves, he knows she will be the one to change him forever.
All the Things I Should Have Known by Tiffany L. Warren
They are forty-something, successful, financially set . . . and done with trying to find "perfect" husbands. So why can't Hahna, Twila, and Kimberly have men strictly for friendship, companionship? Their solution: be sugar mamas to gorgeous young studs who promise the best of having it all.
The Family Business 5 by Carl Weber and LaJill Hunt
New York Times bestselling author Carl Weber and Essence bestseller La Jill Hunt return with a story of love, betrayal and racism in the next addition to the wildly popular Family Business series.
Remembrance by Rita Woods
It's a rumor, a whisper passed in the fields and veiled behind sheets of laundry. A hidden stop on the underground road to freedom, a safe haven protected by more than secrecy…if you can make it there.
Neighborhood Love by Bree Wright
Cole and Chelsea, born on the same day, were like oil and water. Sick of getting in trouble, Cole decided to call a truce with Chelsea. No More Bickering. But when the dynamics of the neighborhood shift, will Cole and Chelsea stay solid and stick with the truce, or will they discover that their bond by a sacred sisterhood was not so sacred?
---
Christian Fiction
Milk Chocolate Kisses by Cecelia Dowdy
After her dad's unexpected death, Emily struggles to run her family's dairy farm. When handsome Frank Reese, a CPA, unexpectedly shows up for an audit, her life drastically changes. Emily is stunned when Frank uncovers a secret about her deceased father—a secret that may change her life forever.
Got to Be Love by Vanessa Miller
They first kissed over fifteen years ago, Gina thought it would be the start of a me-for-you-and-you-for-me kind of relationship, but David didn't remember her or the kiss the very next day. Now they are drawn back together to save each other's careers.
Lean on Me by Pat Simmons
Tabitha Knicely is overwhelmed with caring for her beloved great-aunt, whose dementia is getting worse. Aunt Tweet may be losing her memory, yet she finds her way to Tabitha's neighbor's front porch. When Marcus Whittington accuses Tabitha of elder neglect, he doesn't realize how his threats to have Aunt Tweet taken away add to Tabitha's pain.
---
Short Reads
An Agent for Camille by Parker J. Cole
Rounder and Camille must trust each other and work as a team in order to figure out who is stealing bodies. When danger strikes, will they trust each other long enough to save their lives and heal their hearts? Or will self-preservation lead them to destruction?
On the House: A Concord Avenue Short by Anita Davis
The end of the year should be the jolliest time of all, that is, unless you're Avery Thompson. Burdened with adulting and limited funds, Avery's world is crashing on her. Being driven has always gotten Myles Patterson the things he wanted and whether she likes it or not, Avery just made the top of his wish list! 
Glasses by Chencia C. Higgins
An unforgettable moment with the potential to ruin Shreema's day morphs into the beginning of a sweet journey when Major steps in and offers a hand.
Jah by Alexandria House
Neither of them was looking for the other. Neither of them intended to fall in love. And now, neither of them wants to let go. 
New Year New Boo by Alexandria House
Could a dreaded company New Year's party be just the place for Langston O'Neal to bag a new boo?
The Love Below: A Prototype Series Glimpse (Bam + Cassie) by Jacinta Howard
This is a brief "glimpse" into the lives of Prototype keyboardist Bam Mosley and Cassandra James following the events in their book, 'Loving Cassie' —Book 4 of The Prototype Series.
The Love Below: A Prototype Series Glimpse (Devin + Willow) by Jacinta Howard
This is a very brief "glimpse" into the lives of Prototype founder/drummer Devin Walker and Willow Harden following the events in their book, 'Keeping Willow' —Book 3 of The Prototype Series. 
Press Rewind by Christina C. Jones
Sometimes an argument turns into more than it should—people take it further than it has to go. But that doesn't always mean the end.
Full Circle by Unoma Nwankwor
Growing up, Taiwo and Kehinde shared that special unique twin bond. Things take a very deadly turn however when they set their sights on a common goal, marry the delectable Femi Jacobs.
Will blood prove to really be thicker than water?
Do you know of a book released in January 2020? Send an email to be added to the list.