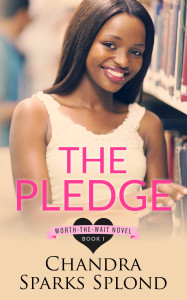 Named YALSA 2010 Quick Pick for Reluctant Readers
Raised in a strict household, sixteen-year-old Courtland Murphy never had a date. But that was before the guy of her every dream—basketball star Allen Benson—asked her out. She's gone from never-been-kissed to dating the hottest guy in school. And now her new boyfriend is pressuring her to prove she loves him—by having sex. But as a member of her community's Worth-the-Wait club, Courtland made a vow to stay a virgin.
Now everyone—from friends to family to fellow club members—gives her different advice, from "do it!" to "you made a pledge, girl!" It would be so easy for Courtland to go all the way with Allen, but sometimes his charming personality leaves her wondering. Who knew being in love could be so confusing?
Read an excerpt.
Purchase the paperback on Amazon.
Purchase the ebook on Amazon.
Purchase an autographed copy and have it mailed to you.