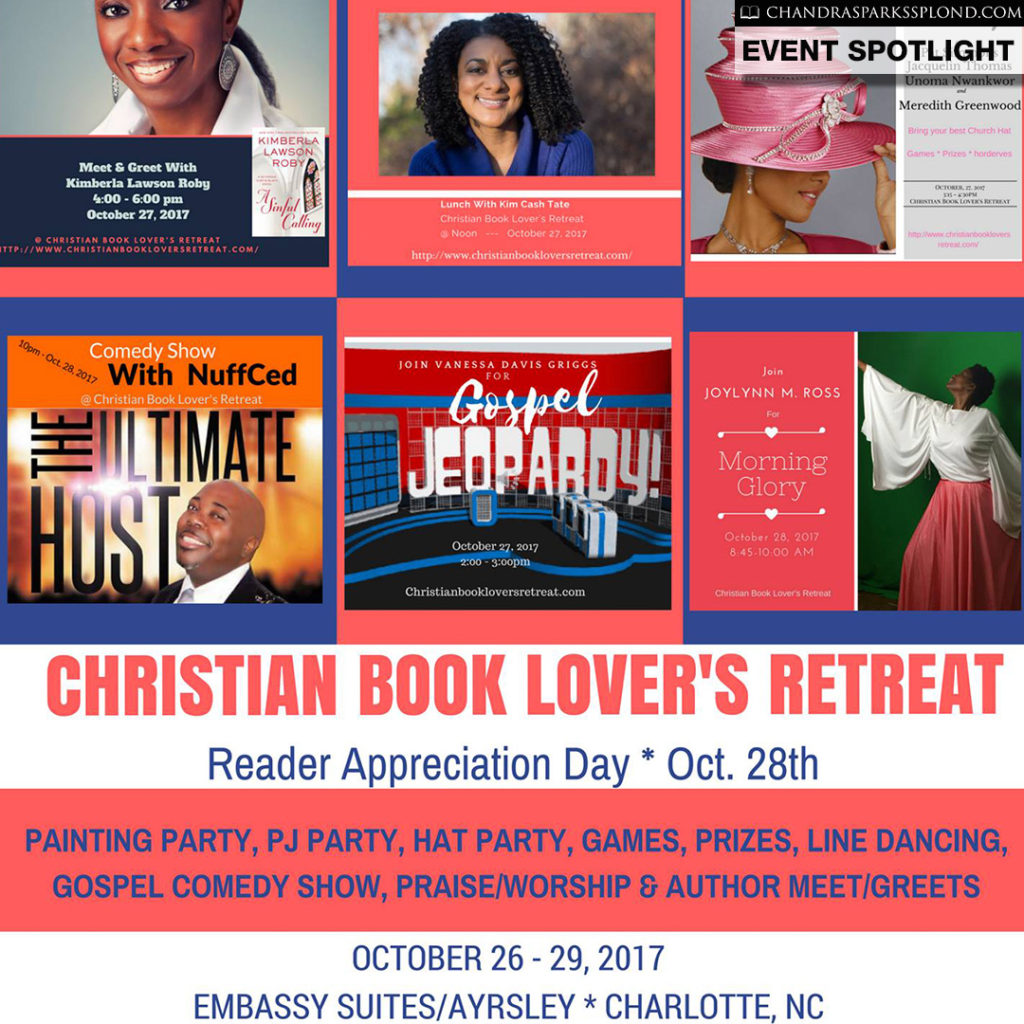 Looking to mix your love of books with your love of Jesus? Check out the Christian Book Lover's Retreat, which is taking place October 26–29 in Charlotte, North Carolina. I recently spoke with the retreat's host  Vanessa Miller Pierce.
Tell me about the Christian Book Lover's Retreat.
The Christian Book Lover's Retreat is all about Faith, Fun, Fellowship…and a whole lot of books. The first day of the retreat is jam packed with socials, game shows, and parties. The next day kicks off with praise and worship and then it's all about author book discussions and the painting party. Inspiration! Food! Games! Prizes!
The very first Christian Book Lover's Retreat took place the weekend of October 28–30, 2016, in Charlotte, North Carolina (The Queen City). In 2017, the retreat will be from October 26–29, 2017 at the Embassy Suites in Charlotte. The price to attend the retreat is only $199 and $185 for book club members registering as a group.
Some of the authors in attendance this year are: Kimberla Lawson Roby, Kim Cash Tate, Joylynn M. Ross, Vanessa Miller Pierce, Jacquelin Thomas, Michelle Stimpson, Pat Simmons, Stacy Hawkins Adams, Vanessa Davis Griggs, Rhonda McKnight and many more…
Why did you decide to start it?
A few years ago I attended an event that was supposed to be a group of women getting together for a fun evening out… That evening turned out to be not so much fun for me. Why? Because the God that I serve was being openly mocked with a drinking game. I was extremely uncomfortable. I then decided to put together an event where like-minded people could attend and enjoy themselves without having to pray for forgiveness for even putting such an event on their calendar.
Simply put, you'll have tons of fun at this retreat without feeling as if you have to put your Christianity aside in order to fit in with the crowd… because this crowd loves Jesus!
What can attendees expect when they attend?
They can expect to feel the love of God throughout the weekend, they will be entertained and they will be able to relax and hang out with like-minded people who love God and love books.
As far as the entertainment goes, besides all of the authors they will meet, we offer a comedy show, painting party, hat party, PJ party, a cake decorating and tasting seminar… this is the kind of event I would have signed up to attend even if I wasn't hosting it.
What makes the Christian Book Lover's Retreat different from other book conferences?
The Christian Book Lover's Retreat is a special event because it combines the love of God with the love of books. But it's not just another selling event for authors. At the Christian Book Lover's Retreat authors attend events side by side with the readers… It is a weekend where we truly get a chance to fellowship with each other. We also plan tons of fun events for the readers as our way of saying thank you.
It is an experience that our readers won't soon forget. In fact, most of our first-year attendees have already registered to attend this year's retreat.
In addition to founding the conference, you are also an author. Tell me about your Family Business series.
The theme for my Family Business series is: When streets meet Jesus…anything is possible.
In the Family Business series, I bring together Angel and Demetrius, two lovebirds from very different upbringings. Angel is the daughter of a preacher and Demetrius is the son of a gangster. As they fall in love and grow together through marriage, bringing up children, through tragedies and through good times the overarching theme is about the ability of God to change situations as we pray. This series has been receiving rave reviews from my readers, and I'm very happy about that.
What advice do you have for others interested in publishing a book?
Never give up. If you believe you are supposed to be a writer then take the classes, workshops on writing, read books on writing, study other authors by reading their books. And then take it one paragraph… one page at a time and craft the best story that you can. Once the book is finished the next step is having it reviewed by a professional editor (please don't skip this step).
What's the biggest lesson you've learned as an author?
That success isn't determined by how many books I sale, but by how many lives I touch with the story I write.
What's next for Vanessa Miller Pierce and the Christian Book Lover's Retreat?
Right now my main focus is increasing attendance at the Christian Book Lover's Retreat each year. We want as many people as possible attending this wonderful, God-centered experience that we offer.
To learn more about Vanessa Miller Pierce and the Christian Book Lover's Retreat, visit the author and retreat websites: www.vanessamiller.com and www.christianbookloversretreat.com.