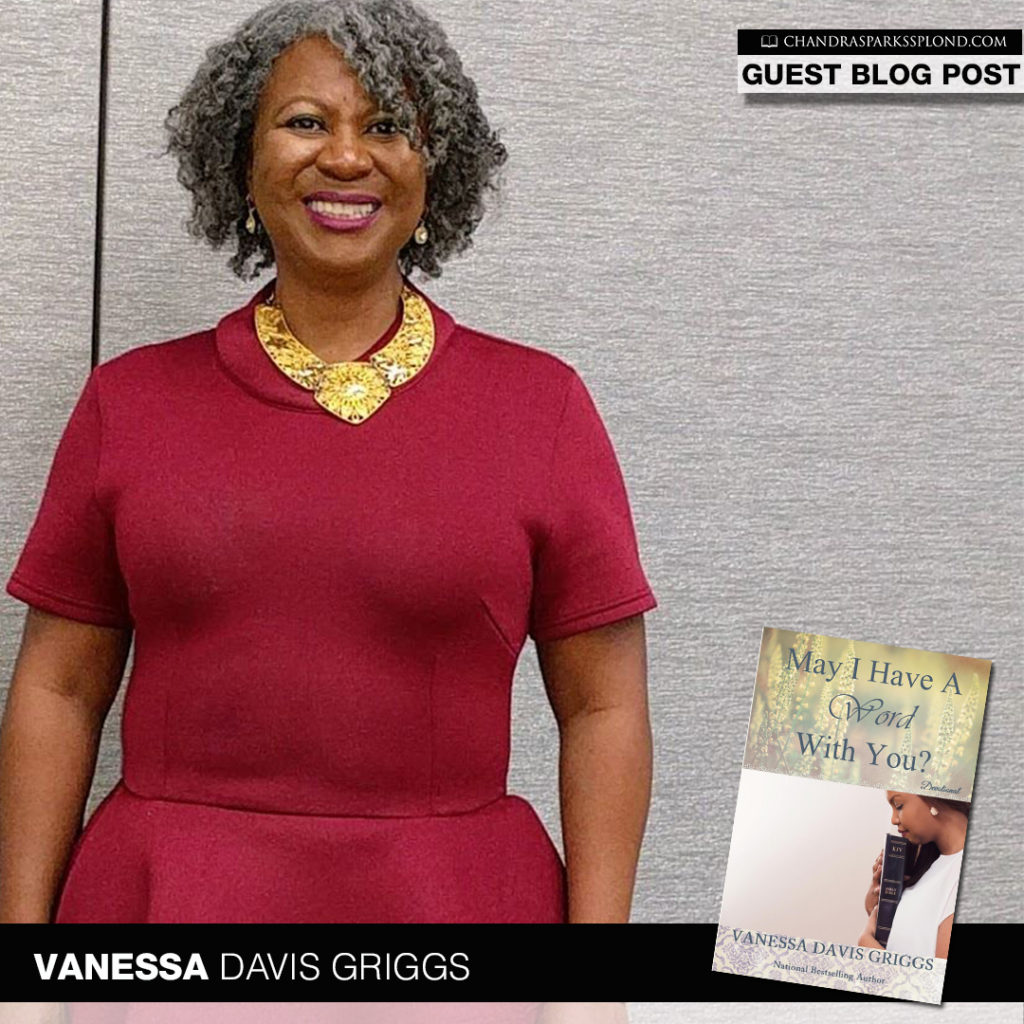 My good friend Vanessa Davis Griggs is visiting today to share an excerpt from her first nonfiction book, May I Have A Word with You?
I Quit
by Vanessa Davis Griggs
There are times when you do your best. You give it your best shot. You give yourself that pep talk to keep going. You know some of those things we say. "If at first you don't succeed; try, try again." "Quitters never win, and winners never quit." And you continue on your journey to that place you have set in your sights.
But then you find that the more you try, the more things come against you. It feels like no one really cares one way or the other. People aren't supporting what you do. Not really. Oh, they talk a good game. They put on great fronts as though they're in your corner. But we know another saying. "Talk is cheap."
When it's time to put action behind that talk, where are they? Where are your friends who said they'd be there until the end? Where are the "blood that's thicker than water" group? Where are those who pushed you out there to do it, told you they would be there for you when you need them? Where are they? Where are they?
I write. And there are times when I wonder if what I do really matters. Am I making a difference? I write fictional books, and I've wondered why do I stick to the principles of how I've been called to write the fiction God has given me? I push and keep going despite all those who are selling books like crazy while I have the nerve to put scriptures in my novels. And sermons, oh, don't forget about the sermons. You'll most definitely find at least one sermon in my novels.
Why keep doing this? Why not be a sellout and do that thing which is sure to garner me lots of readers who'll spread the word about my writing like a virus unleashed into a network of computers? Instead, I write Christian novels. Christian: that which lifts up Jesus the Christ.
Preachers, ministers, teachers, businessmen and -women, workers, laborers, mothers, fathers, political leaders, people with dreams, why do you keep trying when it feels like no one cares?
Why keep on going during those times when it feels like you aren't making a difference? When you feel like you're not getting any help. When it feels like you're wasting your time. Why not quit and do something altogether different, even though you know God has called you to this place? Why not at least change course? After all, it's possible you're on the wrong track.
Granted, some people are going in the wrong direction, and in those cases, I would definitely say it's a good thing to change course. But for those of you who know you're doing what God has called you to do, how He's called you…when you know you're in the will of God, that your steps are ordered by the Lord; then you're not included in the "change course" thought.
May I have a "Word" with you? The race is not to the swift, nor the battle to the strong. The race is given to the one who endures until the end. As long as you know God has called you to a thing, don't quit. Keep going. Keep the faith. Keep your eyes toward the hills from whence cometh your help. And your help comes from the Lord.
When family and friends forsake you, God is there. When you feel all by yourself, God is there. When you feel no one is helping…that you're not getting any support other than words spoken with little or no action backing it up, God is there. God will touch a stranger's heart to do what others said they would. God will provide what you need to do what He has called you to do.
Don't quit unless what you're quitting is truly not what you should be doing. Talk to the Lord about it. God will guide you. Don't quit. God is with you.
Excerpt from "May I Have A Word With You?" by Vanessa Davis Griggs.
Vanessa Davis Griggs is a motivational speaker as well as a national best-selling and award-winning author with 18 novels: Destiny Unlimited, The Rose of Jericho, Promises Beyond Jordan, Wings of Grace, Blessed Trinity, Strongholds, If Memory Serves, Practicing What You Preach, Goodness and Mercy, The Truth Is the Light, Ray of Hope, Redeeming Waters, Forever Soul Ties, The Other Side of Goodness, The Other Side of Dare, The Other Side of Divine, Steely Gray, and Countless Blessings. Vanessa is a contributor of 10 devotionals in Sisters in Faith Holy Bible and a book of devotionals entitled: May I Have A Word With You?
A former BellSouth employee, Vanessa stepped out on faith (leaving 18 years of service) to pursue her purpose and passion of becoming an author and speaker. She is a wife, mother of three, and grandmother of five.