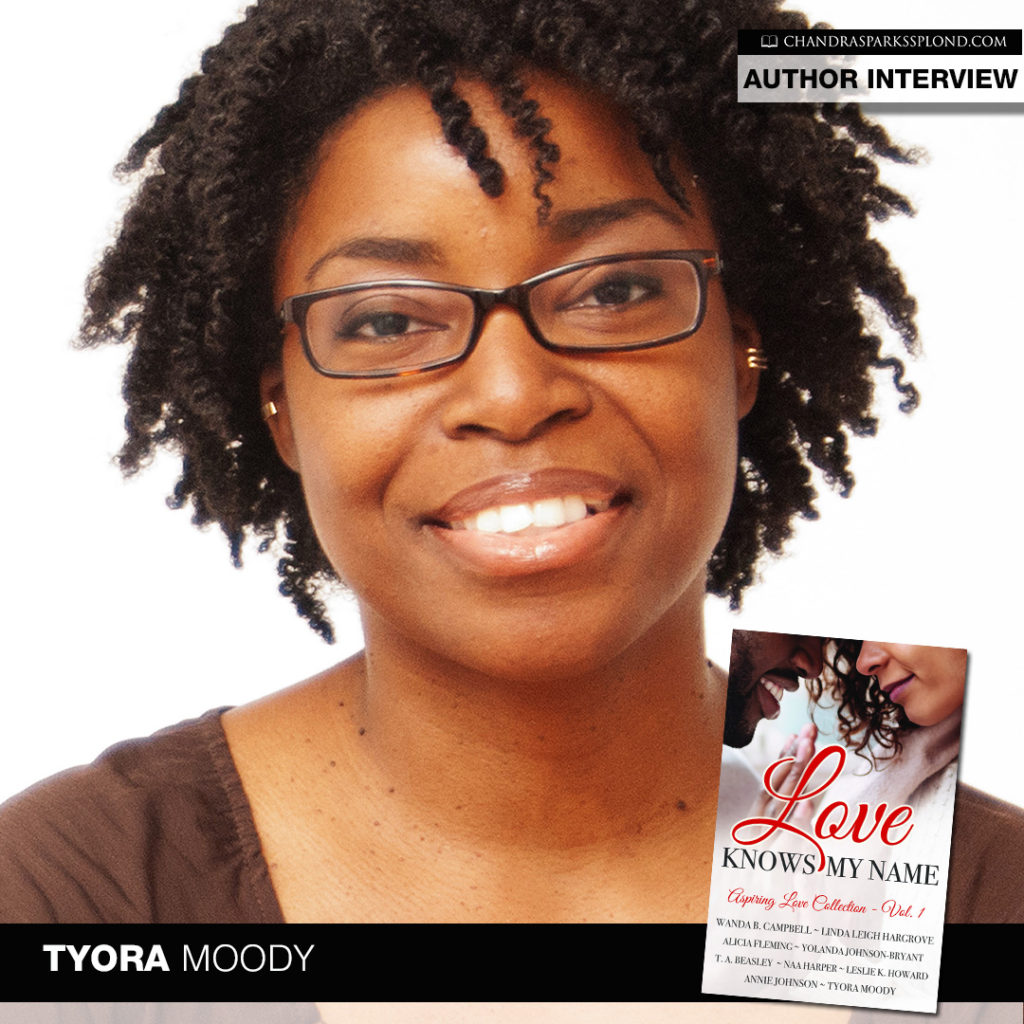 Tyora Moody knows a lot about wearing different hats. In her latest release, she's serving as editor and an author for the Love Knows My Name anthology.
Tell me about your anthology.
Sometimes past experiences make a person feel as if they will never know true love. Love Knows My Name features nine sweet Christian romance short stories from veteran and new authors. Enjoy stories of characters finding love at last.
Lasting Impressions by Wanda B. Campbell
Working as an ICU nurse offers Kaymar Washington many rewards, but a cure for loneliness isn't one of them. Patient Johnny Twenty-five changes everything. If only her patient wasn't comatose and knew she exists.
Dancing On the Moon by Linda Leigh Hargrove
Dr. Katrina Mason loves teaching college math. It's a rewarding departure from her past vocation as a stripper. When handsome Principal Nate Thomas finds out about her provocative past, will he be inviting her to leave the job?
Love Called My Name by Alicia Fleming
Sierra Ramsey meets Blaine Johnson in her grief care support group. As their friendship blossoms, will Sierra lets her guard down and learn to love again?
For the Love of You by Yolanda Johnson-Bryant
After a failed marriage, Serena Collins was done with relationships, that is until Gerard Nelson. After the prognosis of terminal illness, the couple has to decide if a lifetime of love is worth the little time they have. Certain Gerard is her forever soulmate, Serena is content with the life she's lived. Will Serena throw away a second chance at love?"
A Coffee Shop Connection by T.A. Beasley
Renee Spencer is running late for work but knows she'll be no good for anyone without her morning coffee from Rose's Coffee Cafe. David Brock is on his way to work when he stops to help a friend. Unbeknownst to Renee, her detour may be fate trying to brighten up her day.
A Timeless Love by Naa Harper
At seventeen, when Candace Parker catches the attention of Michael Taylor, star quarterback of Olive's high school football team, her world is wrecked and turned upside down. Years later, when she attends the regularly scheduled game night at a friend's house and there is one guest she is not expecting.
One Day I'll Be Gone by Leslie K. Howard
Jeanette, a meek young college student gets caught up in a warm, attentive whirlwind named Thomas Watson. But after they marry, everything about Tom changes. When an apocalyptic event rocks Tom's world and he discovers Jenny is gone, will he finally change for the better?
Spring Blues by Annie Johnson
Physical therapist Spring Vaughn is still struggling with a past tumultuous relationship. When DeMarco Blues, a professional football player, becomes her latest patient, she can't deny her attraction. But the last thing she wants is another relationship with an athlete.
The Replacement Date by Tyora Moody
Five years after a rocky divorce, Donna Madison is out on her first date. But when she is stood up by her date, she's not too upset because a surprise "replacement" date saves the night. Donna can't help but wonder if the unexpected meeting has divine purposes.
Why did you decide to serve as editor for the project?
A few years ago during an interview I was asked if I would consider writing in another genre besides mystery and suspense.  Since I write romantic suspense, I thought the best alternative genre to pursue would be romance. A short story seemed like a good place to start. I felt led to pull together veteran and new authors in one collection. It has been an awesome experience to serve as editor for the Aspiring Love Collection.
What do you want readers to learn from the stories?
I think the dedication from Love Knows My Name describes this best.
This anthology is dedicated to the woman (or man) who has given up on love. We never know who God may place in our paths. Remain open to the possibilities.
If you could pick another profession, what would it be and why?
I worked as a web developer for about a decade. Coding is so popular these days, I would love it if I had the time to really learn programming.
What's the best part of being an author?
For me since there are very few African-American Christian authors who write mystery and suspense, it's always a joy when a reader mentions they don't ordinarily read mysteries, but they really enjoyed my novels. I'm thrilled whenever a new reader takes a chance on picking up one of my mysteries.
What's the worst part of being an author?
If you have a full-time job and a side business like myself, the worst part is finding the time to both write and promote. Time management and the "characters" inside your head are always warring with each other.
What's next for Tyora Moody?
I'm excited to finally release the second book, Bittersweet Motives in the Serena Manchester series this spring. The first book Hostile Eyewitness was released in 2015 under Urban Christian. It's been a long while since I have been able to get back to this series, which I'm continuing under my own independent publishing company.
Do you have anything you would like to add?
Readers can be on the lookout for the second anthology, Love Walked In, in the Aspiring Love Collection this summer. I'm excited about the next set of stories, which are getting ready to go through the editing process now. Stay tuned for the cover reveal in February 2019.
To learn more about Tyora Moody, find her online at tyoramoody.com or connect with her on Facebook, Twitter and Instagram under her name.