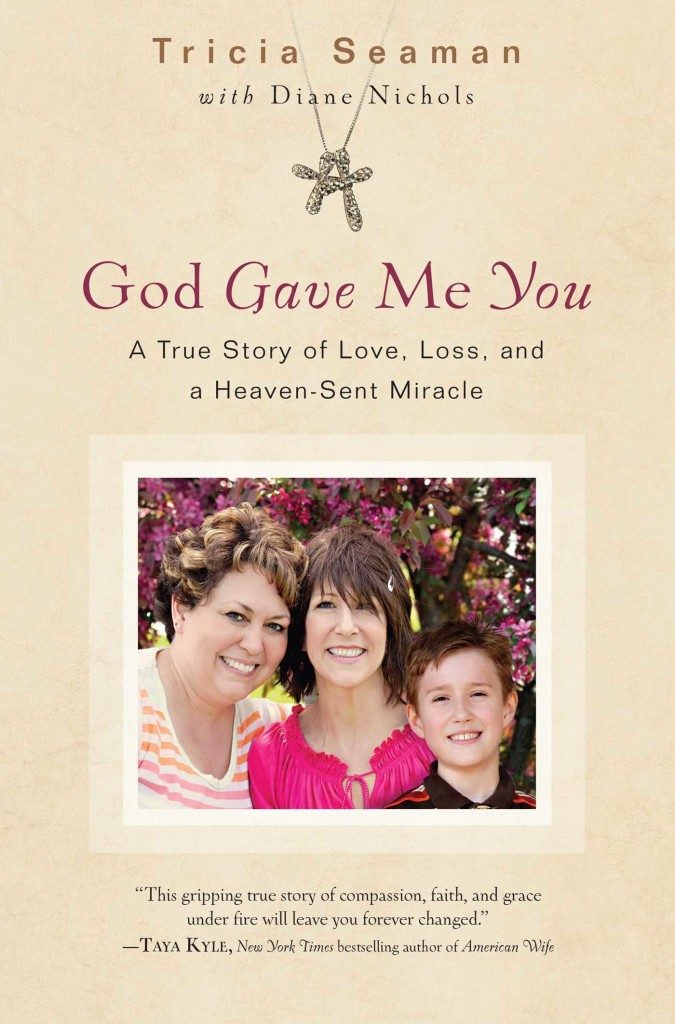 Author Tricia Seaman Registered nurse Tricia Seaman is a witness that God answers prayer—sometimes in ways we don't expect. She recently talked with Hope for Women about heaven-sent miracles and her new book, God Gave Me You.
Tell me about your book, God Gave Me You.
God Gave Me You is a memoir written about my personal journey as a mother, wife and oncology nurse. My husband, Dan, and I have been blessed with four beautiful children and were pursuing adoption through the foster care system.  We were hoping and praying to add another little boy to our family.  With God's divine intervention, I was assigned to care for Tricia Somers one evening in March 2014. As events unfolded, Trish Somers found out over the following three weeks that her cancer was terminal and she had a very short time to live. She was a single mother with no immediate family and limited resources.  The day she was to be discharged from the hospital, I entered her room to say goodbye, only to learn from her the tragic news about her diagnosis. In the next breath, she asked me if my husband and I would raise her son when she dies…. God Gave Me You is Trish Somers' story too.  Together, with my husband and family, we became family to Trish and Wesley.  It is a story of love, loss, and heaven-sent miracles…truly giving God all the thanks and praise for the opportunity to now be parents to five beautiful children…and remember one beautiful mother.
Why did you decide to write it?
Trish accepted Jesus as her Savior in May of 2014, and as she grew in her walk with the Lord, she desired very much for us to share our miracle.
What is the biggest lesson you want readers to learn from your story?
God is amazing. He works in wonderful ways…and the most important thing I have learned and hope to share with others is Isaiah 55:8–9: "For My thoughts are not your thoughts nor are your ways My ways," says the Lord, "For as the heavens are higher than the earth, so are My ways higher than your ways and My thoughts than your thoughts."
How old is Wesley now, and how has he adjusted to living with you?
Wesley is now 10 years old and in the fourth grade. He is doing wonderful. The adjustment has gone very well. He really enjoys having a brother and sisters, extended family and church family. He and his brother Noah spend endless hours playing Legos!
What advice do you have for others who want to adopt?
Pray 2. Pray 3. Ask God what His will is. 4. Pray. Repeat. Also seek out a Christian foster adoption organization. Know that this will be a journey, and at times may seem frustrating. Really specifically pray for what God wants for your family. There are many sibling groups who need homes as well as many children with special needs.  Seek out an agency that you and your family feel a real comfort level with.  The training that we received was wonderful and certainly prepared us for helping Wesley through grief and loss. It was also such an awesome opportunity to network with other families and learn from each other.
What do you say to those who don't believe in miracles?
I would ask them if they would like to go for a cup of coffee, and I would share my testimony with them, and more importantly God's word. For those who cannot see the beauty and the miracles of God around them, it is truly as if living with blinders on.  Our mission as children of God should be to walk in light, be a light to those who cannot see, and pray for God to use us, however He wants to, and then be prepared. It may not be what you expect!
What's next for Tricia Seaman?
Keep serving the Lord, and serving others.  I am living my dream right now , today. I am so blessed to be sharing life with my husband, Dan. We will celebrate 21 years of marriage this year.  I love being a mother to all five kiddos. My joy comes from taking care of my family, cooking, making a nice home.  Being an oncology nurse is also very, very rewarding. For me, it is a ministry. I have considered further education, other types of positions in the oncology area, but I truly believe I am right where God wants me right now.  I love nothing more than being at the bedside, just loving my patients and their families, doing whatever I can to make their journey with cancer a little easier.
Do you have anything you would like to add?
I think walking through Trish's illness really changed the way I do my job, and more importantly the way I live life.  It is not about the endless lists of to do's. It is about loving the moments, loving those around you, and living life to the fullest.
To learn more about Tricia Seaman, visit her on Facebook.
(via Hope for Women)