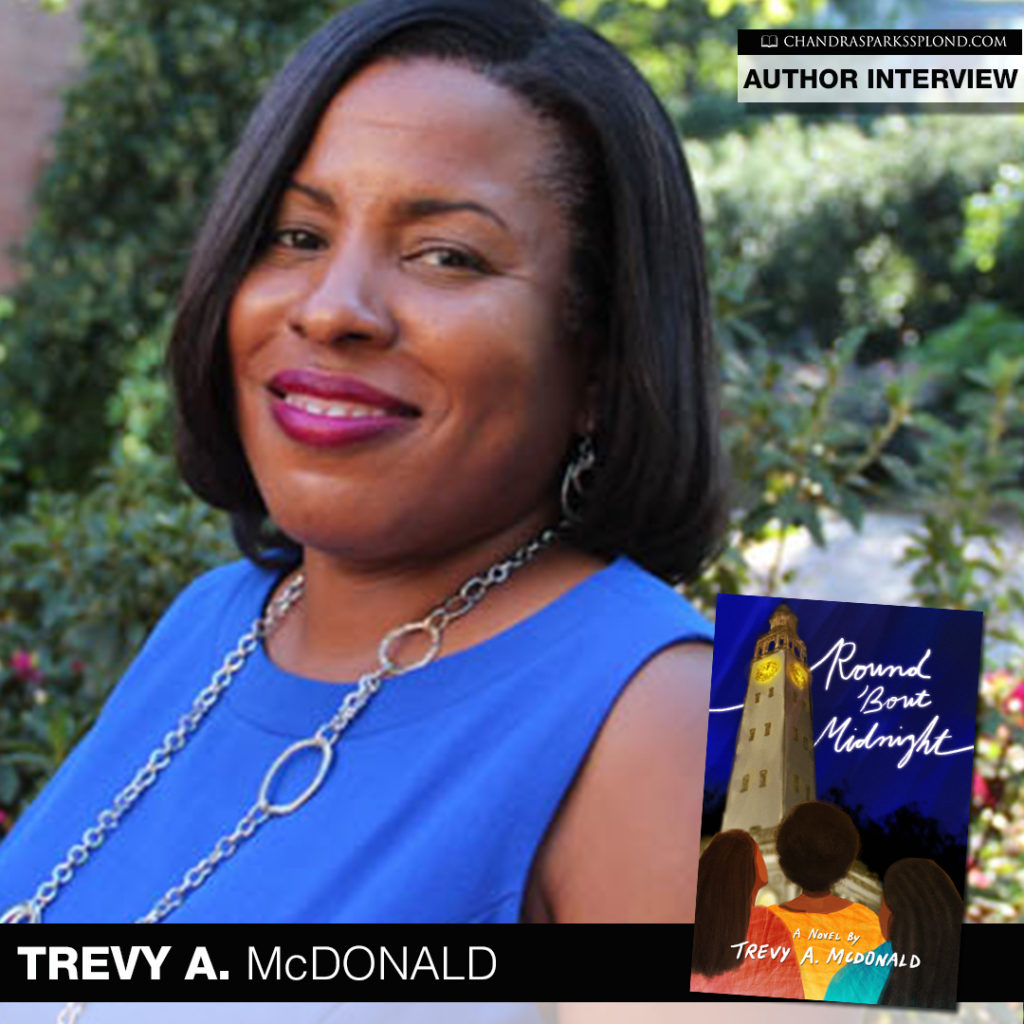 Trevy A. McDonald has come back around to the story that launched her publishing career.
I recently spoke with McDonald, an associate professor of broadcast journalism at the School of Media and Journalism at the University North Carolina at Chapel Hill, about her latest novel, Round 'Bout Midnight.
Tell me about your latest book.
Round 'Bout Midnight is the sequel to my 1999 debut novel Time Will Tell. I decided to write Time Will Tell as my ten-year high school reunion was approaching. I had a few close friends in high school, but we lost contact when we attended college in different parts of the country. I wondered how our lives might have turned out if we had maintained contact and supported each other through the years.
 Round 'Bout Midnight starts where Time Will Tell ended for each of the characters. The world Hope Jones-McCoy spent ten years building has come crashing down around her at once when her high school sweetheart of 14 years asks for a divorce. Rachel, estranged from her drug-addicted husband, is trying to muster up the courage to contact her ex-fiancé, Patrick, after six years to ask him to take a paternity test. After reconnecting with high school crush, International Basketball League star Rodney Harris, at the ten-year reunion Thomasine thinks that she just may finally be lucky in love. When he doesn't show up at O'Hare airport before her flight (she's going to Australia for two years on a research grant), she convinces herself that he's just like the other men who have broken her heart. In Round 'Bout Midnight she wakes up on her flight from Los Angeles to Sydney to find him sitting across the aisle from her.
The book also addresses social issues including substance abuse, sexual and domestic violence against women, divorce, gambling addiction, and one character's journey to weight loss. Round 'Bout Midnight also makes readers aware of issues of great concern to Indigenous Australians including the Stolen Generations and gentrification of the Redfern neighborhood in Sydney.
The book is titled Round 'Bout Midnight because each of the major characters faces issues and life decisions that cause sleepless nights. Like Time Will Tell it is also the title of a song from an early album by Wynton Marsalis titled The All-American Hero. In Time Will Tell each of the chapters is titled after a song, and most of the songs were current when the chapter was set and relate to a theme in the chapter. In Round 'Bout Midnight each chapter is titled after a jazz song, and most are jazz standards.
Why did you decide to write it?
When I wrote Time Will Tell, I was in my late twenties, and I ended the novel with a cliffhanger.
For many years (I don't want to count them), readers have asked me what happened to Thomasine, Rachel, and Hope. In the last scene of Time Will Tell, readers know that Rodney (Thomasine's high school crush with whom she reconnected at the reunion) is sitting in first class on her flight from Los Angeles to Sydney, Australia, but Thomasine doesn't know. She's listening to Pete Escovedo's Flying South CD and has headphones on when the pilot makes an announcement that should give her a clue.
I outlined and began writing Round 'Bout Midnight in 2002. Although I didn't finish writing the book immediately, I believe my life experiences over the next 16 years helped shape Round 'Bout Midnight into an even better novel.
What do you want readers to learn from the story?
While Time Will Tell focused on Thomasine, Rachel, and Hope, I decided to develop the male characters more fully in Round 'Bout Midnight. I think the biggest takeaway that I hope readers gain from Round 'Bout Midnight is that despite where you start or what you go through, your life can be healed and you can make a quantum leap towards truly living your dreams.
What do you want readers to learn from your life?
I can sum this up in a haiku I wrote in 2003. It is truly expresses my journey as a writer and publisher, as well as in life.
Commit to your dream
And the desired resources
Are provided now!
Who is your favorite author and why?
This is a very difficult question for me. I read a variety of books, both fiction and non-fiction. As such, I don't think I have a single favorite author, but I like the works of many different authors. Aside from the Holy Bible, there is one book that I believe had the most impact on my life. That book is You Can Heal Your Life by Louise Hay. After reading it, I stopped taking things so personally, and that transformed my life.
What's next for Trevy McDonald?
My next writing project will be a series of young adult books with a goal of educating that audience about the Civil Rights movement. I've also been collecting oral histories from Black journalists who covered the Civil Rights movement for an oral history and documentary project.
Do you have anything you would like to add?
Reflecting on my haiku about commitment, I want to encourage others to believe that their dreams are most possible and attainable. It does take work, but I've found that there is a lot of power in decision. When you decide, and make that commitment, everything tends to fall into place.
To learn more about Trevy A. McDonald, visit her website or connect with her via social media.
Facebook:  DrTrevy
Twitter:  DrTrevy