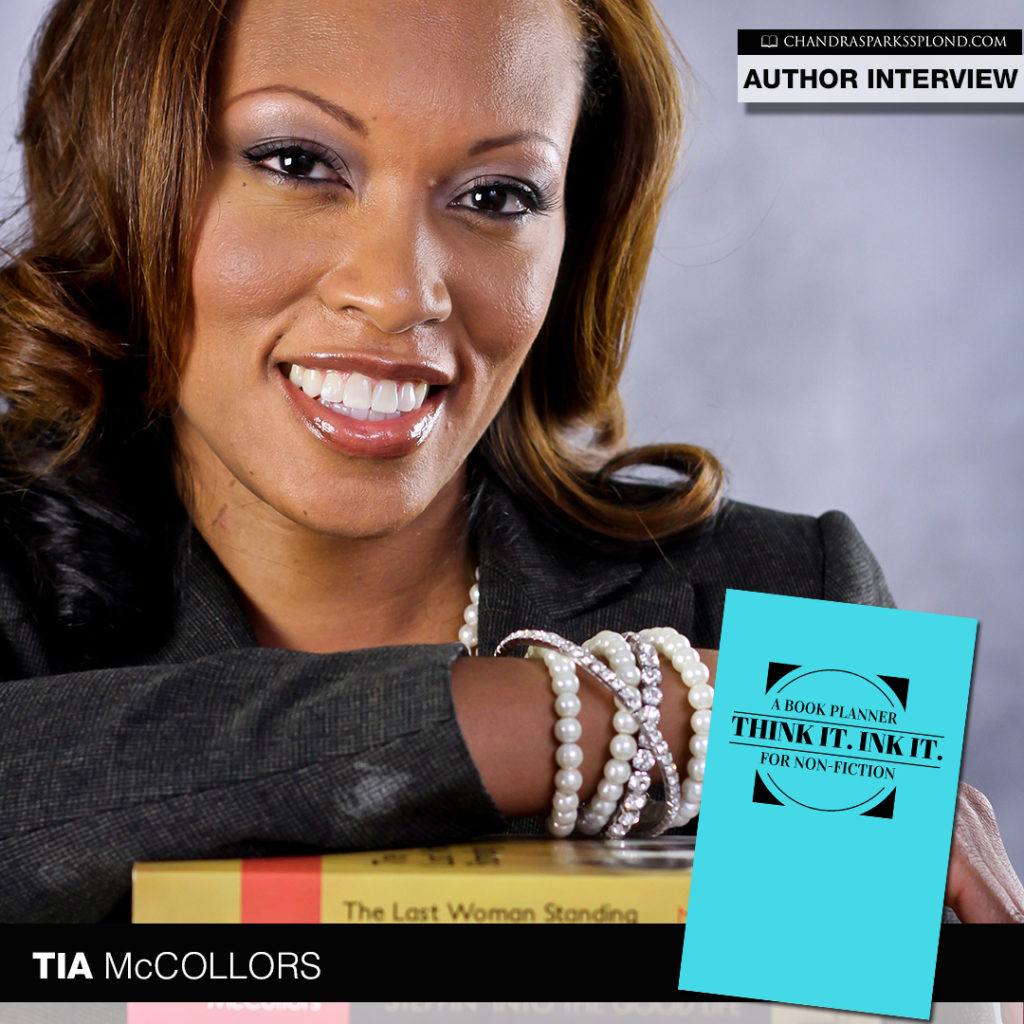 If you've ever considered writing a nonfiction book, author, inspirational speaker and writing coach Tia McCollors wants to help. I recently spoke with her about her Think It. Ink It planner.
Tell me about Think It. Ink It.
Simply put, it's a planner for people who write non-fiction. It gives "creative folks" a place to brainstorm and outline up to five writing projects. If there are any writers like me, we need to take all of our little thought bubbles, ideas, scribblings on the back of receipts, and notes in the app of our phones, and put them in one place. Think It. Ink It. is that place.
I absolutely love it. It's a handy resource for all writing levels—aspiring writers, novice authors and professional authors—and it's all about structure and organization.
The Think It, Ink It Planner features several sections to help guide writers through the non-fiction writing process. Areas include: My Purpose. My Passion My Motto. My Message. My Motivation Project Details My Writing Time On Target Chapter Points/Overview Quotes, Verses & Words of Inspiration. Connections. Go For The Goals. You Did It! Celebrate! Noted & Bright Ideas. Think It. Ink It. (A Book Planner for Non-Fiction) is sized 8.5" x 11" with a glossy cover.
Why did you decide to design it?
I originally designed this book because I was the one who needed it! When other writers and friends noticed how I organized my non-fiction projects, they encouraged me to design one and share it with others. The simple, yet fun and effective design of the Think It. Ink It. journal makes you want to see your book complete. It encourages you to see the project through from concept to completion.
What advice do you have for readers interested in writing a book?
Find the rhythm that works for you. By that, I mean find your peak writing times. Determine how you want to lay out your book. Above all, stay focused and disciplined and don't stop until it's done—no matter what it takes. Find your rhythm with other aspiring writers who can help hold you accountable. I would also suggest putting together a writing group and using Think It. Ink It. as a resource for your circle. You'd be amazed at what organization could do for your writing life.
What do you want readers to learn from your life?
I know people think that the word seasons is overused, but it really is appropriate. When we assess the season of our lives, it helps us to be more content with what's happening. There are times when I've wanted to write away to my heart's content, but my mommy duties were overwhelming and time consuming. There are times when our business needs more attention than my writing muse. Above all, it's important to keep the words of Proverbs 19:21 in our hearts: "Many are the plans in a person's heart, but it is the Lord's purpose that prevails."
Who is your favorite author and why?
Now are you really going to ask me that question? That's a hard one. How about I'll let you know what I'm reading now? I'm almost finished Give A Little by Rhonda McKnight…then up next will be Abuse of Discretion by Pamela Samuels Young and after that I'm starting a book by Kim Cash Tate. Not sure which one, yet.
What's next for Tia McCollors?
That's a great question! Right now, I'm taking it day by day, and I'm mapping out my vision for 2018. This year has been slow-paced for me, and most of it has been intentional. Purposeful times of rest and brainstorming has helped me put things in perspective, and for that, I'm thankful. One thing I want to focus on in 2018 is increasing my opportunities for speaking engagements and also acquiring more clients as a writing coach. In the book world, I want to take the time to market my journal called For My Daughter: A Journal of Mom's Life, Love & Wisdom. As women, I believe we have an obligation to record and share our past, future, dreams and wisdom for our daughters.
Use my affiliate link to purchase your copy of Think It. Ink It.
To learn more about Tia McCollors, visit her website or connect with her on social media.
Facebook: www.Facebook.com/FansOfTia
Instagram: @tmccollors
Twitter: @TiaMcCollors