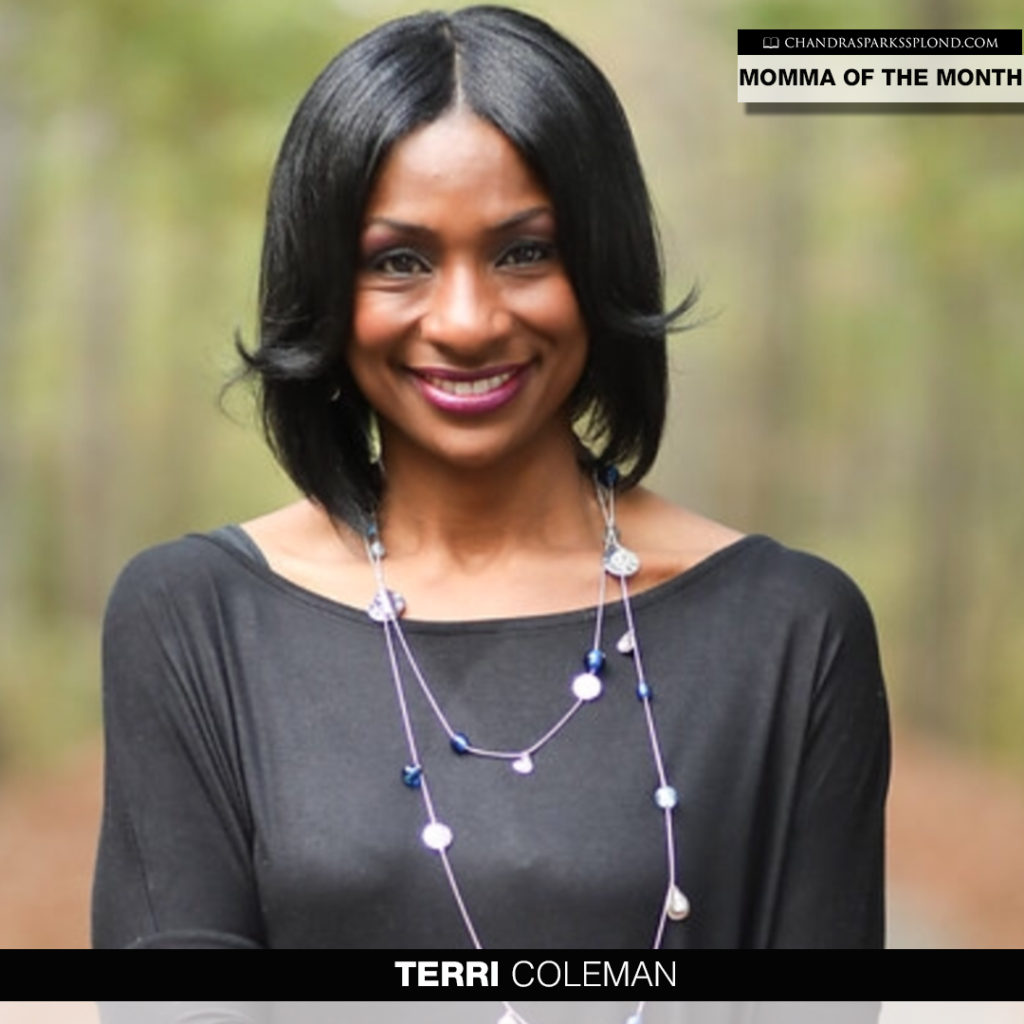 March's Momma of the Month Terri Coleman, Ed.S., is a momma on a mission to make a difference in the lives of the kids she serves as a counselor at Brock's Gap Intermediate School (BGIS), but first and foremost in the lives of her own babies.
 Tell me about yourself.
I grew up in Hueytown, Alabama. Both of my parents are deceased, which God has given me tremendous strength in dealing with the loss over the past several years. I am married to James Coleman, an administrator in Jefferson County. I have two daughters and a son. A 23-year-old daughter (Tierra), 15-year-old (Johnna), and 9-year-old (Jameson). I obtained my bachelors (psychology) and first masters (education) degrees from the University of Alabama at Birmingham and my last two graduate degrees (school counseling) from the University of West Alabama.  I currently work as the sixth-grade counselor at BGIS in Hoover. I love shopping and traveling. When not doing those things, I stay pretty busy with the kids' activities as well as church and sorority obligations. I am a member of The Worship Center Christian Church and the Psi Xi Omega chapter of Alpha Kappa Alpha Sorority, Inc.
What are the best and worst things about living in Birmingham?
The best thing about living in Birmingham is being close to family and friends and the rich history of the city. The city's history can also be considered the worst part of living here as well. My husband and I love to travel. While traveling, we are often asked where we are from, and sometimes their response when told is typically something negative about Birmingham. The rich history of Birmingham and the Civil Rights Movement may sometimes yield some individuals to believe that those same horrific stories from then still exist today. Unfortunately, many prejudices still exist, however, we have come a long way from that time. We would love for our city to be recognized for its growth.
If you could change one thing about Birmingham, what would it be and why?
If I could change anything about Birmingham, I would love to see our entertainment district grow and have a safer environment for individuals to hang out and enjoy what the city has to offer.
What is your proudest mom moment?
I have had so many proud mom moments that it would be so hard to name just one. Seeing the birth of my grandson was definitely a proud moment. Seeing my baby have her own baby and become such a great mommy, that is a proud mom moment. Seeing my 15-year-old accomplish so much. She is such a responsible, talented and intelligent young lady—from honor roll student to class president to homecoming queen, definitely proud mom moments. My son is our little genius.  I walk into a room and instead of playing games, I will find him curled up reading a book. As an educator and a mom, that is a proud moment. We love seeing his love for reading.
What is your proudest wife moment?
Wow, my husband makes me proud every day to call him my husband. The way he loves the kids and me brings me so much joy. I am proud of him for being a calm leader in our home. He reminds me to calm down when I get worked up and stressed. He is a man of faith. He is working to finish his doctorate, so I am so proud of his drive and his commitment.
What advice do you have for parents who are preparing for their kids to transition to a new school or grade?
Advice I would give parents for their kids who are transitioning to a new school or grade would be the following:
Include the child in the process and discussion and listen to their fears, etc.
Visit and tour the school before they start.
Meet the counselor and ask if they have any groups or programs for new students.
Get them involved in school and community programs, clubs or sports to meet other kids.
Stay in constant communication with the teachers and the counselor for follow up.
Follow teacher blogs and INOW or whatever grading policy the district has in place to stay abreast with your child's academic progress.
Get involved at the school as much as possible with the PTO.
Allow the child opportunities to communicate with old friends.
Try to combine opportunities for old and new friends to connect.
Be patient during the adjustment process.
What's next for Terri Coleman?
I love being a counselor and making a difference in the lives of children. I have also taken courses to position myself to be an adjunct professor. I would love to work part-time in the evenings at an area college as a professor and maybe someday opening my own practice. My passion for traveling and planning our travels also has me developing an interest in becoming a travel agent someday. Maybe after retirement! Who knows what God has in store for me next? I plan to be patient and wait and see.
Please follow and like us: