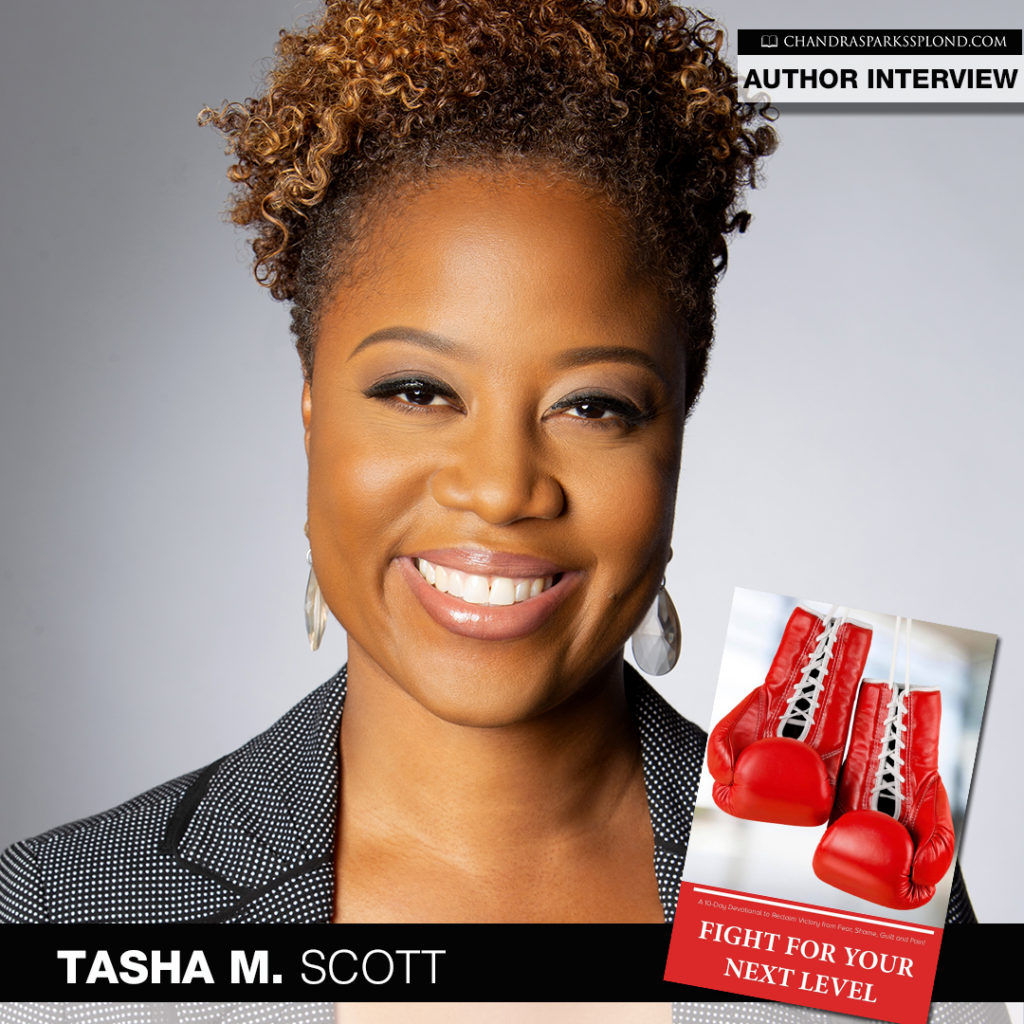 Life and executive coach Tasha M. Scott wants to help leaders and women grow. I recently spoke with her about her book Fight for Your Night Level: Reclaim Victory from Shame, Guilt, Fear and Pain.
Tell me about your book.
(Excerpt from the press release)
What's holding you back from becoming your best you? One author and influencer finds that more and more people are being held hostage to their past struggles and victories and she wants to help them reclaim their lives through her latest book, Fight for Your Next Level:  Reclaim Victory from Shame, Guilt, Fear and Pain.

She calls her latest book a clarion call to leaders and influencers that it is more than possible for you to excel in every area of life—withholding nothing.

According to Uduak Afangideh, owner of Afangideh Publishing, the book's publisher,  "In this 10-day devotional book, you get a chance, not only to meet Tasha, but to share the story of her struggles and her journey to becoming who God created her to be. The underlying theme of this devotional is that God is using everything you've gone through and everything you will ever go through to make you a phenomenal woman. This is not an abstract book, but a practical one, with scriptures to empower you, spaces to reflect and prompts that will guide you on your journey."
Why did you decide to write it?
When I first wrote this part of my life, it was in a journal. It was never intended to be seen by anyone. Writing was a therapeutic outlet. But as I dove deeper into my calling as a speaker, trainer, coach, I couldn't help but feel a sense of responsibility to share this because I've seen so many leaders feel forgotten or overlooked. It's weird because you can be a tremendous help to others but still feel like no one sees you. I wanted those leaders to know they weren't forgotten.
What do you want readers to learn from the story?
I want readers/leaders to understand that God wants us to be whole in every area of our life. We don't have to settle for lingering pain, shame or guilt and accept that this is the way it's always going to be. 
What do you want readers to learn from your life?
I want readers/leaders to know that I get it. I am my own subject matter, and it's important for me to share from a place of transparency so that others know they are not the only ones.
Who is your favorite author and why?
Francine Rivers is my favorite author because of her book Redeeming Love. It's the first Christian fiction book I've ever read. It's a powerful story that taught me about unconditional love, and it showed me a glimpse of my purpose.
What's next for Tasha Scott?
Growing the Tasha Scott Group, which includes my company Maximized Growth, LLC, and my mission Connected Women Win®. I thought I had to choose between the two, but I realize that I don't. I'll be working with a team to help me clarify both brands. Maximized Growth, LLC, is focused on leadership training and development as well as professional speaking and executive coaching for organizations and individuals. My focus is learning more about my clients, developing customized programs and strategies to improve personal growth and communication so they can improve their leadership skills, abilities and potential. Connected Women Win is more of a movement to unite women and remind them that the most powerful connections are to God, ourselves, our purpose so that we can connect to others in a healthy way.
Do you have anything you would like to add?
All of us have challenges. All of us are imperfect! The best thing we can do is go digging for the treasure that's within us, leverage the hard times and maximize our existence in every way!
Use my affiliate link to purchase your copy of Fight for Your Next Level: Reclaim Victory from Shame, Guilt, Fear and Pain.
To learn more about Tasha M Scott, visit her website or connect with her online.
@coachtashascott—Facebook | Twitter | YouTube | Instagram