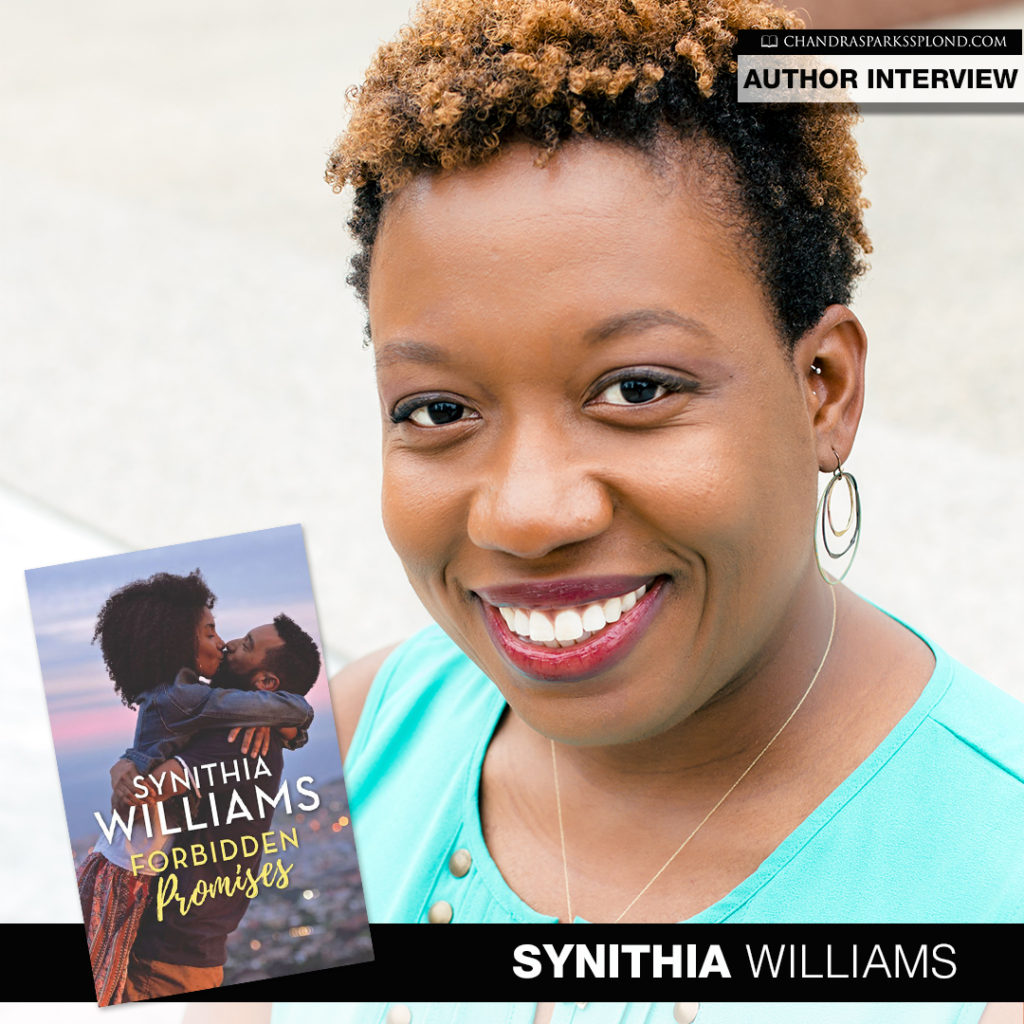 I'm honored to have author Synithia Williams visit today to talk about her latest release, Forbidden Promises.
Tell me about your latest book, Forbidden Promises.
Forbidden Promises is a story of family secrets, lies and forbidden love. The main character, India Robidoux, is a violinist who spent years traveling with an orchestra to escape her family's drama. She returns home for a quick visit and is roped into helping with her brother's political campaign. Staying longer wouldn't be a problem if she weren't still in love with her sister's ex-husband, Travis Strickland.
Why did you decide to write it?
I grew up watching soap operas and night time dramas. I love stories that revolve around family dynamics with romance, intrigue and drama mixed in. Forbidden Promises started with an idea I had to write a "Black Dallas" type story. I wasn't sure if readers would be interested in my out- of-the-ordinary idea, but luckily a writer friend pushed me to get over my fear and write the story in my heart. Even if the story is a sister's ex-husband romance.
What do you want readers to learn from the story?
I try to write imperfect but relatable characters. My wish is for readers to understand the decision my characters make even if they don't like the decisions and see that despite their imperfections the characters are still worthy of love. That's what I ultimately hope readers learn whenever they read one of my books. We are all worthy of happiness and finding love that fulfills us instead of breaking us down.
What do you want readers to learn from your life?
Hmm, good question! From my life I hope readers learn to dream big and don't give up. I started pursuing my writing career after a former co-worker decided to go to law school. I figured if she could go to law school then I could write a book. Eight years and nearly 20 books later I've done that and more! It hasn't always been easy, and oftentimes it was hard, but I keep doing this. Excuses will try to get in the way of progress. How you respond to those excuses will determine how successful you'll be at anything. Believe you can do whatever it is you want, and don't let excuses stop you.
Who is your favorite author and why?
That's like asking me to pick my favorite kid, lol! I love Beverly Jenkins and her historical romances because her books were the first books to show black love in a beautiful historical context. Farrah Rochon was the author that turned me into a huge contemporary romance reader. My favorite genre is paranormal and fantasy. I love books written Seressia Glass, Nalini Singh, and N.K. Jeminsin because they create fantastic, fantasy and paranormal worlds with complex characters whom I fall in love with.
What's next for Synithia Williams?
I just turned in the last book in the Jackson Falls Series, which is so great because I can focus on new projects. I'm working on proposals for two new contemporary series and getting over the excuses I've used to convince myself I can't write a fantasy romance. I'll be working on those ideas in 2020 and hope they make it to publication in the future. I also plan to re-release the first three books I wrote for Crimson Romance, a digital imprint that no longer exists, this spring.
Do you have anything you would like to add?
Thank you for taking the time to interview me. I hope your readers decide to give Forbidden Promises a try, and if they like that, pick up some of my other novels.
Forbidden Promises Blurb:
What do you do when you want the one person you can never have?
Get in and get out. That was India Robidoux's plan for this family visit. But when her brother needs her help with his high-profile political campaign, India has no choice but to stay and face the one man she's been running from for years—Travis, her sister's ex-husband. One hot summer night when Travis was still free, they celebrated her birthday with whiskey and an unforgettable kiss. The memory is as strong as ever—and so are the feelings she's tried so hard to forget.
Travis Strickland owes everything to the Robidoux family. There's nothing he wouldn't do for them—his divorce could never change that. Still, he has one regret. Impulsive and passionate, India always understood him better than anyone else. And the longer they work together on the campaign, the more torn he is. Coming between her and her sister is out of the question. But how can he let love pass him by a second time?
Use my affiliate link to purchase your copy of Forbidden Promises.
Readers can learn more about Synithia Williams and her books by visiting her website www.synithiawilliams.com. There they can find blogs about her writing process, updates on new releases, and a link to subscribe to her newsletter. Readers can also find her on social media. Twitter: @SynithiaW, Facebook: www.facebook.com/synithiarwilliams, Instagram: @SynithiaW