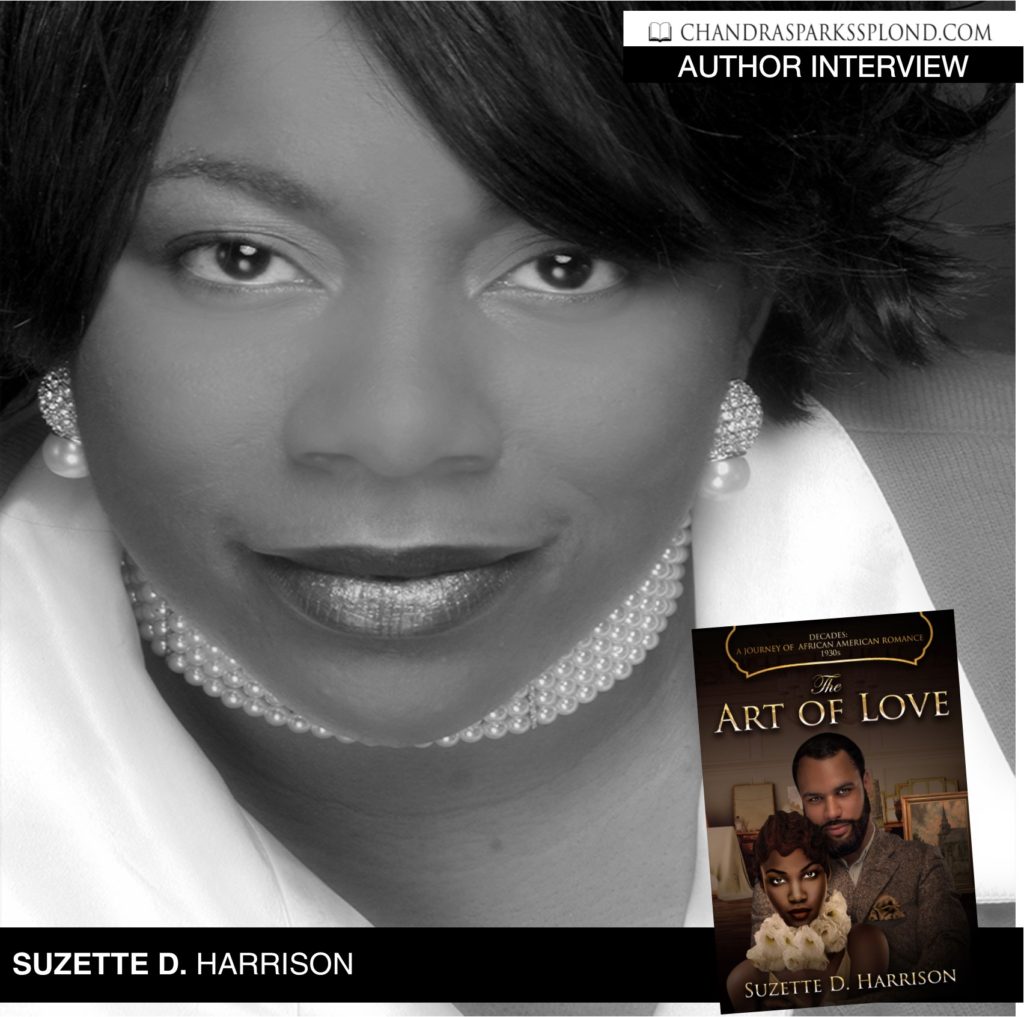 Award-winning author Suzette D. Harrison focuses on the 1930s in the latest release in the Decades project series. I recently spoke with her about The Art of Love.
Tell me about your latest book.
The Art of Love is my contribution to the "Decades: A Journey of African-American Romance" project. For readers who may be unfamiliar with "Decades," the series consists of 12 books, each set in one of 12 decades between 1900 and 2010. Each story focuses on the romance between African American protagonists, but also embraces the African American experience within that decade.
Set in the 1930s, The Art of Love is the story of Ava Lydell, a struggling artist who migrates from the Deep South to California in pursuit of her dreams. Unfortunately for Ava (and the rest of the nation), the 1929 Stock Market Crash leads to widespread devastation known as The Great Depression. As if the struggle to become a notable "Negro" artist wasn't challenging enough, the country's economic crisis makes it virtually impossible for Ava to secure a living. Ava finds herself faced with financial ruin and the decimation of her dreams until a chance encounter lands her face-to-face with the slightly younger Chase Jenkins whose occupation is a bit too dangerous for Ava's taste.
Not only is the country reeling from The Depression, but Prohibition makes liquor illegal. Calling Prohibition "one of the best things to happen to an enterprising Colored man," Chase Jenkins is a savvy, successful bootlegger who's managed to thrive in intolerant times. But he's focused on finding his brother's killer, and has no time for love and romance. Coming to the aid of a beautiful stranger, he finds himself unquestionably snared by Ava. But can he win the heart of a woman who wants no part of his questionable lifestyle?
The Art of Love is a spicy novella showcasing the risky romance between a struggling artist and an astute businessman whose business is less than legal. It's a story of taking chances without a guaranteed outcome.
Why did you decide to write it?
Being a part of the "Decades" series and this unique collaborative celebrating African American love was a blessing I couldn't decline. It's history in the making. And being able to step back in time to celebrate Black Love was an opportunity I couldn't resist.
The Art of Love isn't my first foray into historical fiction/romance. I took that virgin voyage with my award-winning novel, Taffy. Writing The Art of Love provided another chance to visit and imagine our collective past.
In discussing books with others, at times I'm left with the impression that we view love and romance as a contemporary construct. As if our parents, grandparents, and the generations before knew nothing about how the heart throbs. As if their experiences were archaic and built solely on obligation, and procreating merely for posterity's sake. Honey, please! We wouldn't be here if our forebears were clueless to loving. Certainly, our ancestors' days may have been too filled with the sweat of survival to include nights of wine and roses. Yet, they made their own unique way. Love still happened. I view The Art of Love as a tribute and way to honor the ancestors. It's a song of praise and tribute to love that survived every collective and individual atrocity our placement in this nation ever unleashed.
What do you want readers to learn from the story?
That love survives despite the harshest of times. That the prelude and precursor to loving relationships may not be paved in pearls. Sometimes we walk rocky roads, but divinely given love can and does prevail.
What do you want readers to learn from your life?
I was in my mid-30s when my first two novels were published. After that, I experienced a 13-year absence from the literary scene before self-publishing Taffy in 2016. There were times in that 13-year absence that I wanted to give up and fade away to nothingness. Thank God I didn't. Neither should you. Dare to breathe life back into your dreams. Don't let go. Your next steps may be what propels you to your breakthrough.
Who is your favorite author and why?
Oooo, I can't name all the writers whose works have touched by life. There's that amazing vanguard of Dr. Maya Angelou, Alice Walker, Toni Morrison, Alex Haley, Ann Petry, and Langston Hughes. Then there's J.D. Mason, Andrea Smith (Sisterhood of Blackberry Corner), Bernice McFadden, Trice Hickman, Tayari Jones, J. California Cooper, and Guy Johnson whose works I consume like candy. But beyond all doubt, Dianne McKinney Whetstone is my all-time favorite author! She has such a magnetic way with words that I feel drawn in, like an active participant in her stories. I love that her novels often tackle the very real, but often taboo, issue of mental illness in our communities. She's a dynamic writer with captivating abilities. I don't even bother reading the book jacket or synopsis. If Ms. Whetstone wrote it, I'm reading it.
What's next for you?
I released my first children's book in December 2017 and am working on the next installment of that series. I'm also one of six authors contributing to a romantic anthology that will be released in February 2018. Additionally, I'm currently working on the sequel to Taffy, as well as a new contemporary piece that will launch a new series centered on music.
Do you have anything you would like to add?
I'm an appreciative woman. I love my readers and am honored that they've embraced my work and allowed me into their lives. So often focused is placed on us authors and our books, but without readers are works would collect dust on the shelves. So to my every reader past or present: thank you!
Connect with Suzette D. Harrison:
FACEBOOK: http://bit.ly/1VFrFVI
GOODREADS: http://bit.ly/2nGiVDl
INSTAGRAM: http://bit.ly/1sutYiw
PINTEREST: http://bit.ly/2hnWChV
TWITTER: http://bit.ly/1OxBOw5
WEBSITE: http://bit.ly/1qH4v3W
YOUTUBE: http://bit.ly/2yYHUYU