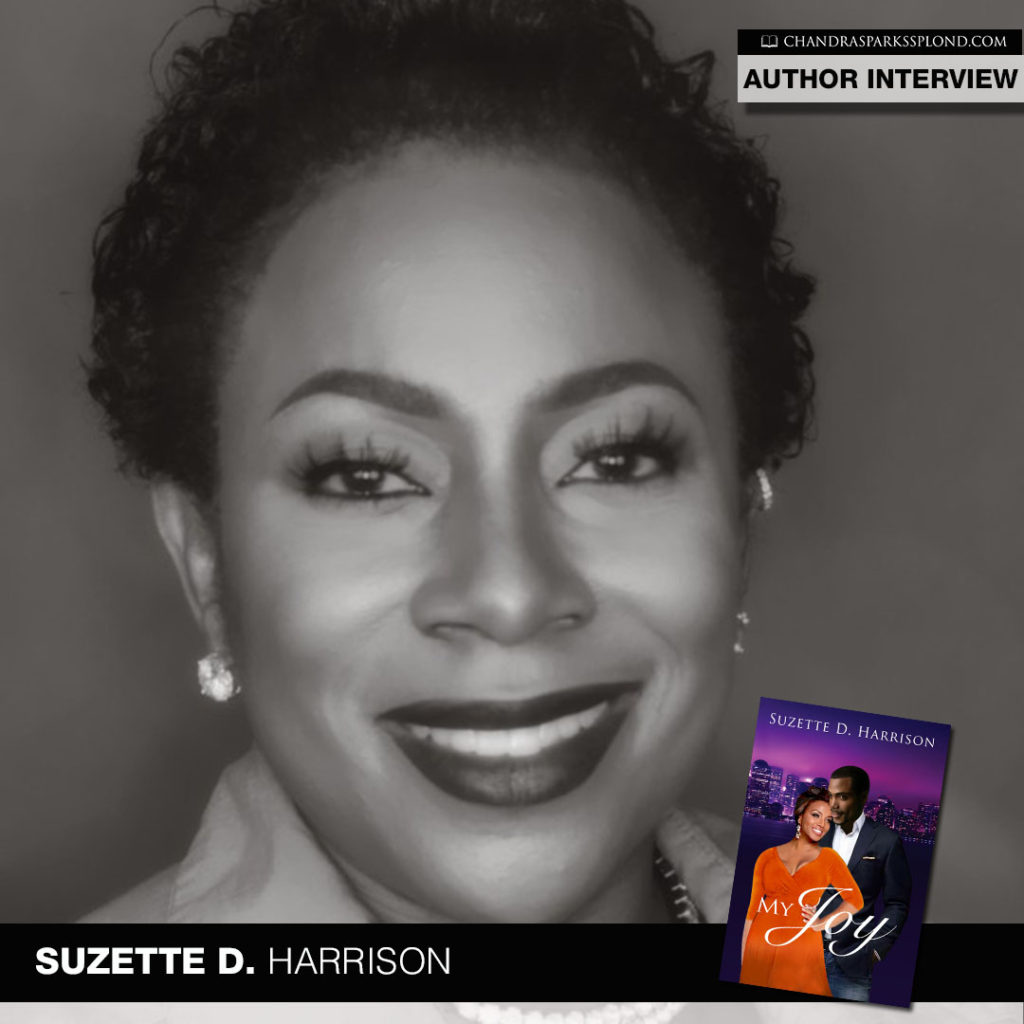 Award-winning author Suzette D. Harrison is back, and this time she's bringing lots of joy to the urban Christian romance genre. I recently spoke with Harrison.
Tell me about your book, My Joy.
My Joy is what I've termed a RomDraMedy—romance, drama, and a whole lot of comedy! If I had to plug her into a genre it would be urban Christian romance. My Joy is spicy, sexy, and views Christianity through the lenses of a heroine who is, initially, agnostic and far from perfect. Joy Matthews, our sweet and sassy heathen heroine connects with Quinton Daley, a sexy, saved and sanctified born-again brother. Conflictual ideologies don't stop Joy and Quinton from wanting what they want…which happens to be each other. Will they? Won't they? Readers will have to read to find out for themselves. Oh, and did I mention, our beloved "heathen of a heroine" works in an exclusive gentlemen's club? Whoa now! Watch out! My Joy's coming with it.
Why did you decide to write it?
I don't "decide" my books; they "decide me." I always feel honored when my stories speak. I do my best to listen and respond by telling my characters' truths as best as I can. I try to move myself out of the way and take the role of typist and write what I'm instructed to and how.
What do you want readers to learn from the story?
While My Joy is comical and even hilarious, she also touches on some very serious issues such as sex trafficking. The comedy doesn't offset the tragedies: they're equally provocative and deep. That said, one of the deepest, sweetest truths I encountered in My Joy is that we're all fallible. We make mistakes, major and minor, yet we're all candidates for redemption. Not that I was ignorant of this before, but My Joy has a way of showcasing human failure and frailties without bombarding the soul with guilt. My Joy lets us know that mercy, redemption and restoration have absolutely nothing to do with personal perfection.
This book kicks off your California Love series. What can readers expect from the series?
This series is a celebration in honor of my home state. The series will continue in the flavor of urban Christian romance. Some additions may be more comical than others, but I hope to bring readers stories and characters that are relevant, revelatory, and endearing…all set and situated in various parts of the Golden State. As with My Joy, I will keep it honest and let the characters tell their tales.
What has been the biggest surprise about your writing career?
That it's never too late! My first two novels were released in 2002 and 2003, respectively. A subsequent contract for books three and four was rescinded when the economic recession hit. I felt ready to give up and give in. Years later when I "crawled" out of my hole and was ready to try again, I received an endless stream of rejection letters from publishers. That's when I decided it was time to do something radical and self-publish. In February 2016, I self-published my award-winning historical fiction, Taffy. Thank You, Lord: after a 13-year absence I was back.
What is the biggest lesson you want readers to learn from your life?
I'd have to repeat what was stated above: it's never too late. Don't give up! My personal motto is "As long as there's life in me, I have opportunity."
Who is your favorite author and why?
Oh my goodness, Dianne McKinney Whetstone. I will read any and everything this woman writes! I love Ms. Whetstone's style, her digging beneath the issues of mental illness in the African-American community, and the very real way she brings her characters through their heartaches and back to redemption. She's a genius.
What's next for Suzette Harrison?
I have the blessing and honor of being one of 12 authors involved in an upcoming project celebrating a century of African-American romance. My contribution to this project will be released in April 2018. In the meantime, I have articles that will be featured in Book Cover Magazine. And as always, I will continue writing whatever, whenever my characters tell me to.
Do you have anything you would like to add?
I am an author who so appreciates her readers. One of the most rewarding blessings I've encountered in my return to writing is beautiful women and men who show their love and support in a myriad of ways. I love giving back to them in ways that may seem simple, but they're heart sent and meant. To everyone who's shown this woman writer your kindness, thank you.
Learn more about Suzette D. Harrison and connect with her online:
Facebook: SDH Books
Instagram: suzetteharrison2200
Newsletter Sign-Up: www.sdhbooks.com
Pinterest: Suzette D. Harrison Books
Twitter: @Ariasu62
YouTube: Suzette Harrison
Use my affiliate link to purchase your copy of My Joy.