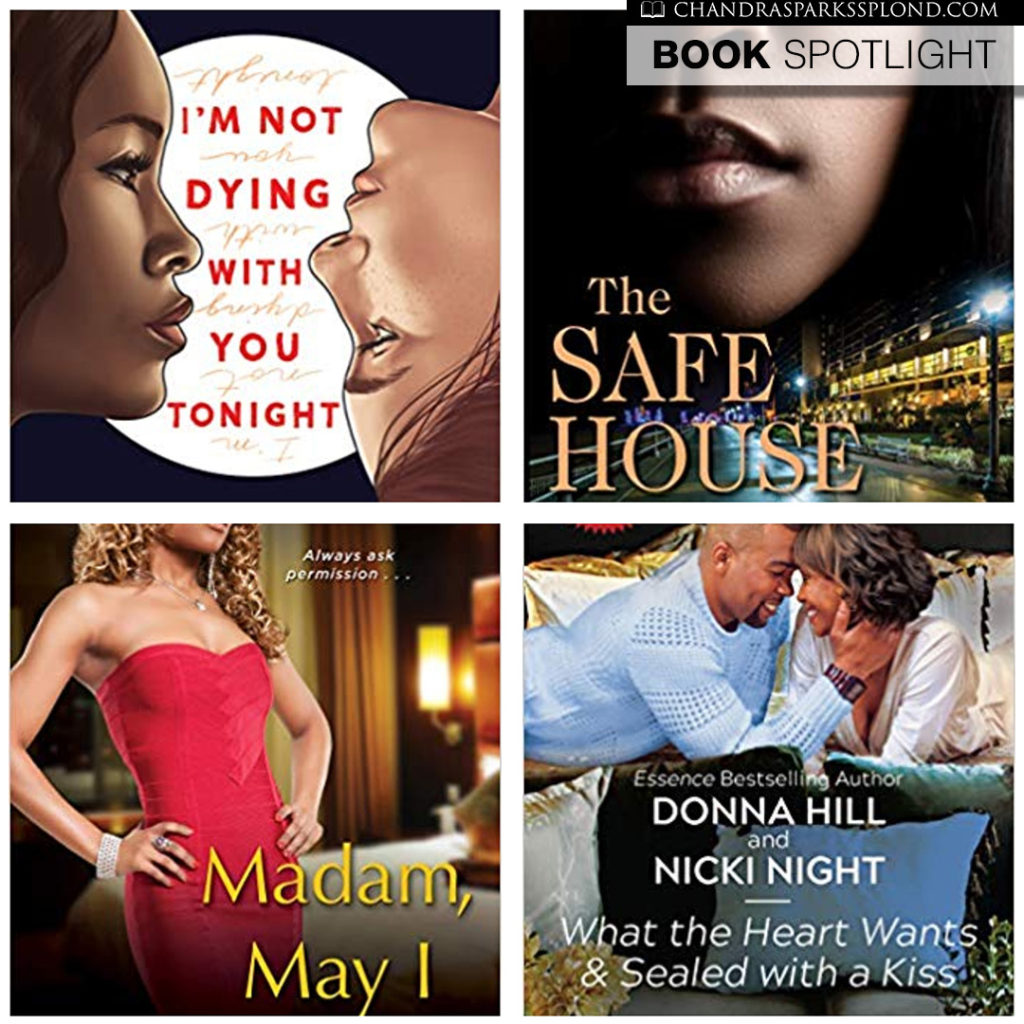 It's hard to believe school actually starts back in less than a month. If you're heading on vacation or just looking to get some reading done before then, use my affiliate links to check out these new and upcoming releases:
Madam, May I by Niobia Bryant
In the business of high-end, no-limits desire, Desdemona Dean is the best there is. This gorgeous madam can provide any sensual fantasy, ignite any insatiable hunger. She fiercely protects the women who work for her and helps them attain the lives they deserve—especially when it comes to her beautiful, troubled new protégé, Portia. But for Desi, having it all is no longer enough. She wants everything her shattered childhood denied her. And as she pursues an education and a normal life, she's falling hard for her handsome tutor—and can't resist schooling him in ways that are turning into more than just passion…
But as Portia spirals out of control, she's exposing any number of dangerous secrets.  And as Desi desperately tries to save her and manage the damage, she's putting everything she's worked to build at risk. Now with her empire in peril, Desi must discover if she can survive . . . and truly be free.
What the Heart Wants and Sealed with a Kiss by Donna Hill and Nicki Night
What The Heart Wants
Genius surgeon Franklin Grant needs only three things—work, work and more work. But when a family anniversary party leads to a date with Dr. Dina Hamilton, Franklin knows he's in trouble. Dina is gorgeous, brilliant…and Franklin is her supervisor at the hospital. An affair could damage his reputation. But when their relationship is exposed, could Dina be the one behind the sabotage?
Sealed With A Kiss
Actress Kendall Chandler is determined to succeed on her own terms. But sexy producer Tyson Blackwell sends her "no on-set romance" rule up in flames. An affair with the CEO of Blackwell Communications Group could destroy her career. Experience has taught Tyson to protect his heart, even as Kendall breaks down his walls. Can these lovers find their own Hollywood ending?
The Safe House by Kiki Swinson
It was supposed to be easy money. A few exchanges for cash, one big payoff, and then life would be better than ever with bills all paid and money in her pocket. But the plan fell apart and now she's made an enemy. He's a drug cartel leader out to destroy any competition—and get payback by any means necessary…
Play for time
Under federal protection, she's only steps ahead as the cartel leader starts killing off her family and friends. When he kidnaps a relative and demands her in exchange, she and a desperate DEA agent work a bold switch to nail him. But the fallout is disastrous—and
deadly…
Do anything to survive
Now the local police are closing in on her as the prime suspect in her abusive boyfriend's disappearance. She's got no choice but to ditch the feds and take down her merciless pursuer on her own. But with no options, no help, and the clock running down, this not-so-innocent victim's only shot may be the one risk that takes her out for good…
I'm Not Dying with you Tonight by Gilly Segal and Kimberly Jones
Lena and Campbell aren't friends.
Lena has her killer style, her awesome boyfriend, and a plan. She knows she's going to make it big. Campbell, on the other hand, is just trying to keep her head down and get through the year at her new school.
When both girls attend the Friday-night football game, what neither expects is for everything to descend into sudden mass chaos. Chaos born from violence and hate. Chaos that unexpectedly throws them together.
They aren't friends. They hardly understand the other's point of view. But none of that matters when the city is up in flames, and they only have each other to rely on if they're going to survive the night.