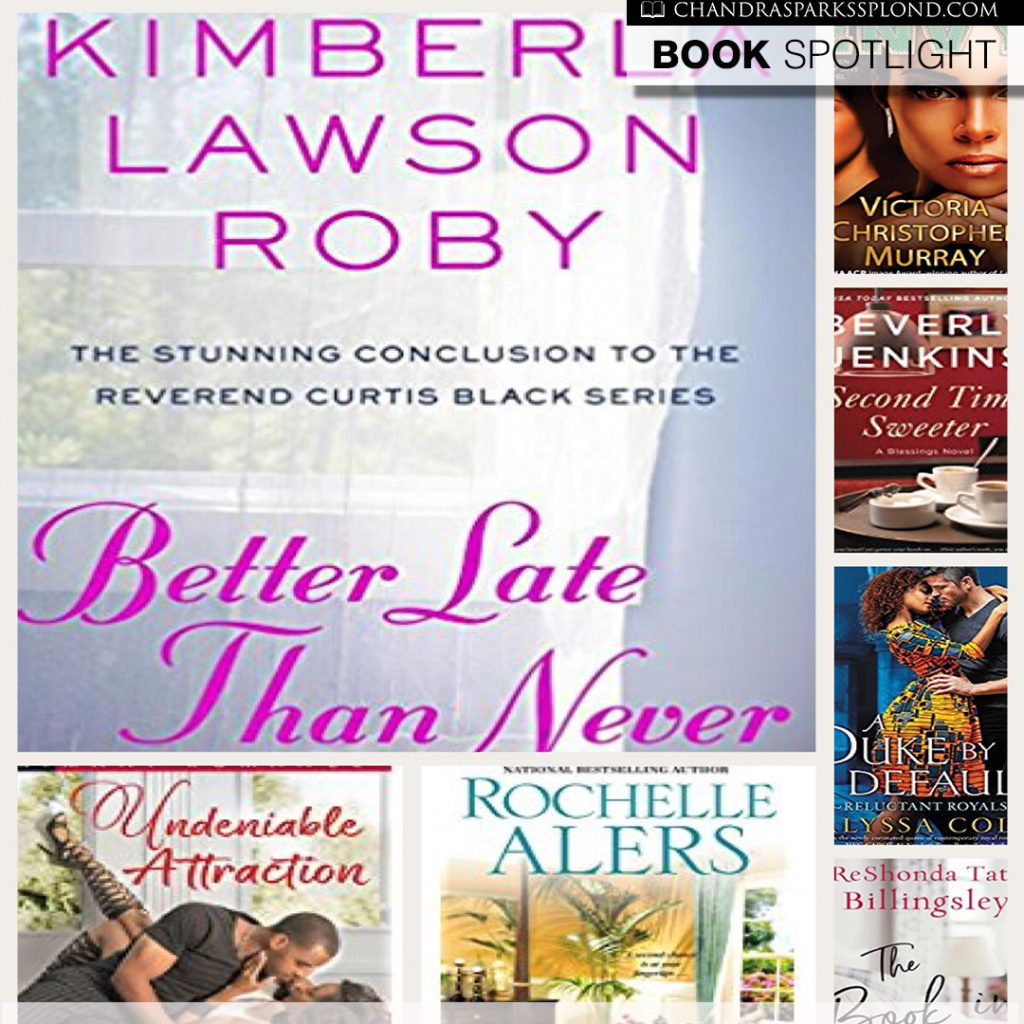 Summer wouldn't be summer without some good reads. Here are a few books to which I'm looking forward.
Room Service
Rochelle Alers
New Yorker Jasmine Washington had a successful interior design business, a high-powered marriage, and a chance at motherhood—until her perfect husband betrayed her big-time. Now starting from scratch, the Asian and African-American stunner is tackling a lifetime opportunity: co-managing her friend's new luxury inn about to open in the Garden District. The last thing Jasmine needs is romance. New Orleans' most eligible bachelor, investment banker Cameron Singleton, begs to differ.
Cameron challenges Jasmine's cautious ways, teases her back into having real fun—and makes one sexy, utterly irresistible Mr. Right Now. But their passionate nights soon result in a surprise bonus. . . . Even though Cameron insists on being there for Jasmine, can she really believe his love is the real thing? Can she shake the past and design a completely new life? And is there really only one way to find out?
The Book in Room 316
ReShonda Tate Billingsley
Savannah Graham thought she had the perfect marriage…until grief drove her husband into the arms of his best friend's wife. Now, she believes revenge is the only way her heart can heal from the betrayal.
For fifty-two years, Ollie Moss lived side by side with the love of his life, his wife Elizabeth. But now that she's gone, so is his desire to live, despite the love from his children, and his beloved grandson Samuel. Can anything save Ollie's life?
Anna Rodriguez just wants to work and provide for her three children by any means necessary. But her decision to break the law in order to get a job is threatening life as she knows it.
Trey Brown is known in his neighborhood as a hustler, so much so that the gangs want him to join their ranks…but there's a reason the nineteen-year-old does what he does—he's the only one left who can save his little brother.
Different circumstances lead each of them to The Markham Hotel, where they hope to find solace, comfort, and answers. Told from multiple perspectives, The Book in Room 316 will renew your strength and faith that there is always a way forward.
A Duke by Default: Reluctant Royals
Alyssa Cole
New York City socialite and perpetual hot mess Portia Hobbs is tired of disappointing her family, friends, and—most importantly—herself. An apprenticeship with a struggling swordmaker in Scotland is a chance to use her expertise and discover what she's capable of. Turns out she excels at aggravating her gruff silver fox boss…when she's not having inappropriate fantasies about his sexy Scottish burr.
Tavish McKenzie doesn't need a rich, spoiled American telling him how to run his armory…even if she is infuriatingly good at it. Tav tries to rebuff his apprentice—and his attraction to her—but when Portia accidentally discovers that he's the secret son of a duke, rough-around-the-edges Tav becomes her newest makeover project.
Forging metal into weapons and armor is one thing, but when desire burns out of control and the media spotlight gets too hot to bear, can a commoner turned duke and his posh apprentice find lasting love?
Second Time Sweeter: A Blessings Novel
Beverly Jenkins
Malachi "Mal" July has run into trouble in the past. With a reputation as a player, he's now a recovering alcoholic and has made progress in redeeming himself in the eyes of his family and the citizens of Henry Adams, Kansas. He's not only turned his diner into a profitable business, but also mentors the town's foster kids. And he's even staying true to one woman—Bernadine Brown.
But all it takes is a moment of pride to blind Mal to his blessings—a moment that makes him betray his friends and family, and lose Bernadine's trust and love. Will he ever be able to win her forgiveness?
Meanwhile Homecoming Weekend is fast approaching, and store owner Gary Clark is reunited with his high school sweetheart. All it takes is a few minutes for them to realize the spark is still there, but is it too late for second chances?
A little help from the good people of Henry Adams may give both Mal and Gary the best second chance at the happiness they missed the first time around…
Envy
Victoria Christopher Murray
Gabrielle Wilson has the perfect life: a Beverly Hills mansion, a loving family, and a massively successful PR firm. When her father admits that an affair he had years before resulted in a daughter, Gabrielle is shocked, but is actually happy. Could this be the sister she has been praying for all her life?
Keisha Jones's life is a struggle. Her late mother worked on the streets, and school was its own nightmare. When Gabrielle offers to fly Keisha out of Arkansas to meet the family, Keisha instantly agrees. But Gabrielle doesn't realize that Keisha has known about the Wilsons for years. Keisha is determined to have everything she has always envied, and nothing can stand in her way.
Undeniable Attraction (Burkes of Sheridan Falls)
Kayla Perrin
When a family wedding reunites Melissa Conwell with Aaron Burke, she's determined to prove she's over the gorgeous soccer star who broke her heart years before. Newly single Aaron wants another chance with Melissa and engineers a full-throttle seduction. Will Melissa risk heartbreak again for an elusive happily-ever-after?
Better Late Than Never
Kimberla Lawson Roby
Rev. Curtis Black is no stranger to scandal. Throughout the decades, he has done much in the public eye, both good and evil. But what most people don't realize is that Curtis has been hiding a horrific childhood that has affected him in countless, unspeakable ways.
His buried past resurfaces when his estranged sister becomes alarmingly ill and his youngest child, twelve-year-old Curtina, becomes the kind of problem daughter whom he never imagined she could be. This is only the beginning.
The horror of Curtis's childhood secrets, as well as Curtina's wild and rebellious behavior, takes a critical toll on Curtis and the entire Black family. All the public scandals they've experienced over the years now seem like child's play compared to the turmoil they are facing in private. Who could have known that the deepest wounds would come from within?
What summer books have you excited?