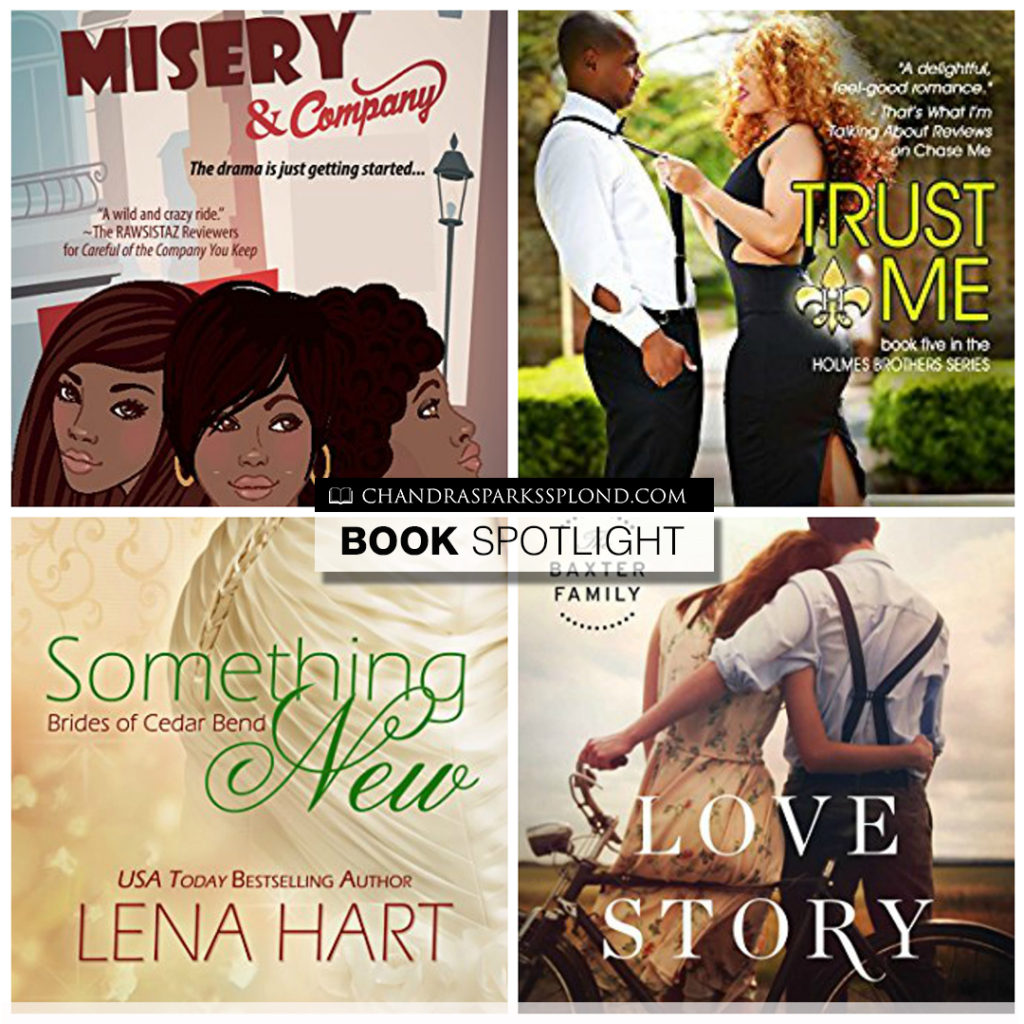 We're weeks away from the start of summer when the living gets a little easier. I'm hoping to have some down time to do some reading for pleasure. Here are a few summer books I'm excited about. Feel free to use my affiliate links to purchase them.
Misery & Company
Angie Daniels
The girls are back for Book #4 of the smart, sexy, and heartfelt Company series about friendship, love and a whole lot of trouble in between. Things come to a head when the pain strikes closer to home. Renee, Danielle, Kayla and Nadine soon realize things are going to get worse before it gets better, but with friendship and prayer all things are possible. The drama has just begun!
Something New
Lena Hart
When small town mechanic Damian Carson comes to Savvy Williams' rescue—again—he is determined to make their encounter a bit more memorable than the first. Yet when a rousing kiss leads to a bogus engagement, Damian is willing to play along with the charade—if it means having certain liberties over the southern belle.
Embarrassed by her recent broken engagement—and eager to dispel rumors of her attraction to rich men only—Savvy forges ahead with a pretend relationship to the handsomely rugged mechanic. But when their harmless charade results in a quickie wedding, new desires are aroused and they must decide how far they are willing to take their pretense…and if it will be strong enough to survive something real.
Trust Me
Farrah Rochon
As the maverick of the New Orleans City Council, Mackenna Arnold has spent the last four years dismantling the council's "politics as usual" mentality. Never one to shy away from a challenge, Mack now has her sights set on an even bigger prize: the mayor's office. But only when the time is right. And only if she can get the pesky freelance journalist hell-bent on investigating her for corruption—who just so happens to be one of the sexiest men alive and her best friend's younger brother—off her back. But when Mack suspects that her longtime mentor and the city's current mayor is up to no good, she must convince Ezra Holmes to help her investigate the mayor's office.
Ezra can admit to having had a thing for Mackenna in his younger days, even though she barely knew his name back then. But his past feelings for Mack have nothing to do with why he's so committed to exposing her. He suspects she's used her influence as a public official to cut private deals, and breaking this corruption story would be just the thing to jumpstart his fading career. But what is Ezra supposed to do when he discovers Mack isn't the one who's a crooked politician? There's only one thing he can do: join forces with the woman he's been crazy about for far too long.
Love Story
Karen Kingsbury
From #1 New York Times bestselling author Karen Kingsbury comes a new book featuring everyone's favorite family—the Baxters, which tells the story of how John and Elizabeth first fell in love.
From the day they met, John and Elizabeth were destined to fall in love. Their whirlwind romance started when they were young college students and lasted nearly thirty years—until Elizabeth died of cancer.
So when John Baxter is asked to relive his long-ago love story with Elizabeth for his grandson Cole's heritage project, he's not sure he can do it. The sadness might simply be too great. But he agrees and allows his heart and soul to go places they haven't gone in decades. Back to the breathless first moments, but also to the secret heartbreak that brought John and Elizabeth together.
At the same time, Baxter family friend Cody Coleman is working through the breakup of his complicated relationship with Andi Ellison. He is determined to move on when a chance sighting changes his plans—and heart. Can Cody convince Andi to give their love another try, or is it time for them to say goodbye for good?
As school comes to an end, Cole presents his report on the love story between his grandparents John and Elizabeth Baxter. It is a tale that touches the hearts of the entire family, and one that causes Cole to better understand his own beginning.
Whether you're meeting the Baxter family for the first time or finding them all over again, Love Story will stir your heart and remind you of the generational impact of love and the eternal bond of family.
What books are you excited about this summer?