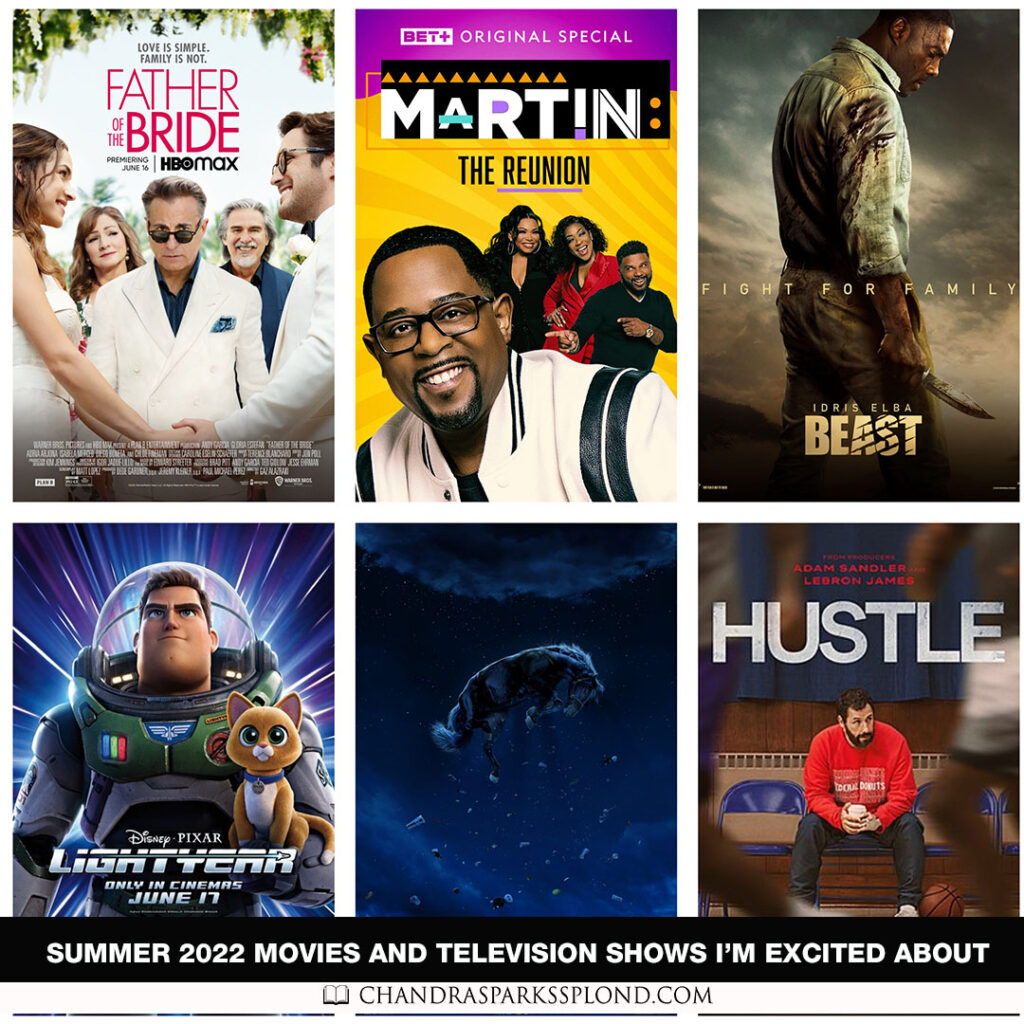 Summer officially hits this week, so it's time to slow things down. If temperatures stay the way they've been for the last few weeks, I foresee even more indoor activities in my future, namely vegging out in front of the TV. Here are a few movies and shows* I'm excited about this summer.
Martin: The Reunion
In honor of the thirtieth anniversary, Martin Lawrence, Tisha Campbell, Tichina Arnold and Carl Anthony Payne II reunite to discuss their hit sitcom Martin and its impact on pop culture; hosted by Affion Crockett.
Hustle
The film stars Adam Sandler as an NBA scout who discovers a raw but talented player in Spain (Juancho Hernangómez) and tries to prepare him for the NBA draft. Current Minnesota Timberwolves player Anthony Edwards plays the main antagonist, Kermit Wilts. Queen Latifah, Ben Foster, Robert Duvall, and Heidi Gardner also star, while LeBron James acts as producer.
Nope
Nope is an upcoming American science fiction horror film written, directed, and produced by Jordan Peele under his Monkeypaw Productions banner. It stars Daniel Kaluuya, Keke Palmer, and Steven Yeun. The plot follows residents of an isolated town who witness a mysterious and abnormal event. The film is scheduled to be released on July 22, 2022, by Universal Pictures.
Lightyear
While spending years attempting to return home, marooned Space Ranger Buzz Lightyear encounters an army of ruthless robots commanded by Zurg who are attempting to steal his fuel source. Produced by Pixar Animation Studios and distributed by Walt Disney Studios Motion Pictures, Lighyear is a spin-off of the Toy Story film series, serving as an origin story for the character Buzz Lightyear. It was co-written and directed by Angus MacLane and produced by Galyn Susman, and stars Chris Evans as the voice of Buzz Lightyear, with Keke Palmer, Peter Sohn, James Brolin, Taika Waititi, Dale Soules, Uzo Aduba, Mary McDonald-Lewis, Efren Ramirez, and Isiah Whitlock Jr. in supporting roles.
Father of the Bride
Directed by Gaz Alazraki and written by Matt Lopez, Father of the Bride is based on the 1949 novel of the same name by Edward Streeter. The film stars Andy García, Gloria Estefan, Adria Arjona, Isabela Merced, Diego Boneta, and Chloe Fineman. It is the third filmed version of the story, after the original 1950 film and the 1991 remake. Produced by Plan B Entertainment, it was released on June 16, 2022, by Warner Bros. Pictures and HBO Max.
A League of Their Own
A League of Their Own is an upcoming American period sports comedy drama television series co-created by Will Graham and Abbi Jacobson, who also stars. It is an adaptation of the 1992 film of the same name with new characters and story lines, about the formation of a World War II era women's professional baseball team. Chanté Adams, D'Arcy Carden, Roberta Colindrez, Gbemisola Ikumel, Kelly McCormack, and Priscilla Delgado also star. Episodes will run for one hour on Amazon Prime Video. The series is set to premiere on August 12, 2022.
Beast
According to Rotten Tomatoes, Idris Elba (Fast & Furious Presents: Hobbs & Shaw, The Suicide Squad) stars in a pulse-pounding new thriller about a father and his two teenage daughters who find themselves hunted by a massive rogue lion intent on proving that the savannah has but one apex predator. Elba plays Dr. Nate Daniels, a recently widowed husband who returns to South Africa, where he first met his wife, on a long-planned trip with their daughters to a game reserve managed by Martin Battles (Sharlto Copley, Russian Doll series, Maleficent), an old family friend and wildlife biologist. But what begins as a journey of healing jolts into a fearsome fight for survival when a lion, a survivor of blood-thirsty poachers who now sees all humans as the enemy, begins stalking them.
All Rise
All Rise revolves around the personal lives of judges, prosecutors, and public defenders in a Los Angeles courthouse and stars Simone Missick.
The plot follows newly appointed Judge Lola Carmichael, a highly regarded and impressive former deputy district attorney who does not intend to sit back on the bench in her new role, but instead leans in, immediately pushing the boundaries and challenging the expectations of what a judge can be. The series was canceled by CBS after two seasons before being picked up for a third season by the Oprah Winfrey Network (OWN) that September. The third season premiered on June 7, 2022.
The Upshaws
The Upshaws is an American sitcom created by Regina Y. Hicks and Wanda Sykes. The series stars Sykes, Mike Epps, Kim Fields, Page Kennedy, Diamond Lyons, Khali Spraggins, Jermelle Simon, Gabrielle Dennis, and Journey Christine. It centers on a working-class African American family in Indiana struggling to make it work and make it right without any blueprints.
The Black Hamptons
Meet the Brittons and the Johnsons, two of the most powerful families in the Black Hamptons. When they both vie for the same property, a great feud ensues as each family positions themselves to win the coveted Peterson Property.
Black Love
Black Love is an American docuseries created by filmmakers Codie Elaine Oliver and Tommy Oliver, featuring couples opening up about the joys, challenges and realities of love, marriage and romance in the black community. It premiered on August 29, 2017 on the Oprah Winfrey Network as the most-viewed unscripted series debut in the network's history. The sixth and final season premieres on July 23, 2022.
*Info compiled from Wikipedia, except where indicated.