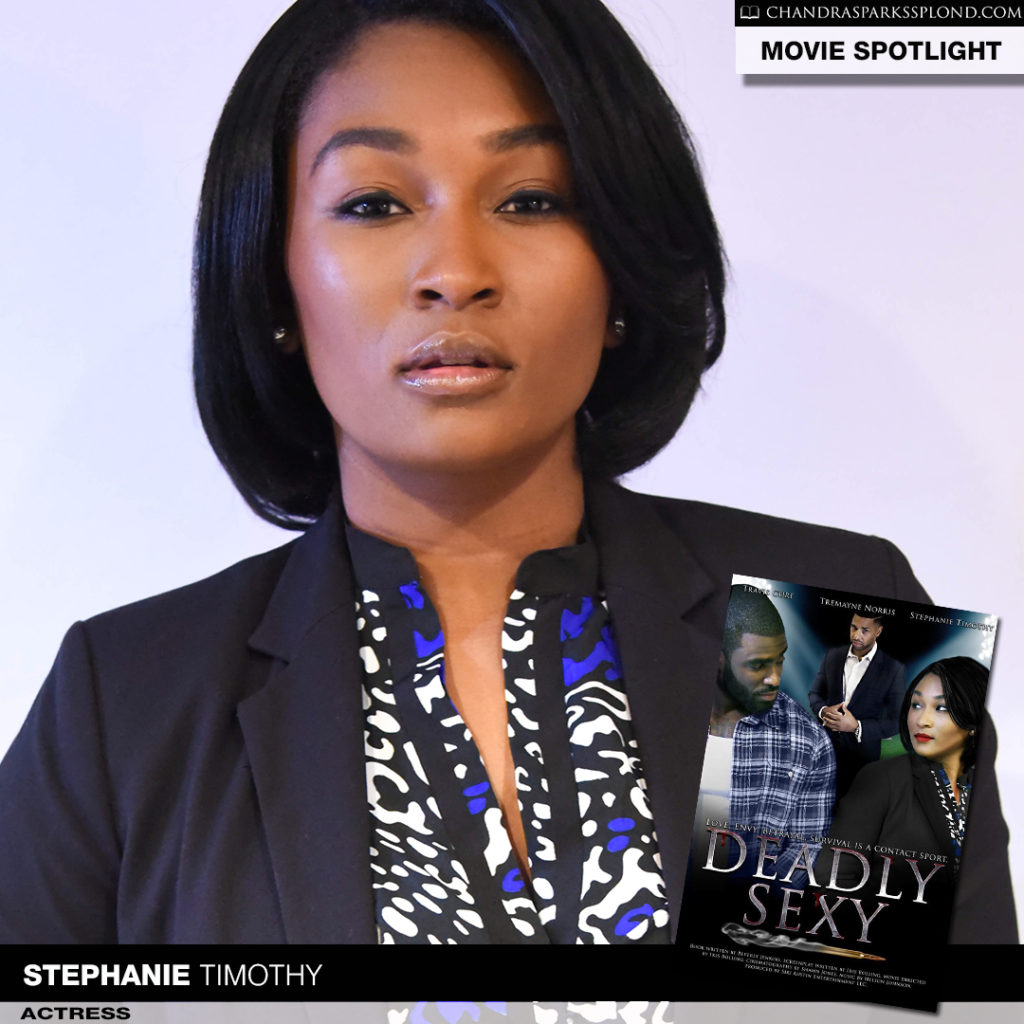 There's a buzz of excitement in the book community on social media. On Saturday, November, 17, 2018, fans will get the first taste of the highly anticipated romantic thriller Deadly Sexy at the premiere in Richmond, Virginia.  The movie, which is based on the book by writing powerhouse Beverly Jenkins, is produced by Siri Austin Entertainment; executive produced by Jenkins; and is written, directed, and executive produced by Iris Bolling.
Today Stephanie Timothy who stars as the main character JT Blake stops by for a visit.
Tell me about your movie, Deadly Sexy.
Deadly Sexy is about JT Blake who is a successful sports agent who meets a man known as Reese the Fine, and over time their love deepens despite JT's career and life being threatened as well as Reese working undercover. I'm so excited that the first premier will be held in Richmond, Virginia, on Nov. 17.
Why did you decide to be a part of it?
I was so excited to get the role as JT because It was a chance to be a part of something amazing. Ms. Beverly Jenkins is a creative author, and I couldn't miss out on bringing one of her characters to life.
What can viewers expect when they watch the movie?
While watching Deadly Sexy, viewers can expect to be on the edge of their seats. It's a movie full of action, suspense, and what I would consider an accurate representation of black love.
What was the hardest part of the filming process?
In my opinion, the hardest part of filming was time management. We literally made a movie in 15 days. Had it not been for all the amazing help we had on set, my costar, and the crew I would have definitely struggled.
What was the funniest moment during filming?
By far one of the funniest moments on set was when we're finished filming one of the JT and Reese scenes outside with the truck, and you see everyone run to the cars to get warm because it was so cold outside.
What advice do you have for others interested in filming a movie, whether it's behind or in front of the camera?
The best advice I can give anyone looking to be in the filming industry whether in front the camera or behind the scenes is to practice your craft and never take no as an answer. I would have never thought that I would be a lead in a film and I did it.
What's the biggest lesson you learned being a part of Deadly Sexy?
Learning your lines as soon as you are given your script was one of the biggest lessons I learned while filming Deadly Sexy. You really have to come ready to perform because there are so many things going on, and you won't really have time to learn them while on set.
What's next for you?
There are so many things ahead for me in the future, and I'm so excited to keep living my dream. All I can say is watch out for Stephanie Timothy.
Do you have anything you would like to add?
I'm so grateful for this opportunity and even more thankful for all the beautiful souls I've met during this process.
Connect with Stephanie Timothy via social media:
Instagram: Steph_BeMe
Facebook: Stephanie Timothy
To learn more about Deadly Sexy, visit the website.