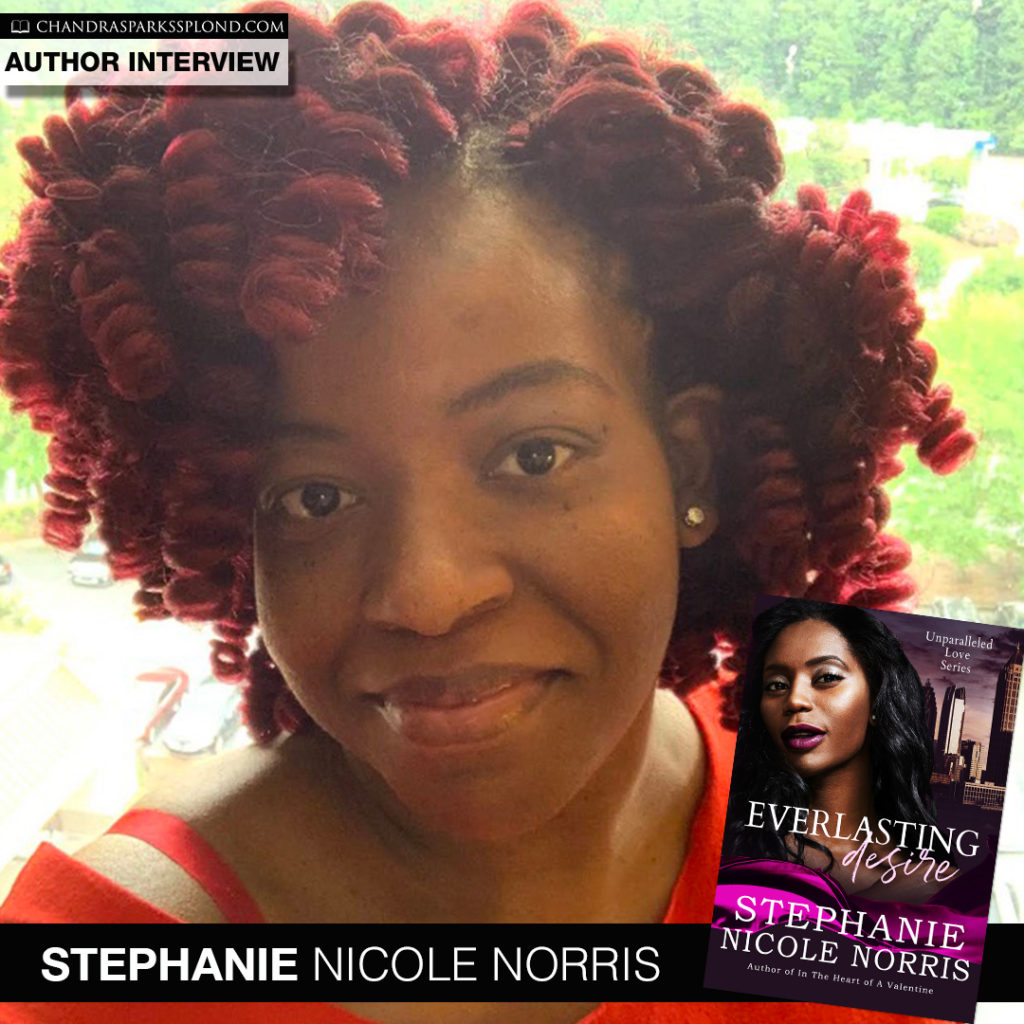 Award-winning bestselling author Stephanie Nicole Norris wants readers to experience everlasting love.
Tell me about your latest book.
My latest book is Everlasting Desire, and it is part of a collaboration project with Sharon C. Cooper and Delaney Diamond.
The foundation of the Unparalleled Love Series is set with three women—best friends and college buddies Jada Wilson (my character), Soul Carrington (Sharon's character), and Janice Livingston (Delaney's character), who because of life's happenings decided to become roommates until it is time to go their separate ways.
All three of them are in for a whirlwind romance when bachelors Solomon McBride, Micah Olsen, and Nathan Crenshaw step into the picture.
My contribution is Everlasting Desire, and if you have read any of my most recent works, you may be familiar with Jada Wilson as she is Eden Alexandria Rose's lead interior designer. You met her in Her Naughty Suitor and also got a glimpse of the couple in Promising Forever.
However, if you're unfamiliar, in the introduction of the story, Jada is going through a rough time as she's just found out her boyfriend, Marcus Bradshaw, has been cheating on her.
Award-winning Master Chef Solomon McBride is her best friend, and he's at his wit's end with watching Jada go through heartbreak after heartbreak. Solomon wants to show Jada what real love is if she is willing.
Why did you decide to write it?
I wanted to do something fun for my readers. They love romance, and I knew they would be excited to read from some of their favorite authors, so we made it happen and pulled some of our backstory characters to the forefront for the Unparalleled Love Series.
What do you want readers to learn from the story?
Most people think romance is all about the escape, and though that is partly true, these stories are just as real as any other. I want my readers to know it's never okay to settle for someone who doesn't match the same spirit or energy you put out. Sometimes it does take heartbreak, over and over, before you find that special someone. That person could be someone you've overlooked your entire life or someone who's been waiting on you to get rid of the clowns in your life so they can show you what real love is. By the end of Everlasting Desire, I hope my readers are in swoon-worthy love and hope that if they haven't already, they'll one day find their everlasting desire.
If you could pick another profession, what would it be and why?
I would either sing or dance. I love to sing. (No, I can't hold a note. LOL.) I also love to dance, and if given the proper choreography, I would be Ciara!
What's the best part of being an author?
This question brought instant tears to my eyes because the answer is a no-brainer. When people relate to my work, so much so that it changes their life, it is the most fulfilling thing ever.
I've had readers who see themselves in my characters and the lessons help them in their situation. It's amazing, and I'm thankful.
What's the worst part of being an author?
I won't say I have a worst when it comes to this author-life. Marketing is time-consuming, but it's not horrible. I can say as an independent author, you have to be careful who you work with because you never know if anyone is legit. In this day and age anyone can throw up a website and call themselves a professional, so weeding out the good fruit from the bad is the most daunting, I'd say.
What's next for you?
I have two ongoing series right now. In The Heart of a Valentine and the Falling for a Rose series. Both are family series that stand alone. They can be read in any order and are a few books from being completed.
My next release will come from my Heart of a Valentine series.
Do you have anything you would like to add?
Thank you so much for interviewing me. I hope you're able to get into the Unparalleled Love Series and find it enjoyable. Also when you get the chance, check out my other books: http://bit.ly/StephanieNicoleNorris.
Use my affiliate link to purchase your copy of Everlasting Desire.
To learn more about Stephanie Nicole Norris, visit her website or connect with her on social media.
Get a free teaser when you subscribe to my newsletter: http://bit.ly/TeaserSubscribe
Instagram: www.instagram.com/stephanienrrs1
Facebook: www.facebook.com/loveisadrugink
Facebook group: http://bit.ly/TheQueendom
Twitter: www.twitter.com/stephanienrrs1