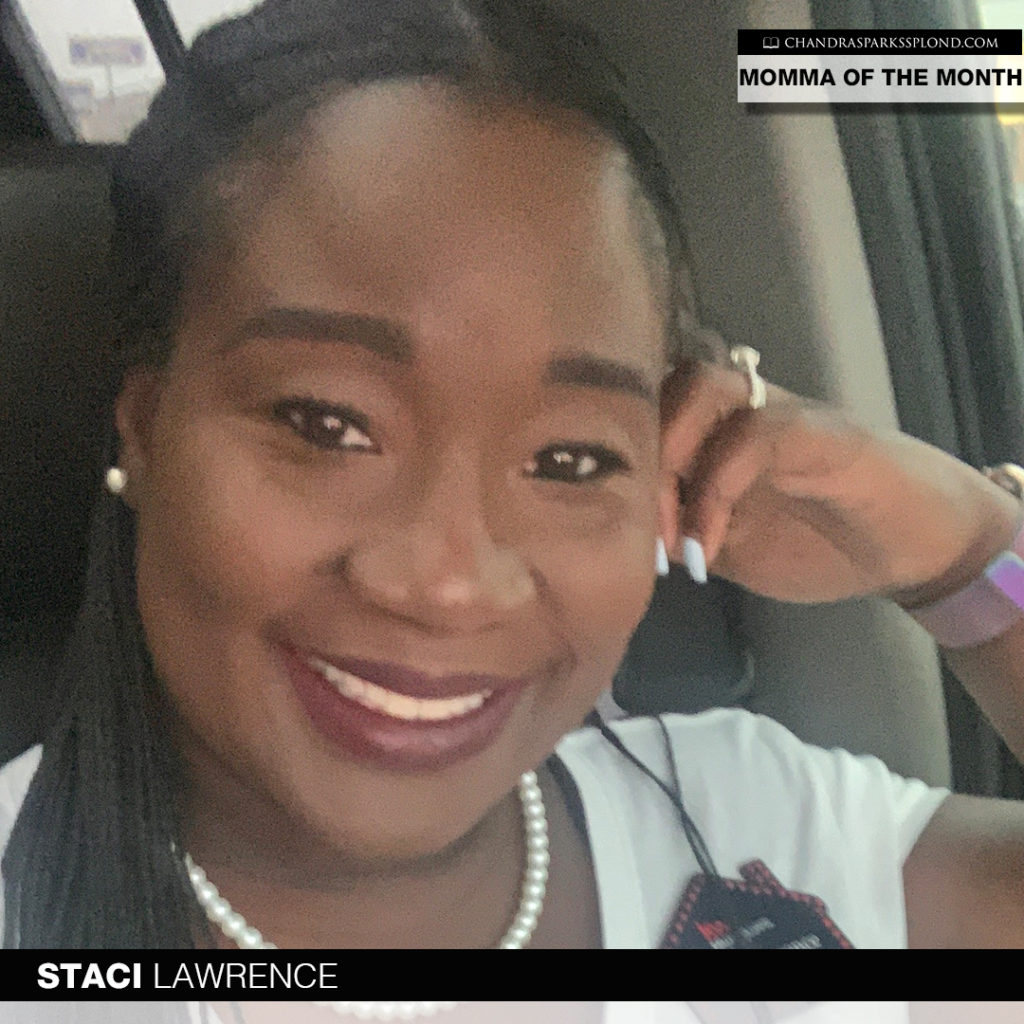 Realtor Staci Lawrence wants her kids to know the impossible is attainable and to never lose hope. 
Tell me about yourself.
Hi. My name is Staci Lawrence. I'm 39 years old, and I grew up in Lipscomb, Alabama. I have a blended family with my loving husband, Undrez Lawrence, who I have been married to for two years and four months (7-7-17). I have a 13-year-old daughter from my previous marriage, and her name is Ariana. Undrez also has a daughter from his previous marriage named London, who is also 13 years old. We look forward to growing our family but for now, we enjoy playing with and spoiling our seven-year-old Yorkie, Toby. I have lived in Pleasant Grove for the past 14 years, but we are in the process of moving to Helena, Alabama. I have a bachelor's degree in accounting from UAB as well as a MBA. I have worked in Birmingham for various companies in varying roles, but I currently work for myself as a licensed Realtor with the brokerage, Keller Williams. In my spare time, I volunteer and am also a member of the Junior League of Birmingham, where I am in my fourth year active. I am also a member of Delta Sigma Theta Sorority, Incorporated.
What do you want your kids to learn from your life?
I think we all take cues from our parents and try to meet or exceed the way they brought us up. I come from a blended family, and my parents demonstrated what a loving marriage looks like. Before I met Undrez, I gave up on this idea, and I worked very hard to provide for Ariana and myself, always believing that it would just be the two of us. I want my kids to learn from me that the impossible is attainable, but don't ever lose hope. I missed out on a lot of life because I allowed my circumstance to dictate whether I would be happy and enjoy the moment or relish in what I didn't have. No matter what, I want my kids to always have a positive outlook on their lives while always striving to be better individuals.
What are the best and worst things about living in Birmingham?
I have tossed the idea around about moving out of state, but I love the hometown feel that I get from Birmingham. I've lived here all my life, and I enjoy being able to vacation in other states or countries but always return home to family and friends. I wish Birmingham would be less known for its crime rate, but I am hopeful that crime will decrease.
What is your proudest personal moment?
My most proudest personal moment is when I decided in 2013 to pursue my MBA. At the time, I was a single mother, and my thought process was that in order to encourage greatness in Ariana, I had to lead by example. I can remember driving home at night from UAB after working a full-time job, and in tears because I had to interrupt Ariana's sleep by picking her up from my mom's house. This was so hard, but I knew it was so necessary. I was so proud to see the excitement in Ariana's face when she showed me the video of me walking across the stage to receive my degree. She was so happy for her mom!!! I only hope this moment is one that Ariana can build from by continuing her education before she settles into career and family. We earned my MBA.
What is your proudest mom moment?
There are many proud moments that I have, but a more recent time was when I found out I was pregnant earlier this year. Ariana has wanted a sibling for so many years, and she was so excited to be able to fulfill the big sister role. She went to school, and they were having a book fair. She got in the car and was so excited to share what she bought. She purchased a book that she could read to her baby sister or brother. It warmed my heart to see how the love for her sibling was developing and how close they would be. Unfortunately, I had a miscarriage, but I know God is able.
What is your proudest wife moment?
Undrez and I have been married for a little over two years, so we are always being introduced to people that the other has not met. I'm always reminded of what a great man he is whenever I am introduced to folks he knows. Our courtship was brief, and you always wonder when the other shoe will drop or when a person's representative will leave. Undrez has been genuine from the start, and I am always in awe when I hear other people tell stories of his character because I see it firsthand, daily. Undrez coaches Little League baseball, and what instantly drew me to him was that he was a coach, but had no child playing. He volunteers his time and talent to encourage and uplift the kids he coaches. He's passionate about the youth, and I love how he makes a connection and impact with them on and off the field. I'm just a proud and blessed wife to have a man who has a huge heart, and I thank God every day for listening and answering my prayers.
How do you balance having a blended family with your real estate career, and what tips do you have for other moms who are balancing family and career?
Being a full time Realtor allows a great deal of flexibility. I am able to attend school functions, games, and however else my family needs me. I'm very fortunate that my schedule is flexible, but it has not always been. Before becoming full time in real estate, I worked full time in Corporate America. My advice to anyone balancing career and family is to find out what arrangement works best for everyone. I enjoy having dinner cooked, kitchen cleaned, and sitting down in front of the TV by 6:30. On days that throws this schedule off, I don't fret.
What's next for Staci Lawrence?
From a family perspective, I pray God will bless us with a healthy baby (boy). I smile at the thought of Undrez teaching our son life skills and teaching him to play sports, just to name a couple of things that a father would pour into their son. I look forward to the high school years with Ariana and London and seeing them matriculate into respectable, successful young women. From a career perspective, I will work on branding myself into a household name so that when someone thinks about buying, selling, or investing in real estate, they think of me.
Is there anything you would like to add?
For the past couple of years, I have learned to really let go and let God. I remained in my own way and continued to be unhappy and growing increasingly frustrated with outcomes. Only until I truly put my faith in God and trusted His promises was I able to be happy. No matter how much of a planner you are and a stickler for timelines, there is a higher power that knows what's best for you. Favor ain't fair, but it's for the faithful!