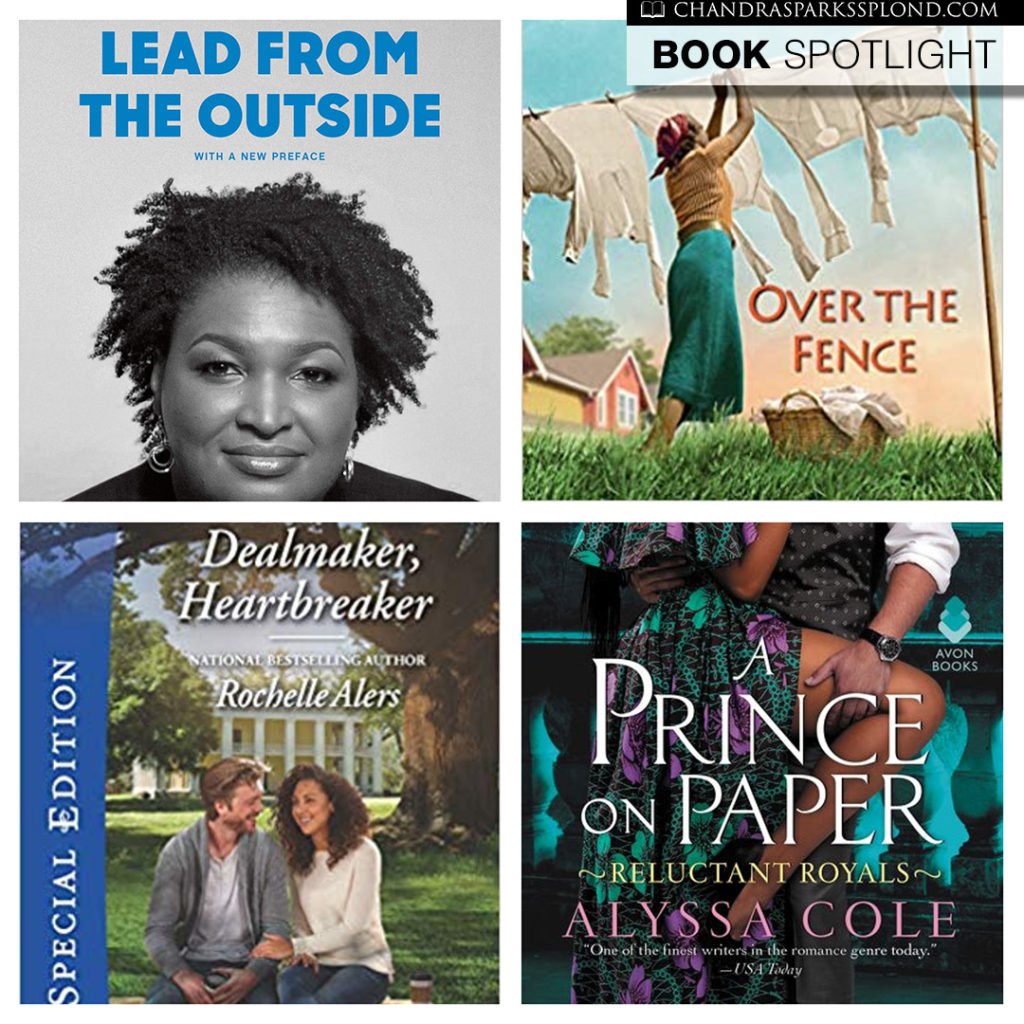 Even though the calendar says it's officially spring, the thermometer doesn't seem to have gotten the memo. Thankfully, I have some new reads to keep me warm. Use my affiliate links to purchase your copies.
Lead from the Outside
Stacey Abrams
Leadership is hard. Convincing others―and yourself―that you are capable of taking charge and achieving more requires insight and courage. Lead from the Outside is the handbook for outsiders, written with an eye toward the challenges that hinder women, people of color, the working class, members of the LGBTQ community, and millennials ready to make change. Stacey uses her hard-won insights to break down how ambition, fear, money, and failure function in leadership, and she includes practical exercises to help you realize your own ambition and hone your skills. Lead from the Outside discusses candidly what Stacey has learned over the course of her impressive career in politics, business and the nonprofit world: that differences in race, gender, and class provide vital strength, which we can employ to rise to the top and create real and lasting change.
Fun Fact: I was Stacey Abrams' editor when she was writing romance novels under the pen name Selena Montgomery.
Dealmaker, Heartbreaker
Rochelle Alers
Big-city Noah Wainwright's always viewed business as a game. But when he stumbles across bed-and-breakfast owner Viviana Remington, she's playing by different rules. Rules of honor that bring the love-'em-and-leave-'em playboy to his knees. And reserved Viviana's hardly immune to the real-estate guru's many charms. When Viv learns how the Wainright family plays the game, though, all bets are off…
Interesting Fact: I used to be Rochelle Alers' editor. I was actually on the phone with her with the first plane hit the Twin Towers on 9/11.
A Prince on Paper: Reluctant Royals
Alyssa Cole
Nya Jerami fled Thesolo for the glitz and glamour of NYC but discovered that her Prince Charming only exists in her virtual dating games. When Nya returns home for a royal wedding, she accidentally finds herself up close and personal—in bed—with the real-life celebrity prince who she loves to hate.
For Johan von Braustein, the red-headed step-prince of Liechtienbourg, acting as paparazzi bait is a ruse that protects his brother—the heir to the throne—and his own heart. When a royal referendum threatens his brother's future, a fake engagement is the perfect way to keep the cameras on him.
Nya and Johan both have good reasons to avoid love, but as desires are laid bare behind palace doors, they must decide if their fake romance will lead to a happily-ever-after.
Over the Fence (The Neighbors Series)
Mary Monroe
Bootlegging was Milton and Yvonne Hamilton's ticket out of poverty, prison time, and plain bad luck. Now they've moved on—to a bigger, richer pool of clientele—right in their own respectable new middle-class backyard. And their growing friendship with seemingly-perfect couple Joyce and Odell Watson is proving golden in more ways than one . . .
As Milton soon learns, Odell is hiding an outside family and dubious business dealings. It's the perfect recipe for a blackmail scheme that will help Milton hide his own dirty
secrets—even from Yvonne. Better yet, he can take ever more dangerous risks to ace out his
liquor-smuggling rivals—and add a lucrative temptation to his illicit services. And Yvonne, emboldened by her husband's new gravy train, delights in tormenting Joyce about everything the snobbish matron doesn't have—especially children.
But even a winning hand can be played too far. Pushed past their limits, Odell and Joyce will play on Milton's careless boasting—to get him and Yvonne out of their lives for good.  And soon, a devastating frame-up will plunge one couple into a living nightmare…