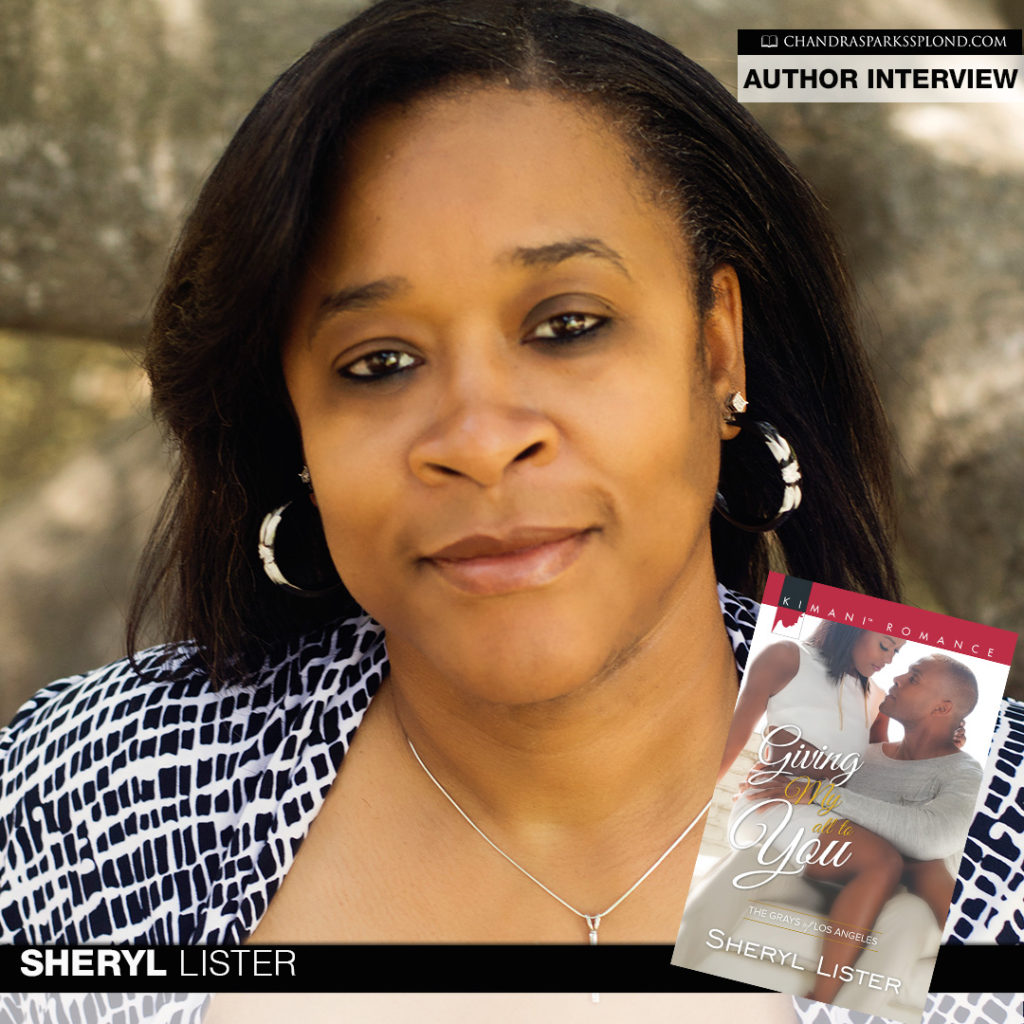 Author Sheryl Lister is back with another romance, and just like with her other tales, she's giving her all to readers.
Tell me about Giving My All to You.
Giving My All to You is the third book in The Grays of LA series and Brandon Gray's story. He's the second oldest, a little arrogant and can't seem to keep his feet out of his mouth. But then he meets Faith Alexander…
Faith Alexander's guardian angel has a body built for sin. Ever since she woke up in the hospital after a car crash, her rescuer, Brandon Gray, has been by her side—chivalrous, caring and oh-so-fine. Faith came to Los Angeles to find her long-lost father, only to learn that he's a partner in Brandon's family business. How can she reveal that her inheritance stands in the way of Brandon's career dreams?
All Brandon's focus is on his long-coveted role as CEO—until he stops to help a mysterious beauty. With chemistry this irresistible, he's ready to share a future with Faith, but he feels beyond betrayed to discover what she's been hiding. If desire and trust can overcome pride, he'll realize he's found the perfect partner in the boardroom and the bedroom…
Why did you decide to write it?
My goal in writing, first and foremost, is crafting a satisfying love story. I also want to create characters that grow, change, get their happily-ever-after, and hopefully, stay with readers long after "the end."
This book is part of your Grays of Los Angeles series. What do you want readers to learn from the series?
I want readers to see and feel the love between the Gray siblings (and their parents). I also want to show that just because the siblings don't always agree or may argue (in Brandon's case…lol), that the support and loyalty will always be there.
What do you want people to learn from your life?
From my life, I'd like people to learn that it is never too late to pursue your dreams. Though it took me over two decades to start this writing journey, I wouldn't change a thing.
Who is your favorite established author and why?
This is a tough question because I have so many favorites. But I'll say Beverly Jenkins because her ability to infuse history within her love stories makes me feel like I'm there.
Who is your favorite new author and why?
Two new authors who have captured my attention for their ability to integrate multiple characters into a story and build worlds are Suzette Harrison and Elle Wright.
What advice do you have for people interested in writing a book?
If you're interested in writing a book, the first thing is to start. Don't talk about it, dream about, wish…write. I'd also caution aspiring authors to learn the craft—attend workshops, take writing classes and research the subject you're writing about. With respects to publishing, don't skip the editing step before pushing your baby out into the world.
What's next for Sheryl Lister?
I'm hoping to release Whatever It Takes (novella) soon. Readers familiar with It's Only You met the heroine's divorced neighbor, Eve Thompson. Now, Eve takes center stage with single father Malik Carter. Book four in The Grays (Khalil Gray) will be released in November. I also have two special projects I'm working on, one for this summer and the other for 2018. I hope to be able to share them soon.
Do you have anything you would like to add?
I'd just like to take time to thank you for having me, Chandra. I wish you continued success!
Learn more about Sheryl Lister and her books:
Website:  www.sheryllister.com
Facebook:  www.facebook.com/sheryllisterauthor
Twitter:  https://twitter.com/1Slynne
Instagram:  sheryllister
Use my affiliate link to purchase your copy of Giving My All to You.