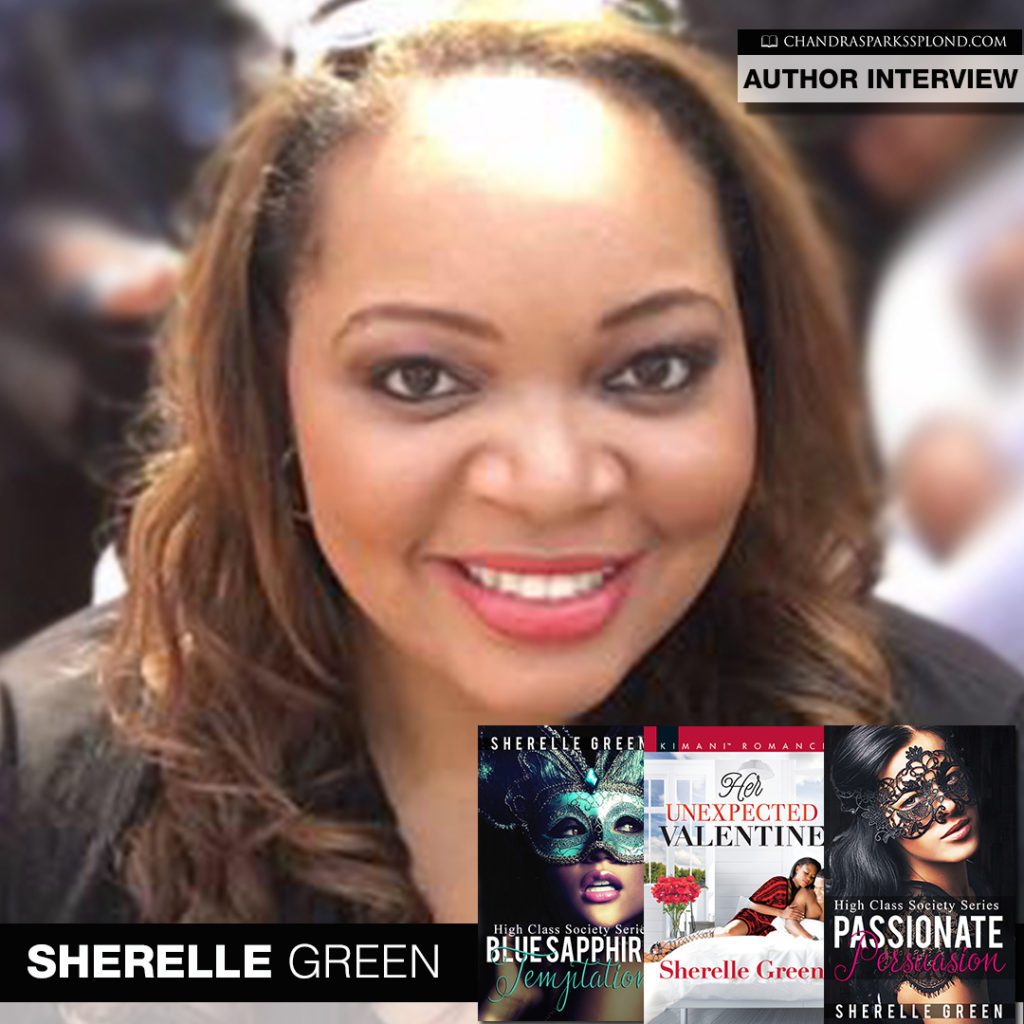 What's better than one new book by author Sherelle Green? Three books. I recently spoke with her about Blue Sapphire Temptation, Passionate Persuasion and Her Unexpected Valentine.
 Tell me about your books, Blue Sapphire Temptation, Passionate Persuasion and Her Unexpected Valentine.
Blue Sapphire Temptation and Passionate Persuasion are part of my High Class Society series that I write with author Angela Seals. Blue Sapphire Temptation is about High Class Society (HCS) founder, Logan "Lo" Sapphire, who is approached by Tristan Derrington, the brother of one of the HCS members, after his sister has gone missing. He threatens to expose the secret organization and in order to save HCS, Lo accompanies Tristan on a journey to locate his sister. In this story, everything isn't always what it seems and just when Lo believes she has Tristan all figured out, she's in for a big surprise. A surprise that forces her to take a second look.
Passionate Persuasion is a second-chance love story and the fourth book in the HCS series. This story follows HCS founder, Harper Rose, and her nemesis-turned lover-turned nemesis again, Jace Harvey. In this story, Harper and Jace are attending their class reunion, and the only thing more difficult than facing one another after all these years, is finally confronting the truth that they've kept bottled deep inside.
Her Unexpected Valentine is the fifth book in my Bare Sophistication series and is centralized around Nicole LeBlanc and Kendrick Burrstone. Both Nicole and Kendrick have been unlucky in love, but it's their unfortunate circumstances that make them more compatible than they think. Throughout the story, both must come to terms with some hard truths about themselves in order to open up their hearts. Sometimes, love finds us when we least expect it, and no matter how hard we try to avoid it, fate always wins in the end.
Why did you decide to write them?
I love writing about strong, independent women who are as successful and resilient as they are flawed, and the heroes who fight so hard to win their hearts. No one is perfect, so it's a character's imperfections that I usually enjoy writing about. Sometimes, what meets the eye is not always rightly understood and you may judge someone based off your own prejudices only to realize that everything isn't always what it seems.
With Blue Sapphire Temptation and Passionate Persuasion, I've always wanted to write a secret society series, and Angela Seals felt the same way. When we were initially developing the High Class Society series, we stayed at a local café way past closing time until we got the idea right. We knew we wanted to write about four strong and determined women to start the series and throughout plotting, I was lucky enough to get the opportunity to chat with a member of a real-life private female society. The discussion was both enlightening and inspiring. From there, the series took off, and we released the first two novellas in 2015 by teaming up with a fashion organization to plan a book release fashion show!
For Her Unexpected Valentine, I was eager to write this story because I didn't only want to touch on how one's past affects their romantic relationship, but their relationships in general. These characters have had to overcome plenty of life's obstacles, and as they learn throughout the story, there are still more obstacles they must face. Emotionally, I wanted to dig deeper into the character's pasts and discuss real-life issues that may break up a family or change a person's character.
What do you want readers to learn from the stories?
By reading these stories, I hope that readers feel inspired and invigorated. Love is colorblind, and black love is important because ours is a story that needs to be told. Times are constantly changing in the publishing industry. Therefore, we must continue to develop and support stories that exhibit culturally diverse relationships. No matter what sub-genre of romance you enjoy, as romance authors, we aim to create an intriguing and emotionally driven narrative with a passionate love story that appeals to a variety of readers.
What do you want readers to learn from your life?
Never limit yourself, and whatever you do, do it from your heart. When you have an idea, as long as you believe in your vision, that's all that really matters. Everyone won't be able to see your vision, and even those who support you most may not understand your goals, but that's okay. Don't be afraid to step outside of your comfort zone. Don't be afraid to chase your dreams with everything you've got.
Who is your favorite author and why?
I have so many favorite authors, but Brenda Jackson will always hold a special place in my heart. Before I became an author, I remember a Christmas in which my sister had tracked down the original editions of Brenda Jackson's Madaris series because I was a huge fan. I was so overwhelmed with excitement that holiday! Fast forward to 2012, I was attending the RT Booklovers Convention in Chicago, and after attending the Harlequin Spotlight session, I lingered as I awaited a chance to pitch to Glenda Howard with Kimani. I was so nervous to pitch my idea, that I hadn't even noticed that Glenda was free until Brenda Jackson tapped my shoulder. When I glanced over at her, I was tongue-tied. My favorite author was talking to me and I was fan-girling so much, I hadn't heard a word she said. When she laughed, it broke my trance and I finally joined the conversation. Brenda asked if I was waiting to pitch and I told her that I was originally waiting to pitch, but wasn't sure since Harlequin wasn't officially accepting any pitches after their spotlight. Brenda told me that if I'd come to the spotlight to pitch to Glenda, then I would do myself a disservice not to pitch my book idea. Then she said that she would wait to chat with Glenda until after I pitched. After giving myself a mental pep talk, I pitched my Elite Events series and shortly after, I was asked for my complete manuscript. Three weeks later, I was offered a three-book deal with Kimani, and I couldn't help but think about the encouragement I received from Brenda Jackson.
What's next for Sherelle Green?
Lots in store for 2018 and so many upcoming projects, but I'm the most excited about working with my lit sisters, Sheryl Lister, Leslie Elle Wright, and Angela Seals. Last year, we teamed up together to bring readers the Once Upon a Bridesmaid series. The series was a hit and so much fun to work on together. We enjoyed ourselves so much, that we knew it wouldn't be the last time we work together. This summer, the heroines of the series are back for Once Upon a Baby.
I'll also be releasing the first book in a new series that's a spinoff from my Elite Events and Bare Sophistication series! In a couple months, I'll be announcing more information regarding that series in my Facebook Group, Sherelle Green's Coffee Corner. Make sure you join my group for the latest details: www.bit.ly/SherelleGreensCoffeeCorner
Use my affiliate links to purchase Her Unexpected Valentine, Blue Sapphire Temptation and Passionate Persuasion.
To learn more about Sherelle Green, visit her website, email her or connect with her on social media.
Instagram and Twitter: @sherellegreen
Facebook: @AuthorSherelleGreen