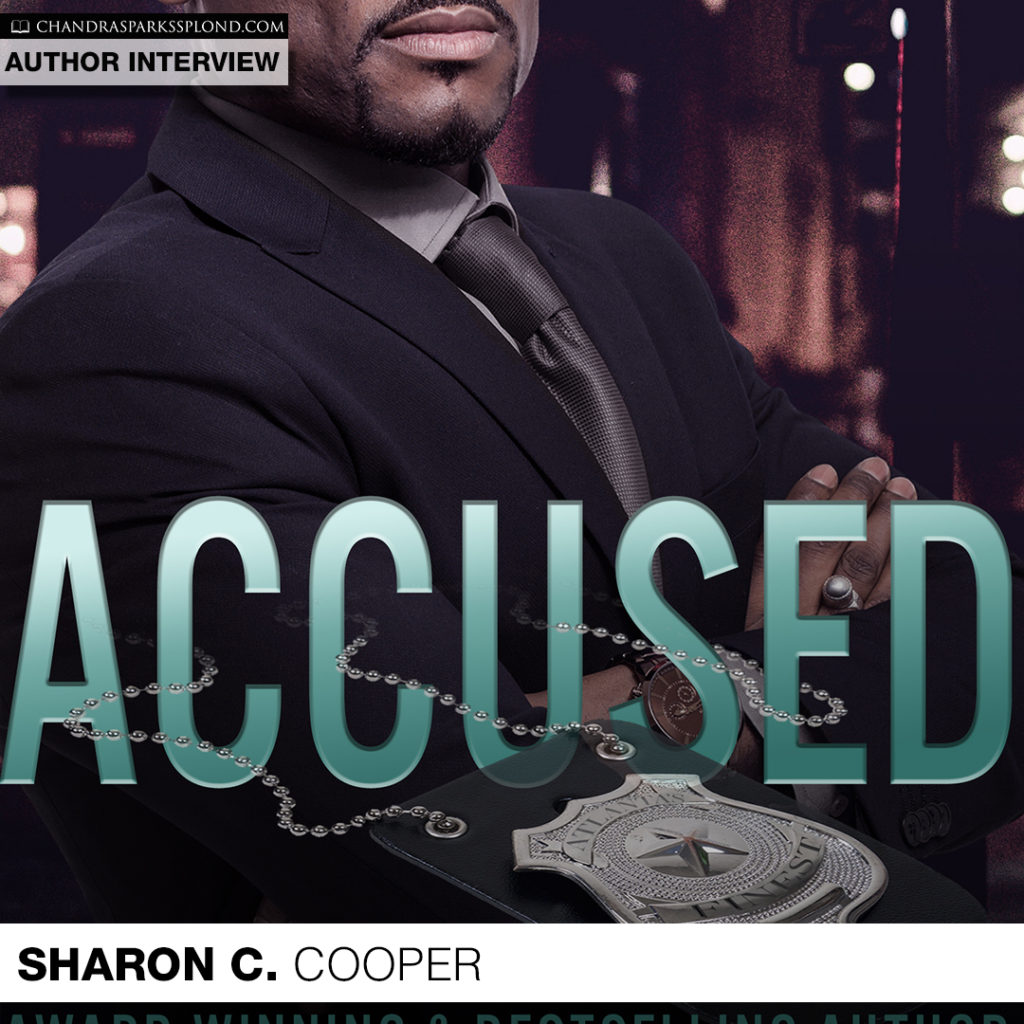 Award-winning author Sharon C. Cooper is a romantic at heart, so it's no surprise that she does a fine job of writing contemporary romances and romantic suspense. She's visiting today to discuss her latest novel, Accused.
Tell me about your latest book.
My latest release, Accused, is book three of my Atlanta's Finest series (romantic suspense). This is Kenton Bailey and Egypt Durand's story. They've worked together at Supreme Security Agency for years and have grown to be very good friends. Somewhere along the way, their feelings for each other have changed. Egypt refuses to act on those feelings, not only because of their working relationship, but she also doesn't want to ruin their friendship. Besides that, she has a secret that she intends to take to her grave and that keeps her from pursuing anything more with Kenton. But he's not having that. Kenton wants her, and he slowly breaks down her defenses. When her secrets are revealed, he's stunned, but that doesn't change his feelings for her. If anything, he wants her more than ever.
Here's the blurb:
He wants to forget his past… She's hiding from hers…

Former FBI agent Kenton Bailey traded in his badge when an assignment went horribly wrong. Now he provides personal security to high-end clients. But falling for Egypt Durand, the Queen of Supreme Security, wasn't part of the plan. She's smart, classy, and ignites a fire in him that only she can extinguish. Except she retreats from his advances…and she's shrouded in a veil of secrecy.
Egypt has never met a man as sexy as Kenton. Funny and smart, he's hard to resist. But her past leaves no room for a happily ever after. Still, with him, she dreams of a future.
Finally, Egypt's startling truths are revealed, throwing Kenton off balance and forcing him to confront the past he left behind. And when threats from a dangerous crime family send Egypt bolting, Kenton convinces her to stay. Together they will fight to bring closure to their pasts, but will they live long enough to explore the passion brewing between them?
Why did you decide to write it?
My favorite genre to read and write is romantic suspense, and I love friends-to-lovers stories. I wrote this story for my readers. I first introduced these particular characters in Vindicated, book one of the Atlanta's Finest series, and after that release, many readers asked if those particular characters were going to get a story. Instead of giving them their own stories, I combined their back stories, and the ideas flowed from there.
What do you want readers to learn from the story?
Hmm…good question. Accused is not only a friends-to-lovers story, but it is a tale about how our pasts can affect our decisions and overall life. Some things in our past might be good to bury and walk away, but there are other times when our past experiences (good or bad) can be used to heal someone else.
What do you want readers to learn from your life? 
I live my life knowing that tomorrow is not promised to me. I try to enjoy every moment.
Who is your favorite author and why?
There are so many authors whose work I love, but the first person who comes to mind is Maureen Smith. She's an amazing story teller, and her stories are not cookie cutter. You always know that when you purchase one of her books, you're going to get an entertaining story.
What's next for Sharon C. Cooper?
I'm currently working on book three of my Jenkins & Sons Construction series, A Lesson on Love, as well as book five of my Reunited series (romantic suspense), Casino Heat.
Do you have anything you would like to add?
Chandra, thanks for this opportunity! If your followers are interested in entertaining, passionate, and romantic stories, they should check out my other books at: http://www.sharoncooper.net/
Connect with Sharon C. Cooper:
Website: http://sharoncooper.net
Join Sharon's mailing list: http://bit.ly/1Sih6ol
Facebook fan page: http://www.facebook.com/AuthorSharonCCooper21?ref=hl
Twitter: https://twitter.com/#!/Sharon_Cooper1
Subscribe to her blog: http://sharonccooper.wordpress.com/
Goodreads: http://www.goodreads.com/author/show/5823574.Sharon_C_Cooper
Pinterest: https://www.pinterest.com/sharonccooper/
About Sharon C. Cooper:
Award-winning and bestselling author, Sharon C. Cooper, is a romance-a-holic—loving anything that involves romance with a happily-ever-after, whether in books, movies, or real life. Sharon writes contemporary romance, as well as romantic suspense and enjoys rainy days, carpet picnics, and peanut butter and jelly sandwiches. She's been nominated for numerous awards and is the recipient of an Emma Award for Romantic Suspense of the Year 2015 (Truth or Consequences), Emma Award—Interracial Romance of the Year 2015 (All You'll Ever Need), and BRAB (book club) Award—Breakout Author of the Year 2014. When Sharon is not writing or working, she's hanging out with her amazing husband, doing volunteer work or reading a good book (a romance of course). To read more about Sharon and her novels, visit www.sharoncooper.net