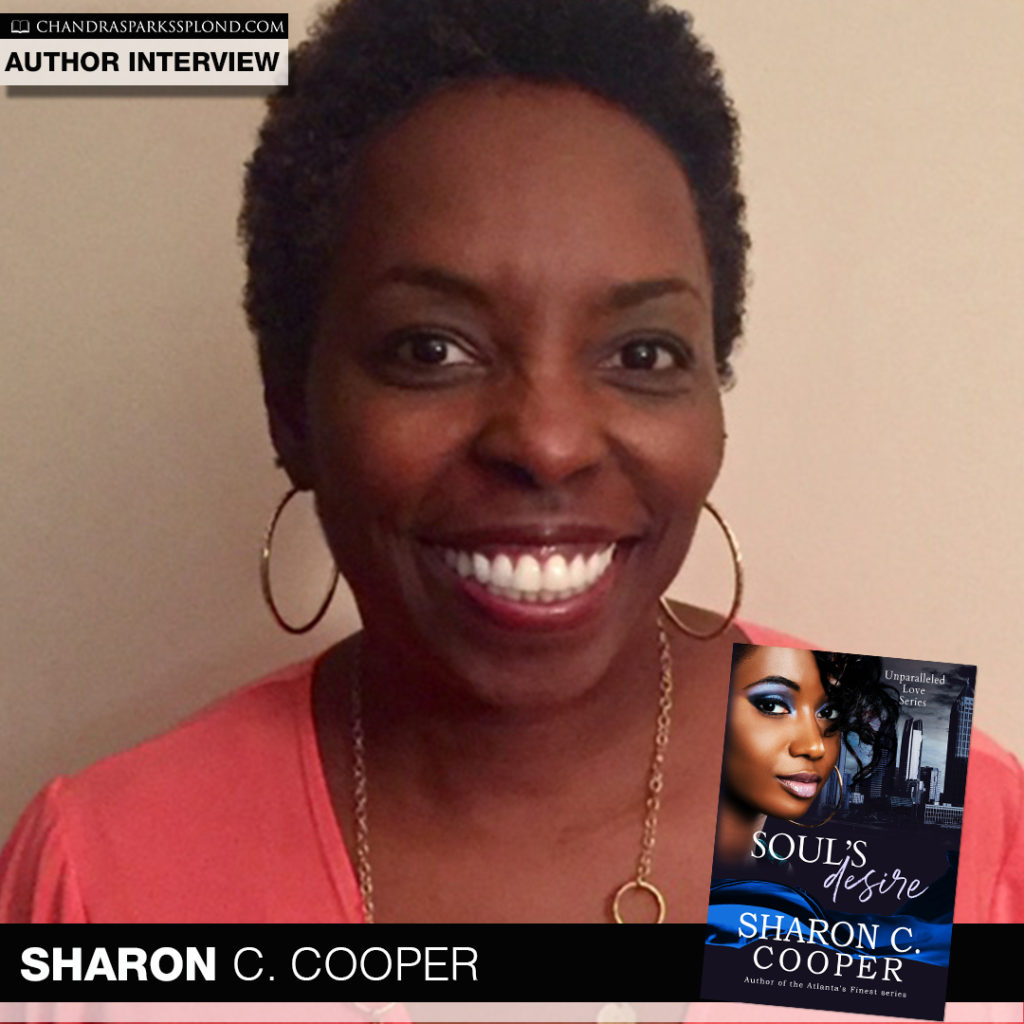 I'm so honored to have Sharon C. Cooper visit today to talk about her latest release, Soul's Desire, part of the Unparalleled Love series.
Tell me about your latest book.
My latest book, Soul's Desire, is a part of the Unparalleled Love series, which I'm collaborating with two other bestselling authors, Stephanie Nicole Norris and Delaney Diamond. My contribution to the series is about a woman, Soul Carrington, who desires to start fully living her life. For years, she's traveled with a dance troupe, but after numerous injuries, she's hung up her ballet shoes. Now she longs for a more fulfilling life. She recently moved back to Atlanta where she attended college, and is temporarily living with her two besties from college. She has also recently opened a dance studio, so her life is looking up, especially when she comes face to face with her college sweetheart.  Old feelings from the past resurface—the good and the not so good. Soul has always loved Micah Olsen, but for reasons that are mentioned in the story, their love affair ended abruptly. The story follows their journey of reconciling while Micah is keeping an important secret from Soul. Though their road to reconciliation is bumpy, they do get their happily ever after.
Why did you decide to write it?
The Unparalleled Love series is author Stephanie Nicole Norris's brainchild. When she and Delaney asked me to be a part of the series, I said yes immediately. And after finding out the premise of the series—three friends and their individual journeys to unparalleled love—Soul's Desire was created.
What do you want readers to learn from the story?
Mostly, I want readers to have an enjoyable experience while they read any of my stories, but regarding Soul's Desire, I hope they see how past loves can come full circle and end up being a love of a lifetime. They'll also see how a person's hopes and dreams can come to fruition if they don't give up.
If you could pick another profession, what would it be and why?
I've been a sheet metal worker, virtual assistant, office manager, grant writer, etc., but to date, my favorite profession has been writing (author). Writing gives me an opportunity to put my active imagination to work. I love being an author.
What's the best part of being an author?
I enjoy making up stories and watching them come alive on paper. I have also enjoyed meeting and working with some talented authors, and I absolutely love interacting with my readers.
What's the worst part of being an author?
I put in long hours, so some of my days are long, but when I come away with a great finished product, it's worth the effort!
What's next for you?
I'm currently working on more stories for my Atlanta's Finest series (romantic suspense). Next up is Betrayed, book five in the series. For readers interested in learning more about my work, they can find me at www.sharoncooper.net. If they sign up for my newsletter, they'll get sneak peeks, cover reveals, and they'll be able to participate in exclusive giveaways that are solely for my newsletter followers.
Use my affiliate link to purchase your copy of Soul's Desire.