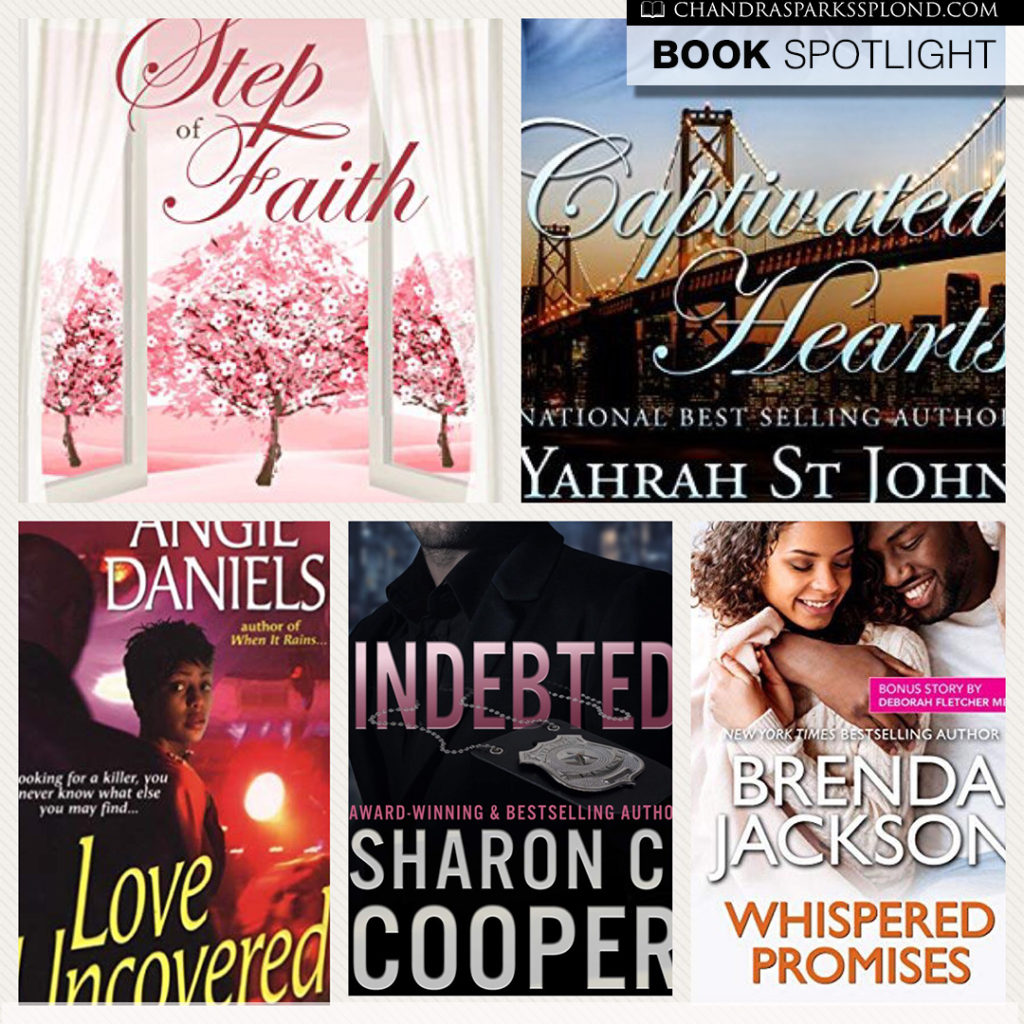 Looking to spend some time with your favorite characters or to find your new book best friend? Check out these series books.
Indebted (Atlanta's Finest Series Book 2)
Sharon C. Cooper
Even when he does good, he's bad…
Detective Lazarus Dimas doesn't play by the rules. On the streets, he's a force to be reckoned with, a dangerous man with a badge and a gun. But he does have a soft spot — the sexy assistant district attorney Journey Ramsey. There is something about the woman he can't shake. She's irresistible and off limits. At least that's what he keeps telling himself, but one kiss leads to others and well…so much for limits.
Journey plays by the rules, normally. But she can't deny the sexual tension that sparks whenever Laz is near, even when he puts her professional integrity at risk. Laz is complex. The type of man fathers warn their daughters about. Yet, there's a gentle, vulnerable side to him that he lets no one see except her, and she can't resist him.
Can Laz prove he's the man for Journey before a reopened case exposes his true colors? Or will the danger they face show that the love they share knows no boundaries?
*Indebted is book 2 in the Atlanta's Finest Series, but can be read as a standalone.
**Indebted was previously published in the box set Breaking Bad as a novella. For those who read the novella, this is Laz and Journey's complete (full-length) story. This is also an interracial romance (BWWM).
Love Uncovered (The Campbells Book 1)
Angie Daniels
Chenoa Campbell is a feisty detective who believes as a woman she has to constantly prove herself. When her ex-partner is gunned down, she vows she won't rest until she finds his killer. However, in order to work on the case, Chenoa must partner with Zearl Sinclair, a man from her past who still manages to sends her body into overdrive.
Zearl Sinclair has had his share of disappointments and has closed his heart to the possibility of love. After returning home and joining the local police department, Zearl is surprised to find that his new partner is Chenoa Campbell, his best friend's younger sister. He's not interested in "babysitting" Chenoa, however, the desire brewing between them is hard to resist. Can Chenoa and Zearl find love in the heat of danger? ***This book was originally released in 2005*
Whispered Promises (Madaris Family Saga)
Brenda Jackson  
Don't miss this reader favorite from New York Times bestselling author Brenda Jackson
Even a once-in-a-lifetime love…
When Halston Parker calls his daughter Caitlin to his deathbed, she's shocked to discover that her ex-husband, Dex Madaris, has been summoned as well. It's been four years since Caitlin felt the heat of Dex's touch, the urgency of his kisses and the promise of an everlasting love that never was. As a flood of bittersweet memories warms a cold and lonely night, Halston's real motive for the unexpected reunion comes to light. As does the daughter Dex never knew existed, a secret Caitlin has kept too long from the only man she's ever loved. A secret she fears Dex will never forgive
…Deserves a second chance
Despite the past, Caitlin and Dex cannot resist the attraction, or fight their hunger to renew a once-in-a-lifetime passion they thought they'd lost forever. As each learns a lesson in faith and trust, they discover that no heartache, no betrayal, is strong enough to withstand the enduring power of true love.
Also include bonus story SWEET STALLION by Deborah Fletcher Mello
Title originally published in 1996
Captivated Hearts (HART SERIES Book 7)
Yahrah St. John 
Jada Hart dreamed of making it big as a TV anchor at San Francisco's WLB-TV. She'd pulled up stakes from her family home in Dallas believing her dream would soon be in hand. But five years later, and still at the same station, she'd covered nothing but fluff news for the entertainment segment. The powers that be only saw a pretty face. They didn't think Jada had the stuff to deliver hard-hitting news.
But one day, in walked a new owner, Damian McKnight, who recognized Jada's on-air potential and believed she deserved a shot at the anchor seat. This was despite the fact she constantly challenged him in front of his employees. Any other boss would have deemed Jada a problem worker, but Damian had his own problem: He liked Jada's sass. Additionally, she was drop-dead gorgeous and intelligent. But he was the boss, so he couldn't get involved with her.
But Jada had the hots for Damian too. She admired that he'd pulled himself up by his bootstraps to escape poverty and become a media mogul. Plus, he was just plain sexy—sexy chocolate! Soon, the chemistry between the pair would be too much to be denied, and they'd fall into a glorious affair. Jada would also get her shot at the anchor seat, but would their affair be discovered? Would she lose her colleagues' respect if they believed she'd slept with Damian to get ahead?
What initially started out as hot sex would become something far more deep: Love.
Will Damian and Jada walk away from their affair when both of them are Captivated Hearts?
Step of Faith (Magnolia Gardens Book 1)
Michelle Stimpson and CaSandra McLaughlin
How long should she hold on to the past for her children's sake? Frenchetta Davenport just spent another Christmas alone, without her children or grandchildren. She's always lived for her family, but apparently they aren't thinking twice about her. When she makes a sudden decision to make herself happy, for once in her life, she has to deal with the repercussions this new life brings with the children who were hardly even thinking about her.
Step of Faith is the first book in the Magnolia Gardens series by bestselling Christian fiction author duo Michelle Stimpson and CaSandra McLaughlin. You will enjoy this cast of lively cast of senior characters and grow to love them through their trials and triumphs.
What series reads are you enjoying this summer?