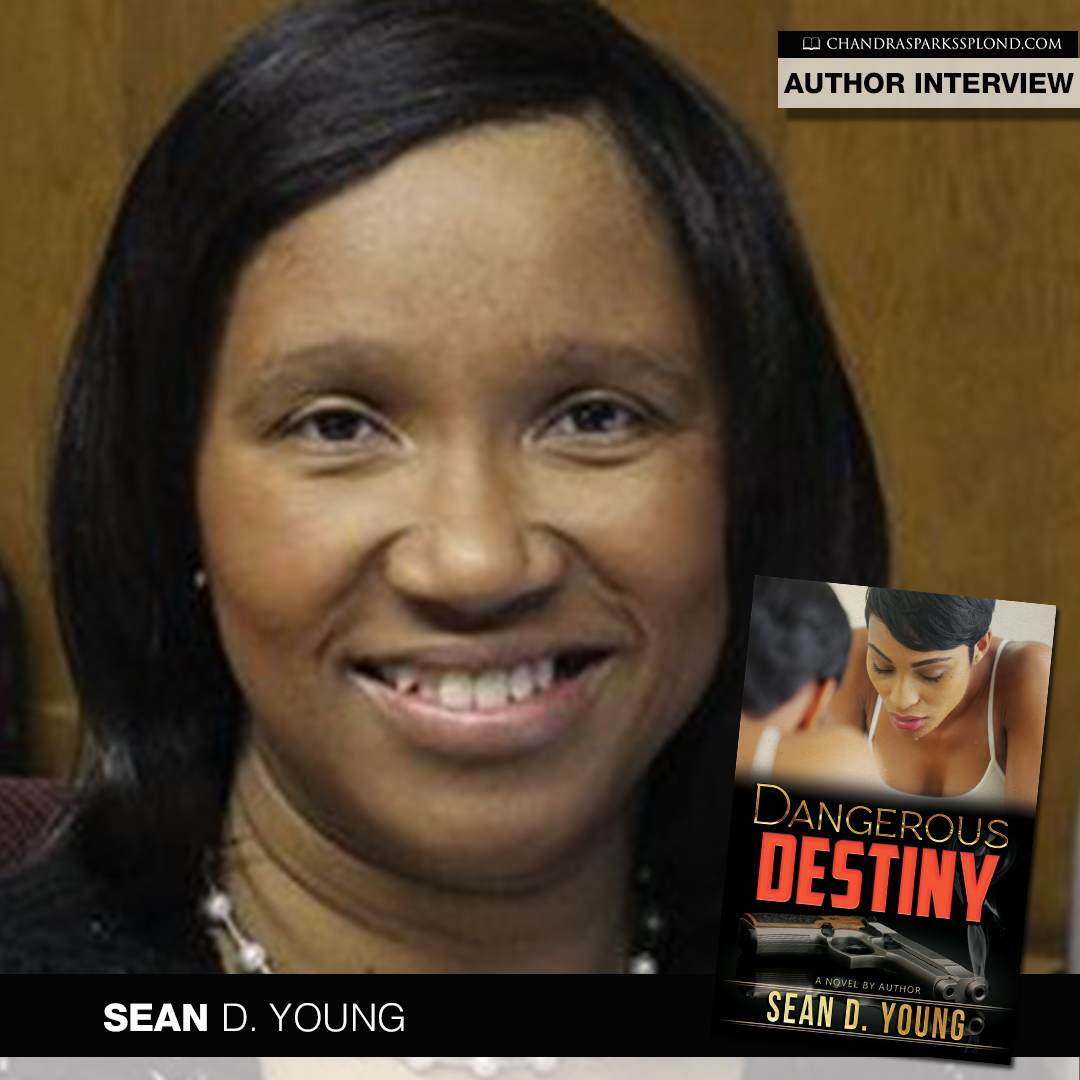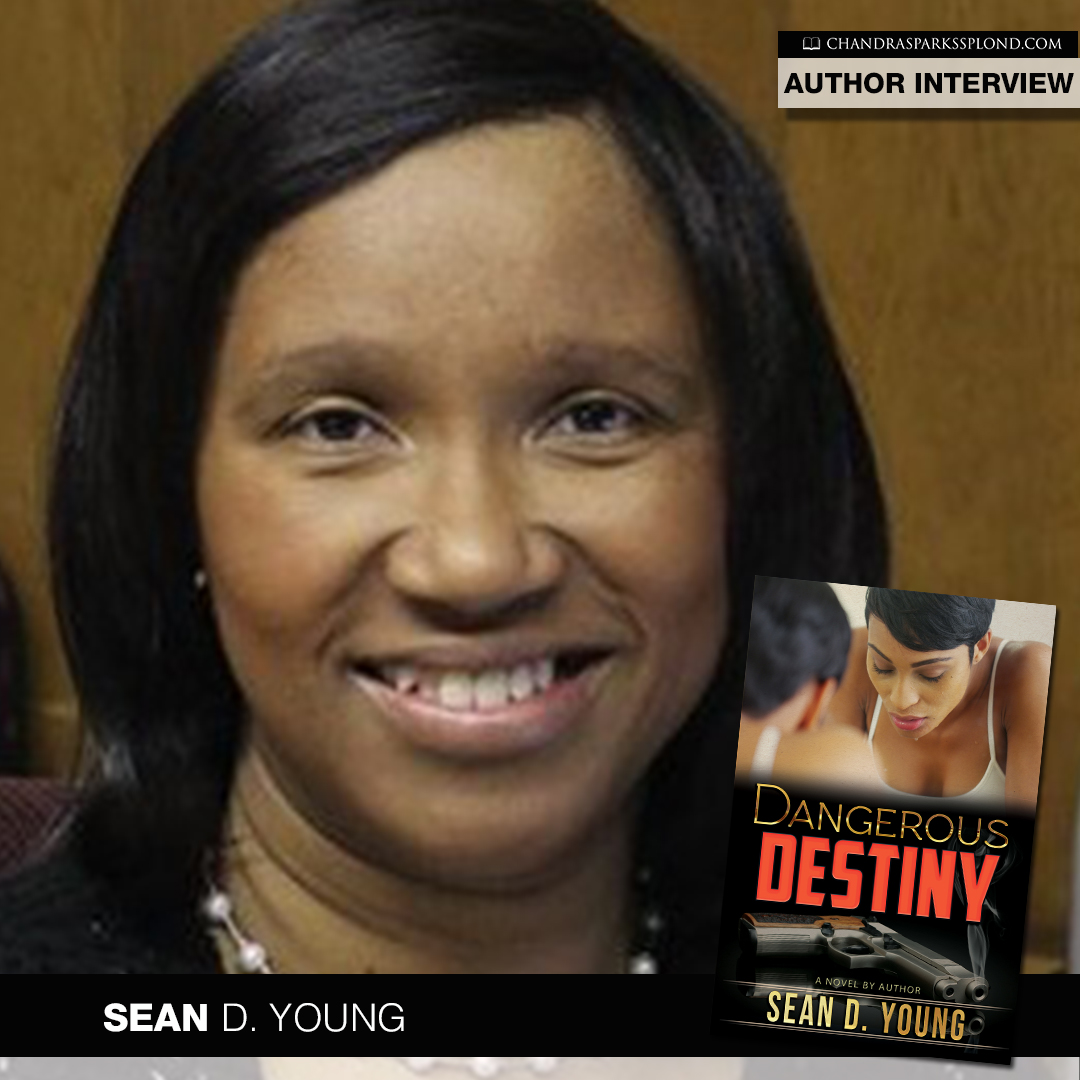 Things get dangerous in author Sean D. Young's latest romance. I recently spoke with her about Dangerous Destiny.

Tell me about your book, Dangerous Destiny.
Dangerous Destiny is a romantic suspense story about Victoria Johnson and James Anderson.
With only the clothes on her back, Victoria Johnson disappears in order to escape her abusive husband.  Fearing for her life, she has to make the tough decision to leave her daughter behind.  Without any money, she is forced to live on the streets for a brief time, until she takes a job as a live-in nanny in exchange for a safe place to live.  Ironically, while she's hiding from her husband, she discovers he's been murdered.
James Anderson was a successful investigative reporter before his wife decided to up and leave him and their little boy.  He gave up the career he loved in order to spend more time with and be there for his emotionally withdrawn young son.  Three years later, James is a single parent who runs a busy coffee shop.
Both Victoria and James are in need of help.  As a favor to his cousin, James hires Victoria as his son's nanny and is surprised at how quickly she somehow draws his son out of his shell.  To complicate matters, she was unknowingly causing him to feel all sorts of things he hadn't allowed himself to feel in a very long time.
Victoria knew she couldn't run forever.  She doesn't know if she was a murder suspect or not, but she was going to have to talk to the police if she wanted to find out who killed her husband.
Just as James and Victoria get close, his past literally shows up on his doorstep.  The presence of his ex-wife means trouble, but she promises that she only wants to be a mother to her son.  He can't deny his son, but does Amerie have an ulterior motive?  James is sure of it.
He wants to help Victoria to clear her name for her husband's murder.  Victoria is tired and doesn't want to come between James and his family.  She doesn't want to add any more complications to her life, so she leaves.
Will they both learn to trust again or will they walk away from the happiness they found in each other?
Why did you decide to write it?
This story formed from another book that I was writing.  Victoria was actually a secondary character.  I decided that her story needed to be told. Thus, Dangerous Destiny.
What do you want readers to learn from your story?
The family dynamic is much more complicated than many people realize.  A parent's behavior directly affects the children.  Negative examples can be detrimental to the child.  The child models what they see, and it shapes the way they see the world as well as how they function in it.  Domestic violence is one of those behaviors that many children see on a daily basis.  In a lot of cases, the children grow up to be abusers themselves.
What do you want readers to learn from your life?
You can do anything you set your mind to do. I've always loved writing, but never thought about being a romance writer.  I actually wrote my first book to prove to Jacquelin Thomas that this job wasn't for me.  It turns out that she was right.  Now, nine books later, I am so excited about introducing my next story to the world.
Who is your favorite author and why?
My favorite romance author would be Rochelle Alers.  She writes flirty, sexy and wholesome stories and then she writes the romantic, yet suspenseful stories that catch our breath.  I love the way she weaves the story and creates three-dimensional characters.  The relationship between the hero and heroine is meaningful, so we can't help but sigh when we get to their happily ever after. My favorite mystery author is Valerie Wilson Wesley.  I love her Tamara Hayle mysteries.  There are many more authors that I enjoy.
What's next for Sean D. Young?
I've decided not to allow fear to hold me back, so I'm writing a cozy mystery series called the Penny Lovelace Mysteries.  These books are set in the small town of Sweet Rock, Georgia.  In September, the McClendons will give their encore performance through Entangled Publishing.  I'm so excited about being an Entangled author and this new opportunity because the book A Husband by New Year's was only in publication for one week.  I'm happy that everyone will have the opportunity to read Renee McClendon's story.
Do you have anything you would like to add?
I appreciate the work that you do in giving your readers a glance at individuals that they may not be exposed to otherwise.  Thank you for this opportunity.
To learn more about  Sean D. Young, visit her website (www.seandyoung.com) or connect with her on Facebook (@seandyoungbooks) or Twitter (@seandyoung).
Use my affiliate link to purchase your copy of Dangerous Destiny.