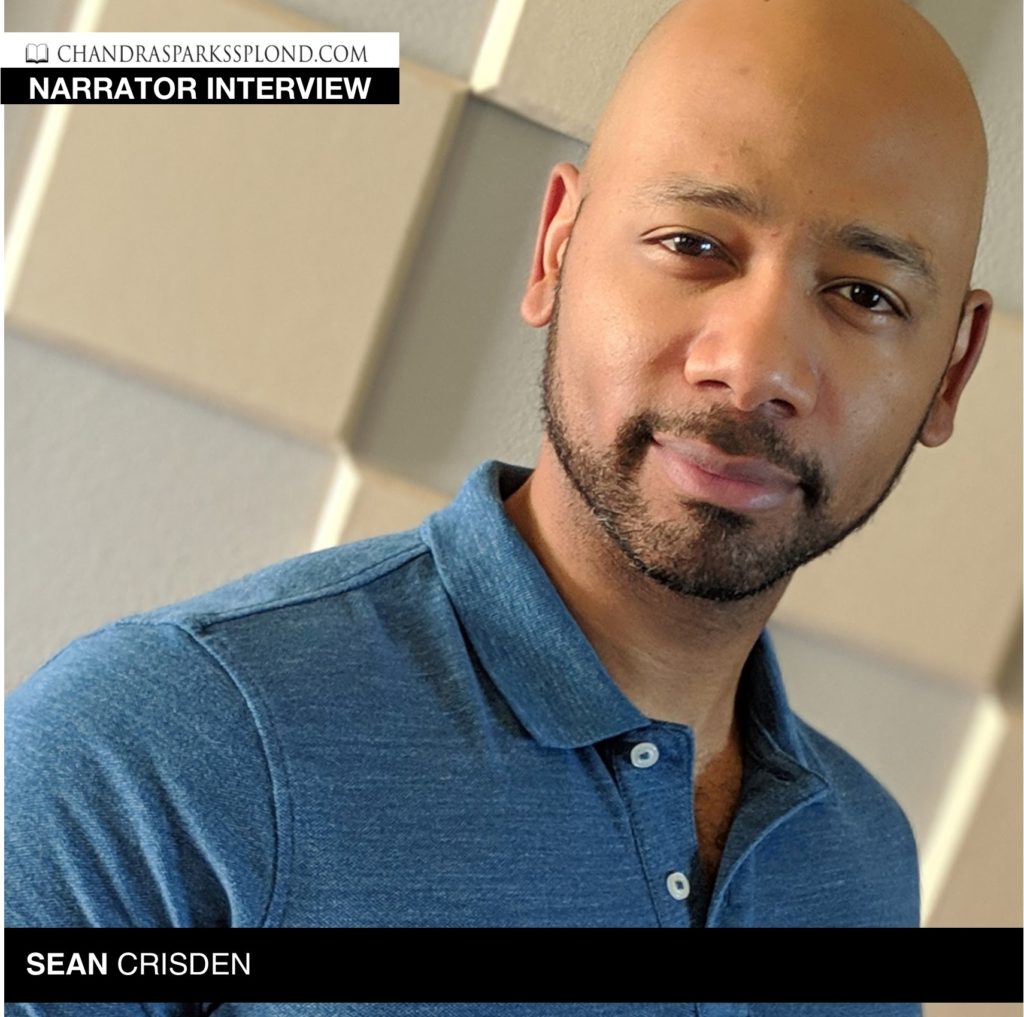 Voice talent Sean Crisden has a few great stories to tell. I recently spoken with Crisden about his career narrating books.
Tell me a little about yourself and how you got into book narration.
I was born and raised in Philadelphia, Pennsylvania, and always leaned toward creative outlets. I'm a visual artist as well as a musician and found my creative well ran deep and could be applied in numerous and fulfilling ways. I'm fortunate in that I found a way to nurture and exercise that creativity in a way which is also sustainable as a career.
After coming to a semi-crisis of identity in my thirties I decided to look at my skills, interests and available resources to refocus and restructure the direction in which I was steering my life. The end result was voice acting, which found me performing not just audiobook narration but video games, commercials and animation as well. So my focus and success as a narrator has come from a concerted, specific effort matched with lots of dedicated work, effort and hours to do so. I've been fortunate enough to build a solid career and win a few industry awards in the process. I'd like to think that I'm just getting started.
Tell me about your upcoming/most recent project.
I just finished narration of the first books in a series by Adriana Herrera called American Dreamer and American Fairytale, which are romances set against the backdrop of honoring cultural heritage while assimilating into the great melting pot that is America. Fun, well-conceived books.
Why did you decide to be a part of the project? 
I enjoy a good romance with a dash of happily ever after (shh, don't tell anyone). This is especially true when the story adds elements outside of the normal beats to inject additional interest and pizzazz into the structure. Also, the first book is about an Afro-Caribbean food truck in New York City moving to upstate New York. Food is a big weakness of mine, and if there's anything that I miss about the east coast now that I'm out in the Sonoran Desert, it's the food!

What has been your favorite book to narrate and why?
I've had many that can compete for my favorite, so I'll name a few in no particular order: Freeman by Leonard Pitts Jr., An American Marriage by Tayari Jones, Keeping Promise Rock by Amy Lane, The Baller by Vi Keeland, Surviving Raine by Shay Savage. These just pop into my mind because they have elements that stuck with me or affected me on a personal level beyond simply being the narrator of the story. I've narrated hundreds of books, and sometimes something really resonates with me in a way that I feel somehow changed at the story's conclusion, even if minutely. I say that makes for compelling reading/listening/narrating.

What's the best part of narrating books? 
Donning the mantle of the storyteller is humbling to me. It is how our early ancestors passed on knowledge, lore and information. As a performing talent, it's both thrilling and rewarding to essentially become and embody and preside over every facet of the story and deliver it in a way that can engage and entertain a listener. This has to be done without stepping on or impeding the story or the author's intent, so it becomes a fantastical dance—at least in my own head.
What's the worst part?
I largely sit in a booth by myself and talk to myself. Sometimes fully clothed, other times…less so.

What's next for Sean Crisden?
I'm still very much a voice talent and will be enmeshed in the industry in some way for a long time to come. However, I have been writing a number of short stories that will likely see print and of course, audiobook formats.
Do you have anything you would like to add?
Simply for folks to go forth to cultivate and share happiness. Be good and do good.
To learn more about voice talent Sean Crisden, visit his website or connect with him on social media.
www.seancrisden.com
www.facebook.com/crisden
twitter.com/seancrisden
This post contains affiliate links.