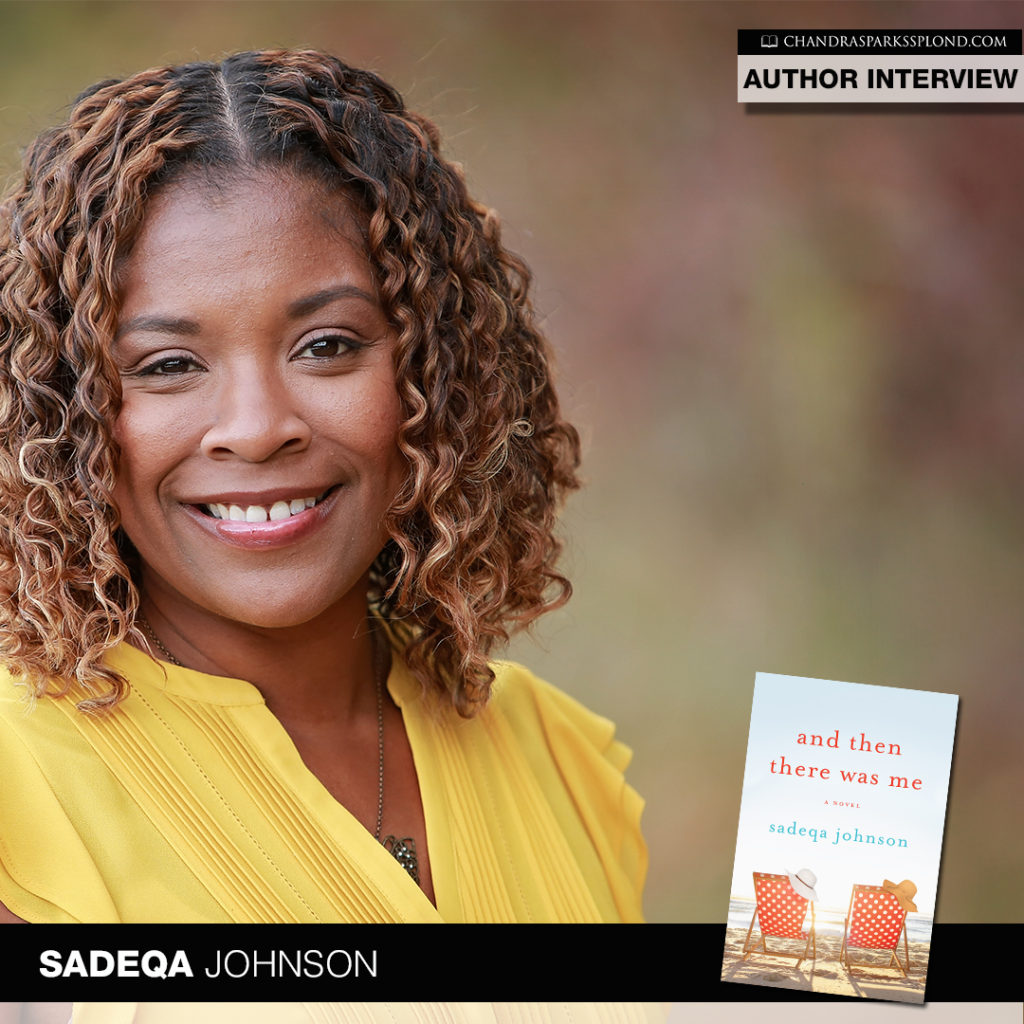 Sadeqa Johnson had what many would consider a charmed career, having worked with the likes of JK Rowling and Bishop TD Jakes. Now she proudly wears the title author, and she's back with another tale of friendship, secrets and lies. I recently spoke with Johnson about And Then There Was Me.
Tell me about And Then There Was Me. 
Bea and Awilda have been best friends from the moment Awilda threw her fourteen year-old self across Bea's twin-sized bed as if they had known each other forever. Bubbly, adventurous Awilda taught sheltered, shy Bea how to dress, wear her hair and what to do with boys. She even introduced Bea to her husband, Lonnie, in college, who pledged to take good care of her for the rest of their lives. But philanderer Lonnie breaks that promise over and over again, leaving Bea to wrestle with her self-esteem and long-time secret addiction.
Recently Lonnie has plopped the family in a New Jersey upper class suburb, which lacks the diversity that Bea craves but has the school district and zip code envy that Lonnie wants. The demands of carrying a third child and fitting into this new environment while pretending that her husband is not cheating on her again, is more than she can handle. And just when she thinks things can't get any worst, the ultimate deception snaps the little thread that was holding her life together and all comes tumbling down.
And Then There Was Me is the story of love and friendship, heartache and betrayal. It's the journey of a woman stripped down to her lowest point and needing to find the will to press on.
Why did you decide to write it?
It was simply the story that wouldn't leave me alone. My husband was telling me about someone he knew, and as I listened, I couldn't stop mapping out the characters in my head. Stories leech themselves in my skin. They come from conversations, personal experiences or just a feeling and then I go for it. My goal is always to entertain my readers. I aim to write a book that makes their fingers burn to turn the page, keep them up at night cursing me out because they need to know what's going to happen next in the book even though they need to be to work in five hours. Writing characters that inspire comes easy for me because I am always the person who sees the cup half full instead of half empty. All of my spiritual guides and teachings weave their way into my storytelling. Bea of And Then There Was Me, finds her way to hot yoga to get through a rough patch because I love practicing hot yoga especially when I am physically or mentally depleted. There will most likely always be a woo-woo quality to a character or experience in the book because I really love the diverse ways that one can honor Spirit.
What do you want readers to learn from the story?
And Then There Was Me deals with a lot of complex relationships. It's one of the few books that I know of that deals with some of the self-inflicted dangers that I've explored. I hope that I've shed a light for those who could really use the lifeline of knowing that they are not alone. I also want readers to walk away with the feeling that reading my book was worth their time and that they are better off because I've touched something deep inside of them.
What do you want people to learn from your life?
Lisa Nichols said that she isn't extraordinary (even though I think she is being one of two black women with a publicly traded company). She says that by thinking that she is extraordinary lets me/us off the hook. It is our birth right to live in purpose, be abundant, happy and wildly successful. There is no difference between me and someone who is at the beginning of their journey. It's all possible. If you want it, you have to go for it. Nurture your dreams everyday, stay positive and never give up. I am a mother of three very busy children and a dog. I wake up every morning with gratitude in my heart. My goal is to inspire and enrich the lives of others. When my dreams seem beyond my scoop of vision I ask myself, why not me? And push on.
What advice do you have for women trying to juggle having a family and career?
I would share two of my favorite quotes.
"All is well, and you will never get it done. Life is supposed to be fun. No one is taking score of any kind, and if you will stop taking score so much, you will feel a whole lot better — and as you feel a whole lot better, more of the things that you want right now will flow to you. You are right on track, right on schedule. Everything is unfolding perfectly. All is really well. Have fun. Have fun. Have fun!" Abraham Hicks
"Think like a queen. A queen is not afraid to fail. Failure is another stepping stone to greatness." Oprah Winfrey
Who is your favorite author and why?
I love so many authors it's really hard to narrow them down. I will say that I just finished Homegoing by Yaa Gyasi and I loved it. I'm about to crack open Underground Railroad by Colson Whitehead. I just heard him speak at VCU and he was phenomenal. I'm overjoyed for Bernice McFadden for winning the NAACP Image award for her latest book The Book of Harlan, her first novel, Sugar let me know that it was possible for me to write.
What advice do you have for people interested in writing a book?
The first thing a writer needs is the will to succeed. You have to tune everyone out and really focus on your goals with tunnel vision. When I decided to quit my job in publishing to pursue writing, my father called me and he was furious. He shouted, "What did I spend all that money sending you to college for so that you could quit?" He didn't see my vision. All he could see was that I was throwing away a well paid position to pursue the unknown. It was nerve-wracking for me and it took a while to get over what he said. Eventually I let it fuel me to stay the course. It kindled me to show up at my computer everyday, set my office hours, not answer the telephone, and turn down lunch dates so that I could work. Remember, there may be people who believe in your dream but more often there will be the naysayers and your will to write has to quiet all of those voices of doubt, fear and give you the will to push on.Give yourself time and permission to grow, and be patient with yourself. Believe in your creativity above all.  Allow the magic to flow.
What's next for Sadeqa Johnson?
I am so excited about the book I'm working on now. It's called Yellow Wife, and it is the story of a slave woman, Pheby, from Charles City, Virginia. Pheby was sold away from the only home she's ever known by her jealous mistress to a notorious jail in Richmond called the Devil's Half Acre. The jail was known as a punishing center and holding pen for slaves. There she catches the eye of the owner of the jail, Rubin, who wants nothing more than to make Pheby his woman. She has to make choices to survive the treachous worlds of slavery and do some things that she is not proud of for her survival and the survival of her children. This novel is filled with struggle, self-sacrifice, sexploitation and human degradation, and promises to give readers a new perspective on our history. I'm in the middle of the first draft and I'm having so much fun with this. I never thought I'd write historical fiction and I really hope you will like it.
Do you have anything you would like to add?
I just want to thank you, Chandra Sparks Splond, for the interview. It's people like you who help spread the word that there are amazing books on the market. It takes a village to build a best-seller and I thank you for being a part of my village. Continued success to you.
Sadeqa Johnson, a former public relations manager, spent several years working with well-known authors such as JK Rowling, Bebe Moore Campbell, Amy Tan and Bishop TD Jakes before becoming an author herself. Her debut novel, Love in a Carry-on Bag, is the recipient of the 2013 Phillis Wheatley award for Best Fiction. She is also the author of Second House From the Corner and And Then There Was Me. A native of Philadelphia, she has recently relocated to a suburb of Richmond, which is a great place to raise children until it snows and schools close for a week. She is a motivational speaker, inspirational blogger, wife and mother of three incredibly busy children. For more information, please visit www.sadeqajohnson.net, Twitter, Instagram and Facebook.
Download a free sneak peek of And Then There Was Me at  http://eepurl.com/bIHyv5.
Use my affiliate link to purchase your copy of And Then There Was Me.
Please follow and like us: