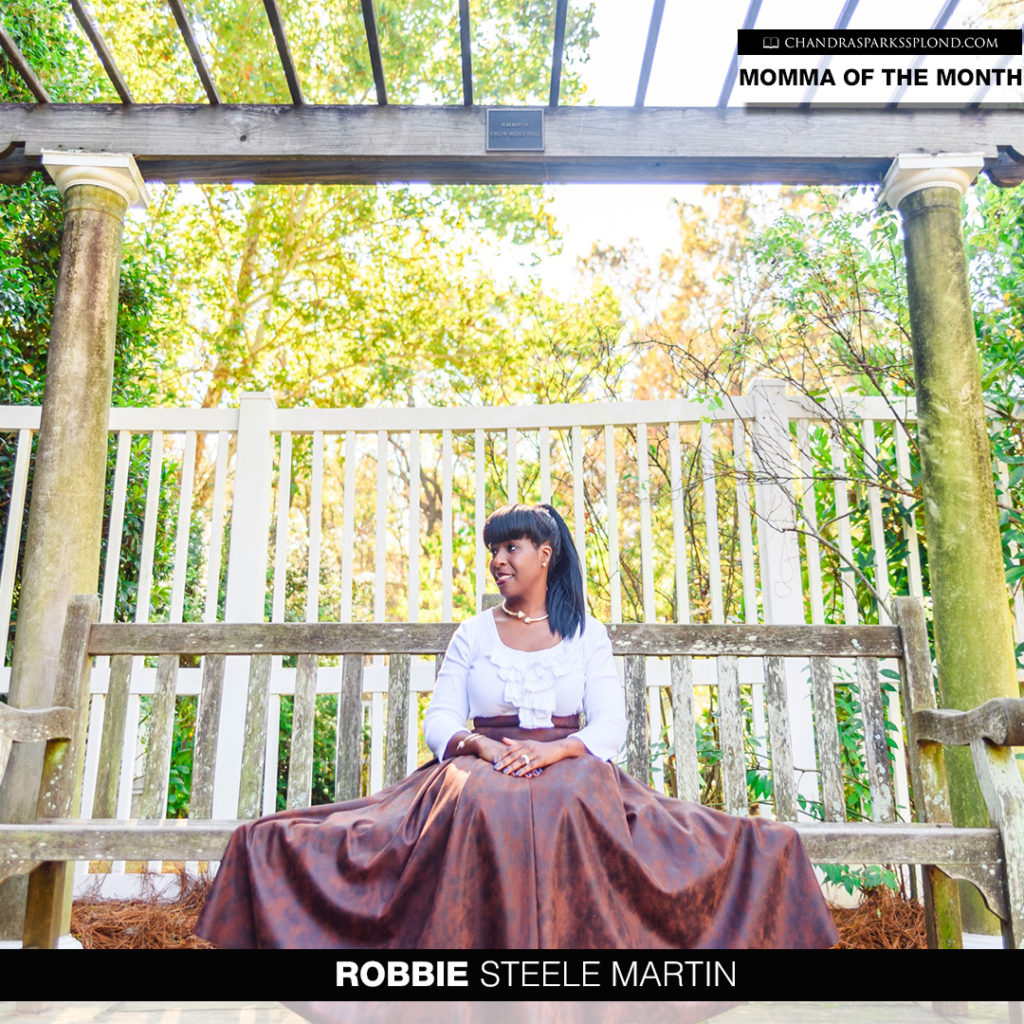 This year has not been what the December Momma of the Month Robbie Steele Martin envisioned. When I interviewed her a few months ago, Martin had no idea that on October 10, she would lose her husband, Verdel. Since then, she has become committed to finishing the job she and Verdel started to raise their kids.
Tell me about yourself.
Robbie Denise Steele Martin
Age 45
Grew up in Birmingham, Alabama, in West End community
Married to Verdel Martin, from Gulfport Mississippi, for 17 years.
We have two children—Jonathan David, age 14 and Kaitlyn Gwenneth, age 12
I practiced labor and employment law for 10 years before moving to corporate America at Alabama Power Company (APC) where I work as a contract agent negotiating contracts for the purchases of goods and services for APC.
What are the best and worst things about living in Birmingham?
I love the growth that has taken place in the city, with young, innovative entrepreneurs it seems Birmingham is well on the way to re-inventing itself as a top place to live and work. As a native of Birmingham, I would like to see greater emphasis and more dollars spent on K–12 education. Leveling the playing field of education in Birmingham would have such a profound impact on so many young people. There are families that for generations have been stuck in the cycles of poverty and lack. These families would love to get out, and I believe access to better education would go a long way toward helping them achieve their dreams.
If you could change one thing about Birmingham, what would it be and why?
I'm a sports fanatic. Wouldn't it be great if Birmingham had a pro football or basketball team?
What is your proudest mom moment?
I'm called to my son's school for an unrequested parent-teacher conference. When I arrive, all four of my son's teachers are waiting for me. I nervously sit down and ask what is going on. Each teacher shakes my hand and one hugs me. They go on to explain normally these conferences are for students having issues, but in this case, they wanted to have a conference to tell me what an amazing child I had. I listened intently to their comments about Jonathan's character, courage and compassion. I was blown away because the comments weren't about him being a great student (although he is), they were about him being a great person, which is every mom's dream. I listened to one teacher tell me she had never had a student like him before—and how truly special he was. I remember leaving the school with tears of joy streaming down my face and giving glory to God for such a wonderful blessing.
My other proudest mom moment: My daughter was in second grade at the time and had a tough school year dealing with "mean girls." During the last week of school on her free time, she wrote a poem titled "Friends."  The poem explained what real friends look like from the eyes of an eight-year-old. So sincere. Her teacher was so moved that she called and read the poem to me over the phone. She asked if her class could use the poem for the end-of-year party and yearbook. I told my daughter, and her response was "I just wrote what my heart told me to write."
What tips do you have for other moms who are juggling raising a family with having a career?
God is trying my strength like no other. I have learned since October 10 when God called Verdel to Him, there is nothing too small or big to pray about. Pray about everything.  Every day I ask God for strength (physical, mental, and emotional) to be the mom He called me to be. Prioritize. As moms and women, we wear so many hats, and it is important to know which hat is the most important at what time. Take care of yourself. Eat right, exercise, rest and rejuvenate, otherwise you are not 100% for those who rely on you. Follow your gut. Use those Momma Bear instinct. I have learned those instincts are real, so tap into that internal resource. Be your child's mom, not their friend. Be their best example and hold them accountable. If you set a rule, hold them to it. If you say consequences follow, then follow through with your word. Celebrate your babies and let them know they are special. Know that motherhood is a journey. Always look for ways to get better. Also, be true to yourself and your family.
What's next for Robbie Steele Martin?
In honor of my husband, I am starting The Verdel Martin Dream Team foundation to help young people fulfill their dreams in the science, technology, engineering, math and sports areas—all areas dear to Verdel's heart. The foundation will have a scholarship division, mentoring division and activities division, as well as fundraising events, so be on the lookout and be a part of this.
Robbie Steele Martin's mantra is forward. That applies to every part of my life. I am looking forward to more speaking opportunities with youth and women's group. I am continuing to work on the Robbie Steele Martin scholarship project and my Forward Fashion consultant role. Most important, I am going forward—determined to be everything God called me to be.
Please follow and like us: