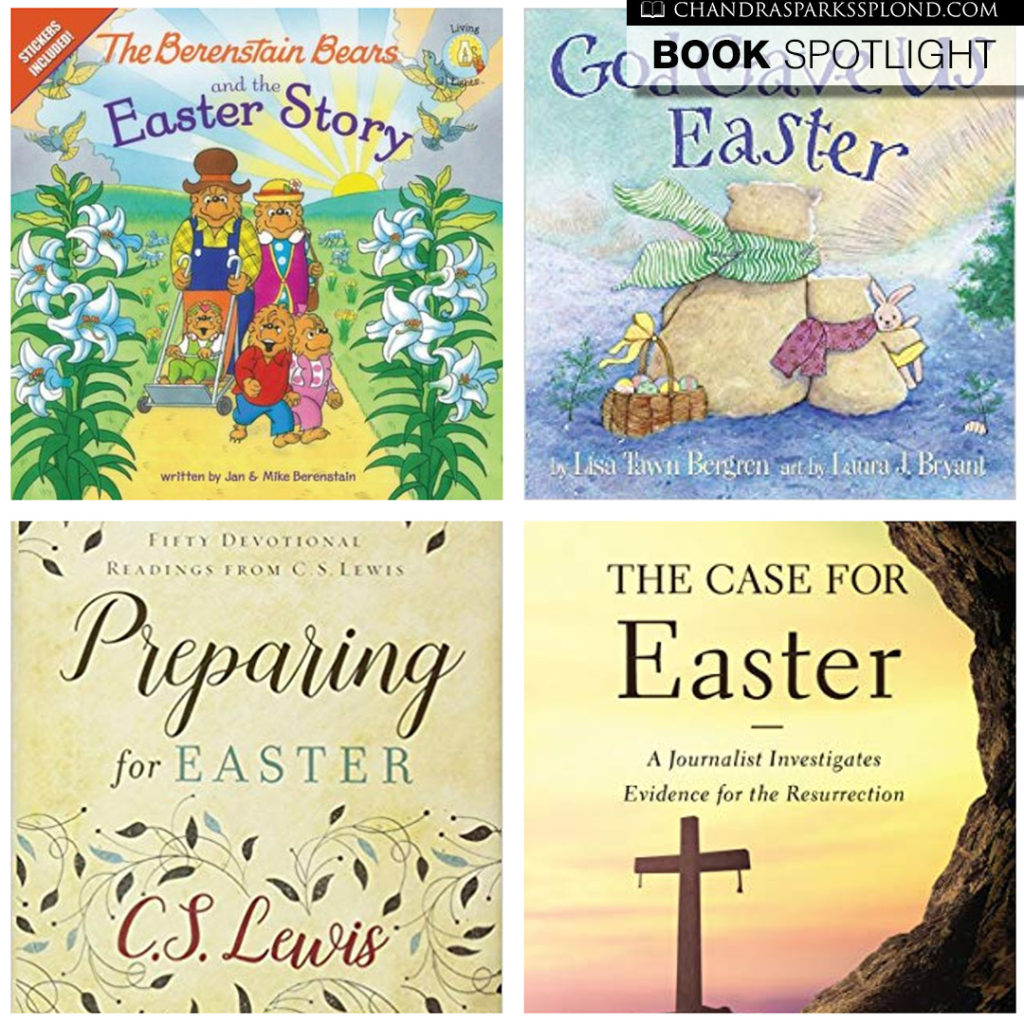 Looking to learn more about the resurrection? Use my affiliate links to check out these books for you and your family.
The Berenstain Bears and the Easter Story
Mike Berenstain and Jan Berenstain

The Bear cubs are candy-crazy this Easter! But Missus Ursula and some Sunday school students tell the cubs about Jesus's resurrection and show them that salvation is much sweeter than candy! Includes a sheet of colorful stickers!
God Gave Us Easter
Lisa Tawn Bergren
As Little Cub celebrates Easter with Papa, Mama, and her brother and sister, she begins to ask her papa questions about this very special day of the year.  Papa lovingly explains God's plans for his children, while taking Little Cub on a memorable walk through her stunning Arctic world, and he shares how Easter came about in clear, simple terms that even the littlest cubs can understand.
Preparing for Easter: Fifty Devotional Readings from C. S. Lewis
C.S. Lewis
Preparing for Easter is a concise, handy companion for the faithful of all Christian traditions and the curious to help them deepen their knowledge and consideration of this holy season—a time of reflection as we consider Jesus's sacrifice and his joyous rise from the dead.
Carefully curated, each selection in Preparing for Easter draws on a major theme in Lewis's writings on the Christian life, as well as others that consider why we can have confident faith in what happened on the cross.
The Case for Easter: A Journalist Investigates Evidence for the Resurrection
Lee Strobel
Did Jesus of Nazareth really rise from the dead?
Of the many world religions, only one claims that its founder returned from the grave. The resurrection of Jesus Christ is the very cornerstone of Christianity.
But a dead man coming back to life? In our sophisticated age, when myth has given way to science, who can take such a claim seriously? Some argue that Jesus never died on the cross. Conflicting accounts make the empty tomb seem suspect.
How credible is the evidence for–and against–the resurrection? Focusing his award-winning skills as a legal journalist on history's most compelling enigma, Lee Strobel retraces the startling findings that led him from atheism to belief.  He examines:
The Medical Evidence–Was Jesus' death a sham and his resurrection a hoax?
The Evidence of the Missing Body–Was Jesus' body really absent from his tomb?
The Evidence of Appearances–Was Jesus seen alive after his death on the cross?
Written in a hard-hitting journalistic style, The Case for Easter probes the core issues of the resurrection. Jesus Christ, risen from the dead: superstitious myth or life-changing reality? The evidence is in. The verdict is up to you.