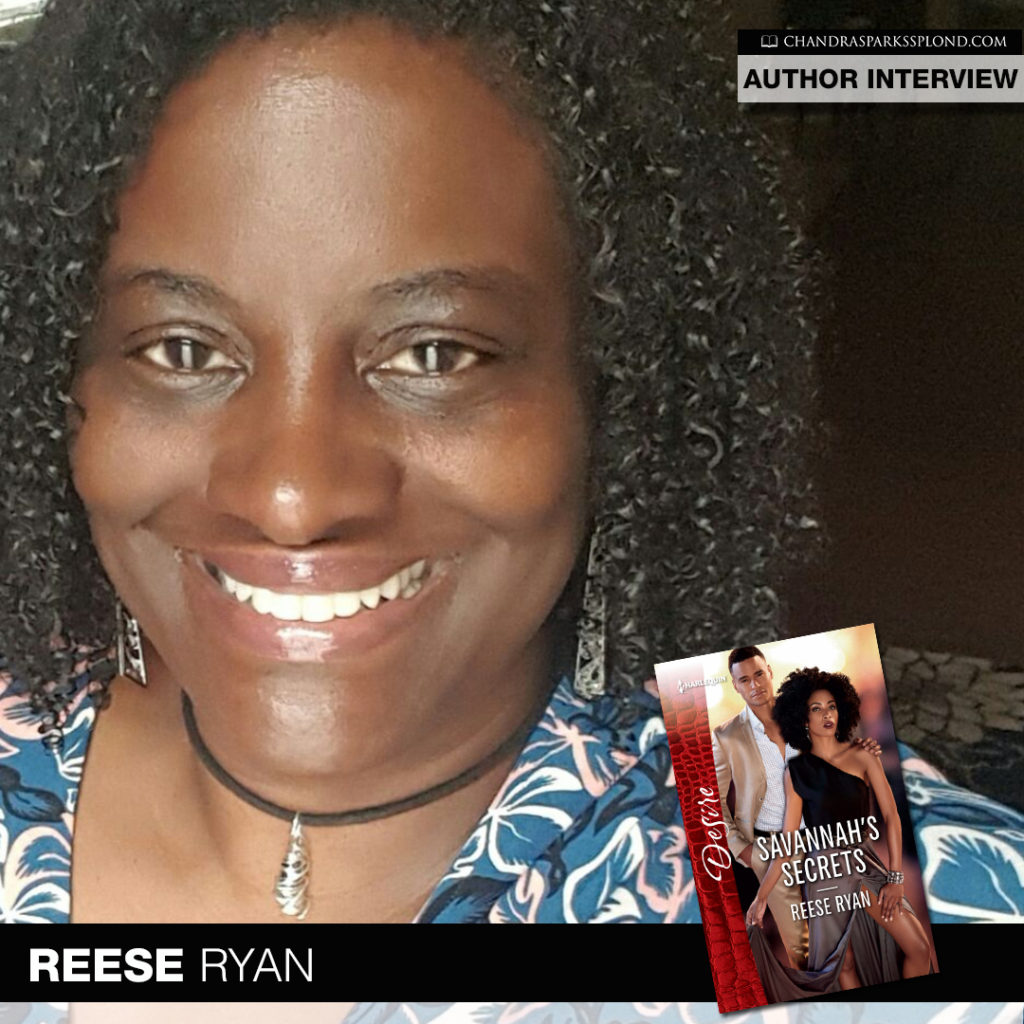 It's no secret author Reese Ryan loves romance. I recently spoke with her about her latest release, Savannah's Secrets.
Tell me about your book, Savannah's Secrets.
Savannah Carlisle believes that Blake Abbott and his family—owners of the King's Finest Distillery—stole her family's future through deception and treachery, and she's hatched a plan to infiltrate their organization and prove her family's claim. Only the Abbott family aren't the monsters she was led to believe they were, especially the handsome and tempting eldest son, Blake Abbott. Savannah and Blake make a lasting connection while stranded together one stormy weekend, but will it survive once her true mission comes to light?
Savannah's Secrets is my take on the Hatfields and the McCoys. It's a fun, sexy, drama-filled ride with lots of memorable secondary characters.
Why did you decide to write it?
I was invited to pitch a series to Desire and I was intrigued by this idea of a Bourbon Empire and a family feud. So I set it in the state of Tennessee, the state my mother's family is from.
What do you want readers to learn from the story?
The themes explored in Savannah's Secrets are the power of love and family and the destructiveness of secrets and lies.
You have several books planned for this year. How do you juggle writing with the rest of your life?
Honestly, it's quite challenging for a chronic procrastinator. So I've yet to figure it out. But that never prevents me from believing that eventually I will. LOL.
What advice do you have for readers interested in writing romance?
To be a good writer, one must be an avid reader. So read widely in the genres you want to write in. If books in that genre don't appeal to you, write in a genre that does appeal to you, whether it's a sub-genre of romance or a different genre altogether. Also, have an open mind and be willing to do the work to learn your craft. This can be achieved by reading craft books written by experienced writers and by attending online and live writers' workshops. With all of the reasonably priced online writing workshop options available through organizations like RWA, you can learn just about any element of the craft of writing. Lastly, write, and do it often. The only way to become a better writer is by writing.
What's next for Reese Ryan?
My April release is Seduced in San Diego, part of Kimani's Millionaire Moguls San Diego trilogy. On the writing front, I just submitted my next Harlequin Desire book,The Billionaire's Twins, which will be released in October. Though it is not part of The Bourbon Brothers series, it takes place in Magnolia Lake, and readers will encounter several of the characters they met in Savannah's Secrets. The book I'm currently writing, His Until Midnight, is part of Desire's popular, ongoing Texas Cattleman's Club series. That book will be released in December of this year.
Who is your favorite romance author and why?
I don't have a single favorite romance author, and my taste changes over time. But some of my current favorites are Beverly Jenkins, Maisey Yates, Delaney Diamond, Rochelle Alers, and Tiffany Reisz.
Do you have anything you would like to add?
Thank you so much for inviting me to be a guest on your blog and for shining a light on authors of color!
To learn more about Reese Ryan, visit her website or connect with her on social media.
Instagram: instagram.com/reeseryanwrites/ 
Facebook: https://www.facebook.com/ReeseRyanWrites/
FB Readers Group: bit.ly/VIPReadersLounge
Twitter: https://twitter.com/ReeseRyanWrites