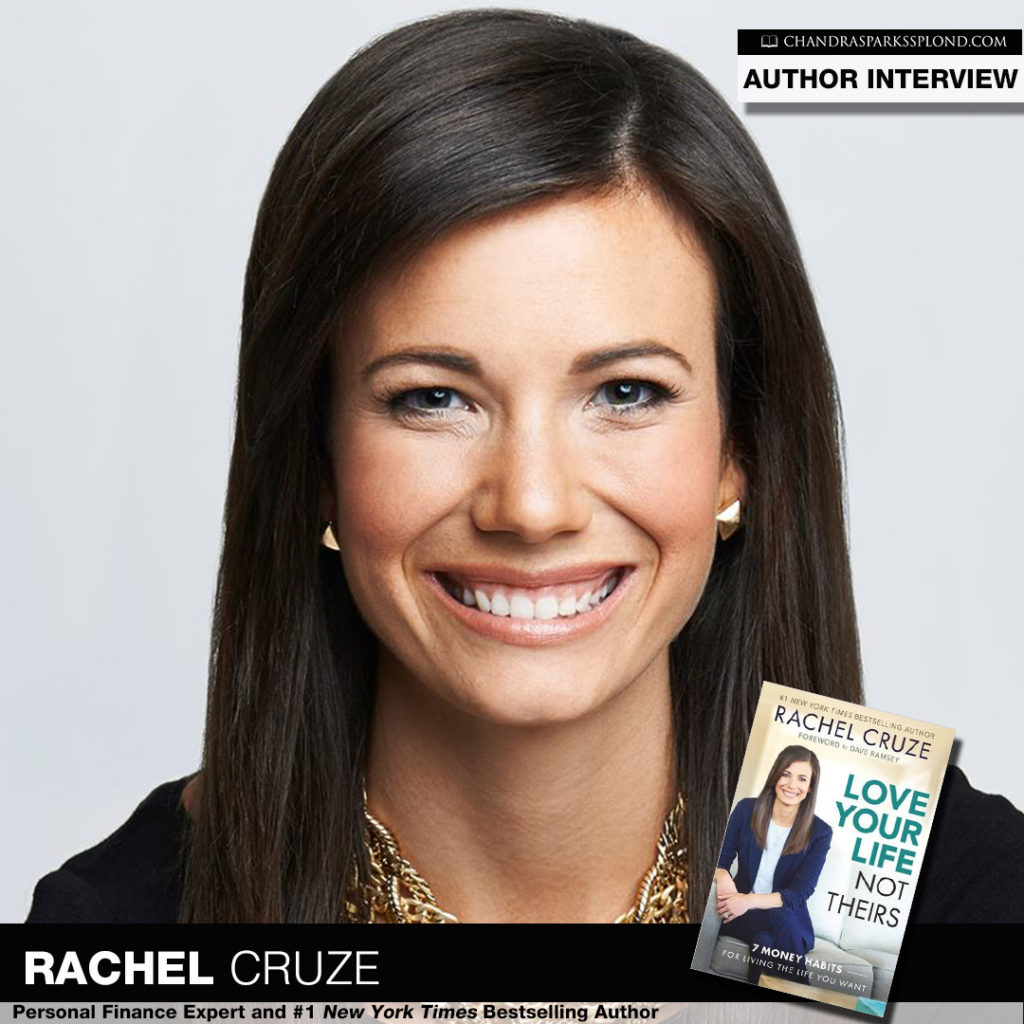 Do you find yourself envious of other people's lifestyle. Maybe it's time for you to create the life you crave. I'm excited to talk with personal finance expert and number one New York Times bestselling author Rachel Cruze about her new book, Love Your Life, Not Theirs.
Tell me about your book Love Your Life, Not Theirs.
Social media has made "the Joneses" more present than ever and comparing our lives to others far too easy. Many people are struggling with their money, but we don't always see that side of the picture. So we compare our behind the scenes with other people's highlight reels without even realizing it. When you quit the comparisons and reframe the way you think about money, your money habits will start to change. In Love Your Life, Not Theirs, I walk people through seven money habits to live the life they want without debt, stress and worry. Habits like steering clear of debt, making a plan for your money and talking about money (even when it's hard).
Why did you plan to write it?
I was inspired to write this book because it's relatable to where I am in my life now. As I travel around the country and talk to people, I've noticed a recurring trend—comparison living. We're letting other people dictate how we spend our lives and our paychecks. I want people to realize that when they're scrolling through social media, they're seeing people's highlight reels, not the entire picture. When they see a friend's newly remodeled kitchen, they don't see the second mortgage they took out to fund the project, which may be causing money fights and stress on their marriage. I want to empower people to have tunnel vision when it comes to their money. I want them to focus on their own values and spend their money according to their values, not someone else's.
How do you plan to celebrate its release?
We will celebrate the release of Love Your Life, Not Theirs with a 12-city book tour, which will kick off in New York City on October 3, 2016. In each city, I'll host a book signing to meet and greet people, answer questions and take photos. We'll also be giving away a cash prize at each signing! For a list of those cities, go to www.RachelCruze.com.
What is the biggest lesson you want readers to learn from the book?
Habits affect every part of our lives, including our health, careers, productivity, relationships, and especially our money. We all have money habits. Some are good, and some are bad. Some take us closer to where we want to be, while others take us further and further away.
The truth is, though, breaking bad money habits and replacing them with good ones can be easier said than done—especially if you don't realize how much your bad money habits are wrecking your life. But if you want to change your life, if you want to do the things you've always wanted to do and buy the things you've always wanted to buy and go to the places you've always wanted to go to, then you're going to have to find that motivation to change your money habits.
I want to encourage people to make wise choices—and to build healthy habits—moving forward. I can't promise it'll be easy, but I can promise it will lead to a happier, healthier, more peaceful life—a life without all the debt, stress, and worry that so many of people are dealing with right now.
What is the best financial advice you've ever received?
My dad has always said to be intentional with money. Being intentional allows you to know where your money is going so you can avoid debt and overspending. When you're intentional with your money, you can save, spend wisely, and give freely.
What is the biggest lesson you want readers to learn from your life?
I believe most people fail to steer clear of debt because they simply don't believe they can. I want to show people that you can live the life you want, and buy and do the things you want without debt. I want to show people how freeing a life without debt can be.
What's the worst financial mistake you've ever made, and how did you resolve it?
Because my parents raised me to be intentional with my money and steer clear of debt, I've been fortunate enough not to make some of the detrimental mistakes we see so often today. But, that doesn't mean I'm perfect. I still have to keep myself in check. For instance, one time I was traveling for work and had some free time to do some shopping. My husband, Winston, and I have always had a line item for clothing in our budget. It's something I love to spend money on. I got carried away with all the great deals I found, and totally busted the budget! And to make matters worse, I didn't call Winston right away to let him know. I eventually told him that I went over budget and we worked it out. But since I'm a natural spender, I have to be careful not to overspend and lose sight of the plan we've laid out for our money.
What's next for Rachel Cruze?
Right now I'm focusing on the launch of Love Your Life, Not Theirs. I'm so excited about the release of this book because it addresses topics I know so many people struggle with.
Do you have anything you would like to add?
You have the opportunity to create the life you want. Though it may not feel like it right now, it's within reach—not thirty years from now, but right now. Change happens when you own up to the choices you make. If you don't like the outcomes you've created for yourself, such as debt, money stress, or dissatisfaction in general, then start making different choices that will create new habits in your life.
Use my affiliate link to purchase your copy of Love Your Life, Not Theirs.