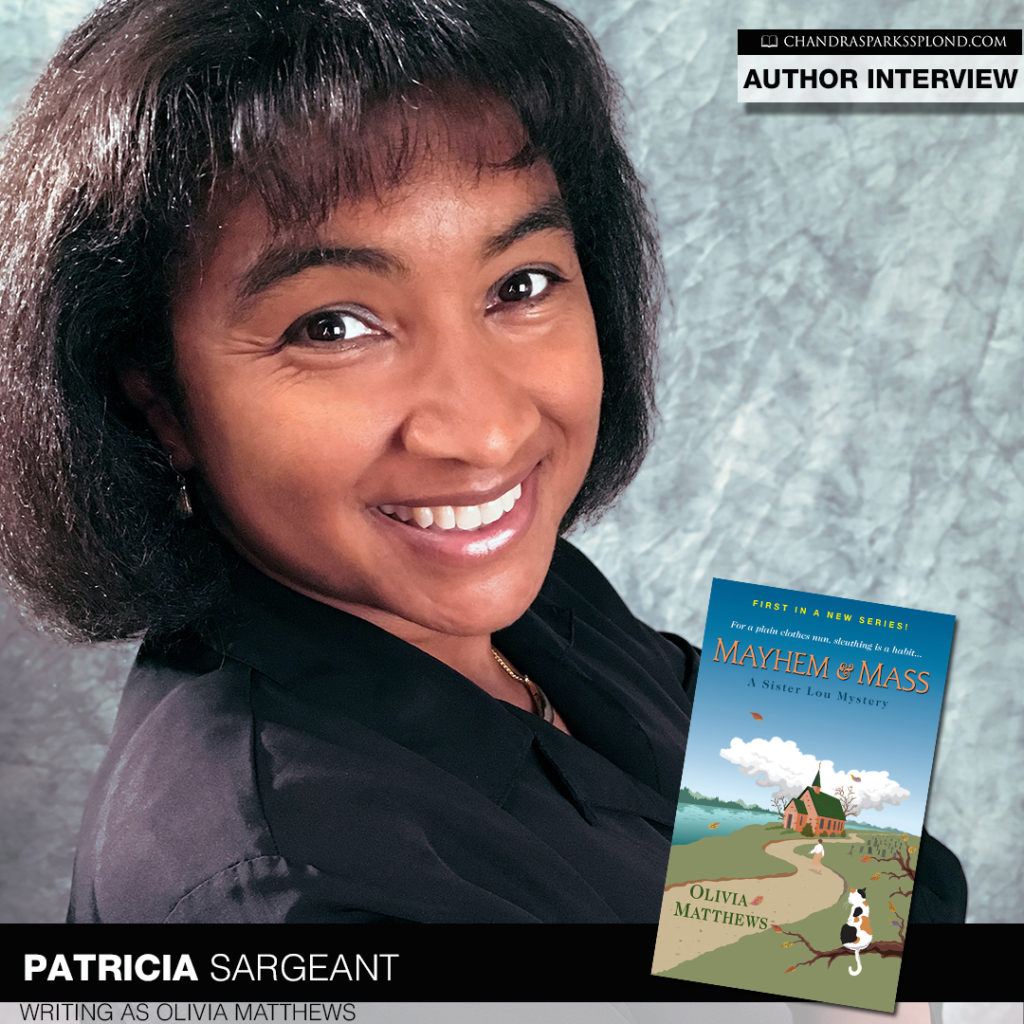 Author Patricia Sargeant writing as Olivia Matthews is looking to correct the negative stereotype of Catholic sisters and nuns with her new cozy mystery, Mayhem & Mass.
Tell me about your latest book, Mayhem & Mass.
Hi, Chandra! Thank you for allowing me to visit with your blog community again. I had a wonderful time on my previous visit, and I'm so happy to be back. Thank you also for asking about Mayhem & Mass. I'm super excited about its release.
Mayhem & Mass: A Sister Lou Mystery is the first book in my first-ever cozy mystery series. I'm writing the series as Olivia Matthews. The stories feature a Catholic sister. She's a sister, not a nun. Sister Louise "Lou" LaSalle finds herself in the position of having to help solve murders. She's an amateur sleuth by chance, not by choice. But she's fortunate to have the help of a very assertive and diligent investigative reporter, Sharelle "Shari" Henson, and her overprotective, socially well-connected nephew, Christian "Chris" LaSalle. Mayhem & Mass: A Sister Lou Mystery goes on sale in print and in electronic format Nov. 28, 2017, but it's available for preorder now.
Why did you decide to write it?
Oh, this is a great question! Thank you so much for asking it. I had the pleasure of working with a congregation of Catholic sisters, the Congregation of the Dominican Sisters of Peace. During my association with them, I learned so much about the congregation's history, the impressive backgrounds of the congregation's sisters and most importantly, the wonderful, inspiring, courageous work they do in our community and around the world. I think society as a whole is done a great disservice by the stereotypes presented of Catholic religious women. These women aren't mirthless, judgmental, one-dimensional people relegated to the shadows and concerned only about the past. The women I know are amazing, brilliant, courageous, warm, welcoming people who are very involved in and outspoken about social justice issues all over the world. They inspire other people to become involved as well. I hope that through my Sister Lou Mystery series I'm able to help dispel the unfortunate stereotypes and share their stories. I'd also like to recommend the book If Nuns Ruled the World by Jo Piazza. Fabulous book. I read it as part of my research for my Sister Lou Mystery series.
What do you want readers to learn from the story?
I hope my Sister Lou Mystery series helps to correct the negative stereotype of Catholic sisters and nuns, and replaces that false image with a more correct representation of these women as caring, positive, courageous people with a ceaseless drive to help the members of our community who are in need; and by "community," I mean the world.
What do you want readers to learn from your life?
Whoa! I don't feel quite equipped to answer this question. I'm still living my life. Ha! But there is one thing I'd like to share. I've learned this from my family and from good friends who believe in me – and also from greeting cards: Don't ever give up on yourself. Know that you are smart enough, talented enough, good enough to realize your dream. Don't ever give up on yourself. Don't listen to the voices that try to plant seeds of doubt in your mind. Don't be discouraged if someone asks you, "Why is it taking you so long to achieve your dream?" It takes as long as it takes. It took me 15 years to get my first publishing contract. Did I want to give up? Yes!!! If this wasn't a PG-rated blog, I'd throw a couple of spicy words in there, too. But I didn't give up. Now, my 18th book comes out in November and I have three books scheduled after that one. Don't ever give up on yourself.
Who is your favorite author and why?
I don't know anyone who has just one favorite author. I bet you don't have just one favorite author, do you, Chandra? Come on; admit it. Ha! I have a lot of favorite authors and the list grows every year. The authors I admire are people who don't just write books. They tell stories. Their pages are filled with characters and adventures that are different and imaginative. And I can tell by the way they construct their sentences that they love words.
What's next for Olivia Matthews/Patricia Sargeant?
I love that you worded your question this way. Thank you! Next up for Olivia Matthews are two more Sister Lou Mystery books: Peril & Prayer is a June 2018 release. The third story, Alibis & Angels is a 2019 release. I'm tremendously excited by these stories.
Patricia Sargeant also has some very exciting projects on the calendar. The fifth book in the Brooklyn Monarchs series, Game Time Decision, will be released in 2018. I'm also thrilled and tremendously proud to be involved with 11 other authors in an epic historical romance series that launches in 2018. Decades: A Journey of African American Romance is a 12-book series. Each month in 2018, a new story will be released featuring a romance set in the historical backdrop of one of the decades between the 1900s and 2010s. For more information on this historical romance series, I hope members of your blog community will Like and Follow the Decades: A Journey of African American Romance Facebook page.
To learn more about Olivia Matthews/Patricia Sargeant, visit her website or connect with her via social media.
Email: [email protected]
Website: PatriciaSargeant.com
Facebook: https://www.facebook.com/patricia.sargeant.9
Twitter: https://twitter.com/BooksbyPatricia