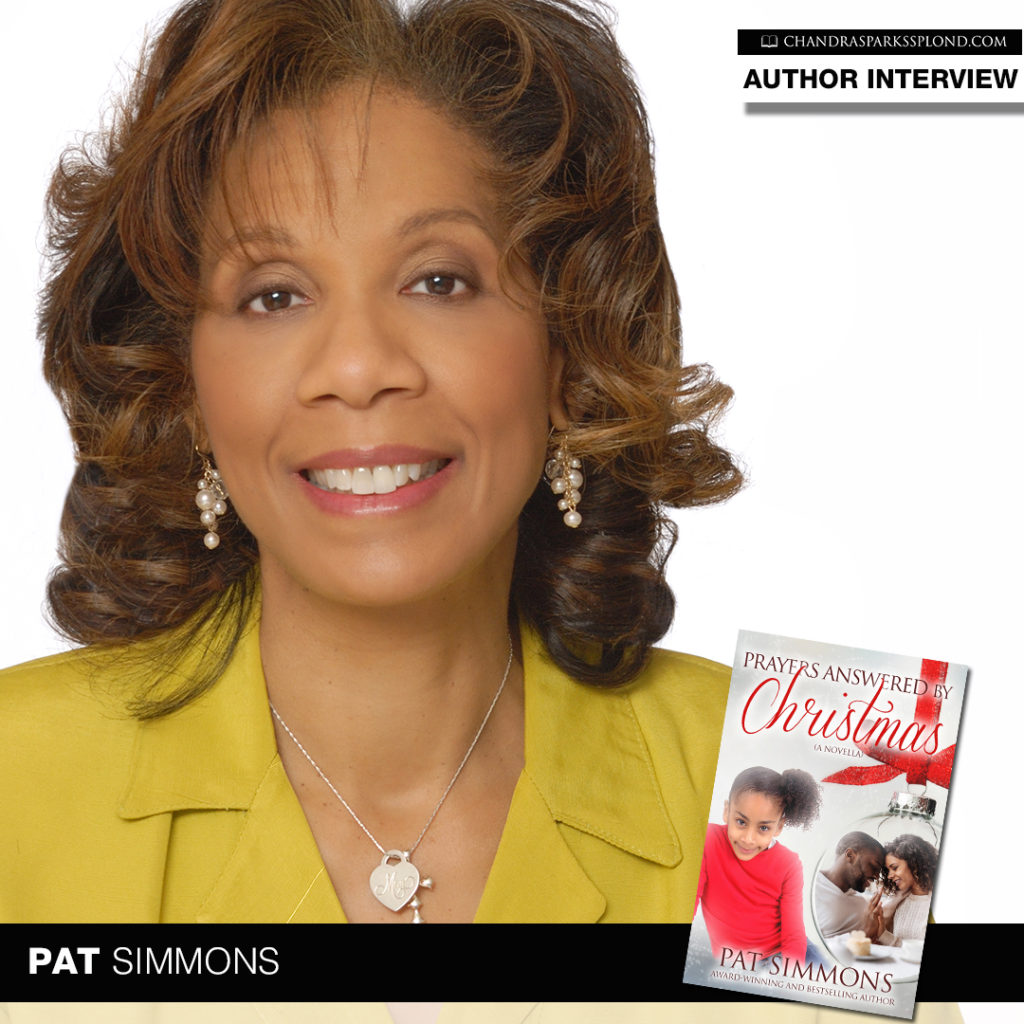 Christian romance author Pat Simmons is answering readers' prayers with a new book for the holidays. I recently spoke with Simmons about Prayers Answered by Christmas.
 Tell me about your latest book, Prayers Answered by Christmas.
It's the sequel to Couple By Christmas. In Prayers Answered By Christmas, while other children are compiling their lists for a fictional Santa, eight-year-old Mikaela Washington is on her knees, making her requests known to the Lord: One mommy for Christmas please. Portia Hunter refuses to let her ex-husband cheat her out of the family she wants. Her prayer is for God to send the right man into her life. Marlon Washington will do anything for his two little girls, but can he find a mommy for them and a love for himself? Since Christmas is the time of year to remember the many gifts God has given men, maybe these three souls will get their heart's desire. It's about a little girl who believes in the power of prayer over the commercial figure Santa Claus.
Why did you decide to write it?
Writing Couple By Christmas last year was fun and inspiring, so this year, I wanted to continue my focus on a child's relationship with God. I think some adults put too much effort in instilling the notion of Santa Claus into children's head while pushing God to the background, so I'm hoping this will open my readers' eyes about the true meaning of the season.
What do you want readers to learn from the story?
This may sound silly, but I want readers to give God a chance when they celebrate Christmas. The Bible says to bring children to Him and we must come to God with the humbleness of a child. This story is to showcase the simplicity of a relationship with God. There is no minimum or maximum age to receive God's salvation.
What do you want readers to learn from your life?
I believe in impressing God with my relationship with Him. Somebody has to live holy as the Lord has instructed. Why not me to the best of my ability? I don't believe in searching the Scriptures to find loopholes to sin.
Who is your favorite author and why?
That's always a hard question to answer, because it depends on the genre. I enjoy non-fiction like The Warmth from the Other Sun by Isabel Wilkerson. In the Christian romance, I'm careful to choose stories without sex scenes and profanity. Yep, even in the Christian genre. I always enjoy Unoma Nwankwor's stories because her male characters remind me of my Jamieson men.
What's next for Pat Simmons?
The popularity of the Jamieson clan continues, so I'm working on Jamieson Family Night Special Edition that I hope to release sometime next year. Before that, I'll introduce book one in the Caregivers series, originally called Mystery of Love, but I renamed it to My Rock.
Do you have anything you would like to add?
I want to thank readers for supporting my work.  1 click + 1 friend = 2 sales.
To learn more about Pat Simmons, visit her website.