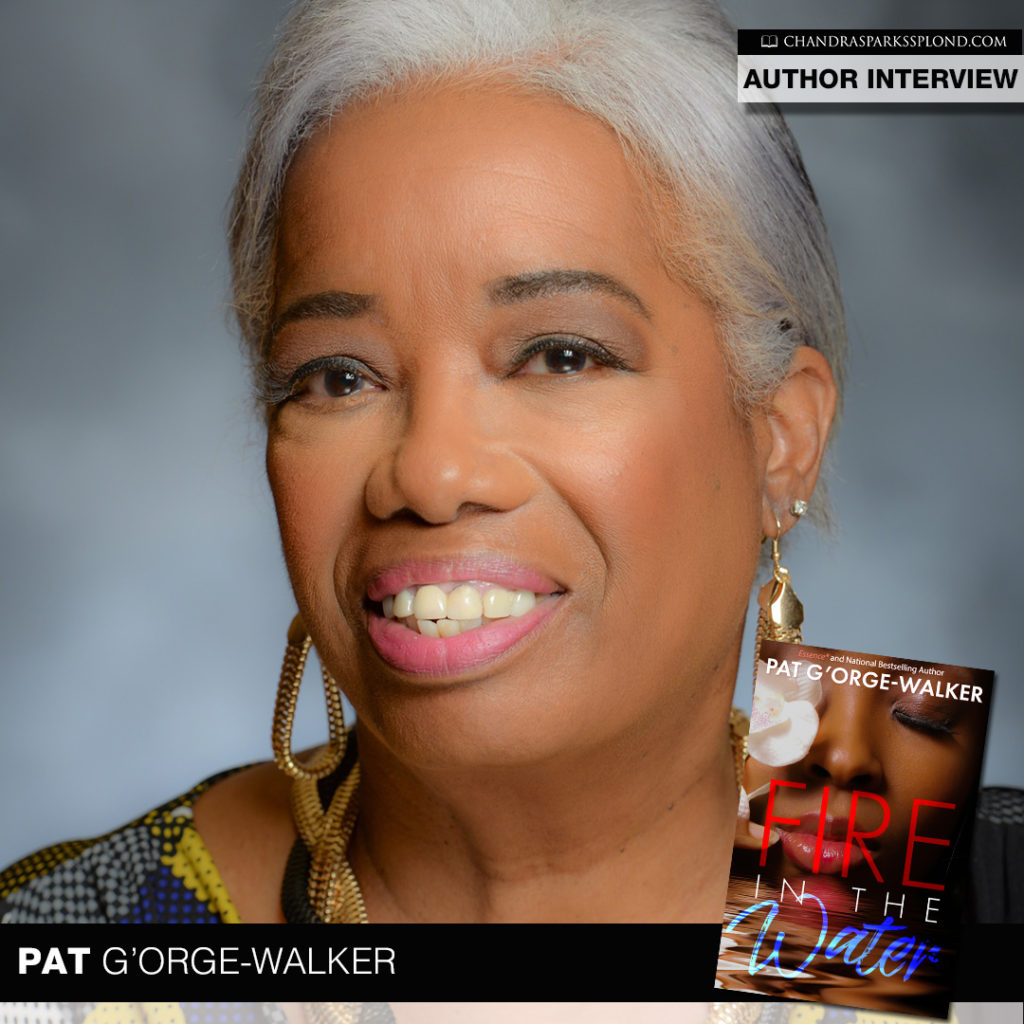 Pat G'Orge-Walker is visiting today to share an excerpt from her latest release, Fire in the Water.
Celeste Francois
Unlike the pigeons that happily pecked at crumbs on the dirty sidewalk below her apartment, Brooklyn's own unlucky pigeon, Celeste Francois, felt like a hostage. For several years, she'd been tied and strangled by the ropes of poverty. She had given in to believing she'd never leave that New York borough and become a dove.
She'd been awake since the sun came on duty earlier, still lying across her full-size bed, summoning all her overweight ancestors to come to her aid.
While the weather outside was warm and welcoming that morning, inside Celeste Francois' tiny apartment, a storm was brewing.
"I am more than a conqueror," she told herself. Unfortunately, no amount of self-convincing or hypnotism in the world could conquer all her belly fat. She found ways to camouflage it over the past nine years, off and on, by wearing the latest late-night 'Get-Skinny-Quick' gimmick that never worked. Her daily routine consisted of trying to cram her pounds of the post-pregnancy fat into a pair of plus size jeans.
"This don't make no doggone sense," she pined, groaning with all the effort. "I just bought these a month ago." She rolled her eyes to the ceiling while thinking of a million other things she'd rather do on her thirty-fifth birthday.
"Mama, please hurry. We're hungry."
The plea came from her ten year-old identical twins, Jeannette and Jonnay, her mini-me opinionated girls. When they weren't working her nerves, she did everything to spoil them. She had very little, but was filled with determination to give the pair of energetic, coffee-colored, four-foot ninety pounds of pig-tailed, dawn-to-evening questioning kids, the love and attention she'd never received from her parents.
Looking away from Celeste, the twins twisted their lips trying to hide the sneer they knew might bring them closer to a threat of a spanking than they'd want.
Under her steely gaze, they swallowed their comments but glanced at each other. With complaints silently shared—a twin-thing they'd learned at a young age—they continued struggling to balance a huge box between them.
The twins had remained silent, but it didn't stop Celeste from ranting as though she'd read their minds. "Will you two just stop aggravating me?" Celeste snapped. Sweat popped from her forehead as she motioned to herself. "You two see I'm trying to get dressed."
Jeannette, a bit older than her twin by almost three minutes, replied dryly, "Ain't nobody trying to aggravate you, Mama. One of them moving men say they done you a favor even coming here yesterday and today. He said he's gonna just put the rest of your 'crappy' stuff back on the truck." She took a deep breath. "He say he's gonna drive off if you don't pay them the rest of they money."
Jeannette quickly lifted her chin and nodded at her twin. "Didn't he say that, Jonnay?"
Jonnay, following her sister's lead as always, sighed. "He sure did." Her hands jerked as she shifted her end of the box, filled to the top with her mama's good dishes. "And I'm getting tired."
Celeste moaned, and stared at the ceiling. She grimaced, and then set her face in a determined mask despite the pain.
Maybe it was tiredness that made Jonnay forget her second-place status. She went full rogue and wasn't through complaining.
"That other man," she began, "the one smelling like a skunk wearing bad vanilla—like you always say when somebody is stinking—said that 'cause you went out a time or two wasn't enough reason to let you slide on the rest, Mama." She sped up to get the rest of her report out. "He was even winking like something was in his eyes when he said to tell you that. And then he said, real loud, like he wanted everybody outside to hear, that y'all can discuss it like y'all used to." She hunched her shoulders adding, "Whatever that means."
"Yeah, but­—" Jeannette chimed in. "That other man with those black ashy ears like a homeless bunny rabbit said there wasn't gonna be no discussion. Just pay him his—" she frowned. "He said a bad word—money."
Defeated, Celeste lowered her head to her chin. Struggling, Celeste threw her head back onto the pillow. "C'mon now." She gritted her teeth. Her hips bobbed like two overripe cantaloupes with stretch marks. "Finally," she announced as the jeans made its way to her waist without getting anything caught in its zipper.
Celeste slid off the side of the bed and didn't so much as blink. She gestured with a flip of one hand, ordering, "Sit it in the corner next to the refrigerator." Then, she slipped into a pair of house shoes that once had two-inch heels. Over time, her weight had turned them into a pair of no-inch flats.
Jonnay scanned the room, then looked at her sister as though waiting for Jeannette's approval to speak. Her brown eyes narrowed as she inquired, "Mama, where's the rest of the kitchen? When we got here last night, I thought it was bigger."
"Yeah, Mama," Jeannette, added. "The last three places we lived we didn't have to walk out of it and turn around to get to the stove." She tossed the question to her sister. "Ain't that right, Jonnay?"
Jonnay nodded. "Didn't have to think about opening the fridge first to get inside the oven or the other way round, too."
Celeste frowned at the girls, resting her hands on her massive hips. Her head swung between them, giving each the old Southern Mama's 'evil eye'.
The girls gulped and swallowed whatever words were on the tip of their tongues as they trotted away to do as they were ordered.
Celeste hung her head, whispering a prayer. "Lord, how long do I have to live like this? Can I at least catch a break on my birthday?" Not waiting for an answer, or truly expecting one, she opened the door and waddled down to the steps from her one-bedroom, third-floor walk-up apartment.
"Those girls deserve better than this," she whispered. "It doesn't make no sense I need to keep moving because I don't always have the rent." Winded, she stopped and rested against a wooden bannister for a moment.
Two flights down to go and two angry men awaited; one wanting money, the other want "something" more. Celeste simply wanted some peace of mind and a better life for her girls. And, if life would finally be so kind, she'd also like to get her hands around Sanjay Thomas' neck and send him to meet his maker.
*****
Sanjay Thomas
Back inside his home, Sanjay pondered what had just gone down and the real or perceived threat of being discovered by the female reporter who hadn't accepted 'not interested' as an answer.
Sure, he was riding high now, yet eleven years ago he couldn't have caught a ride in a three-wheeled shopping cart. Back then, he had two patched shirts, two pairs of dark-colored pants, and a pair of shoes that had seen the inside of an old shoe repair shop more than the shop's resident roaches.
Things hadn't always been that way. The year before he'd joined the near-homeless population, he'd co-written a song for a chart-topping album. Being dumb and naïve, he'd practically given away most of his publishing rights to his co-writer, Jackson Lamont, and settled for a big advance. He never dreamed his song would be nominated for a Grammy. It didn't win, but he received the necessary recognition for his efforts He did have a problem, though. He'd spent that advance money on wine and women and never got around to writing another song. His bedroom had a revolving door, letting women in and out within an hour or two. Sometimes, he hadn't bothered to get their names or ages. What he should've been doing was revolving his butt on that piano bench and cranking out another hit or two.
Despite the dwindling finances, he played one expensive game too many. His life took a downward plunge on the night he decided to play fast and loose with Celeste Francois, an upcoming successful romance writer.
They'd met eleven years ago during a meet and greet for her latest book, Mediterranean Rhapsody, at the Lavish Publishing Company party in downtown New York City. He was low on money and had returned to gigging. That night, he put aside his anger at what Jackson had done, and tucked away the jealousy that Jackson had succeeded on the strength of Sanjay's creativity. As an olive branch, Jackson reached out to him and extended an offer for Sanjay to play piano with a five-piece Ska-Rock Funk band that Jackson managed.
Once Sanjay realized that Celeste was a popular and famous author—on a level where he was once as a songwriter—he'd felt a sense of kinship. Sanjay hadn't meant for things to go as far as they did. He felt comfortable in her presence that night and he dismissed his normal preferences. Celeste weighed about thirty pounds more by his standards. He'd always preferred a female who looked more like a cover girl than one who needed covering up.
After sharing several mixed drinks and nibbling at the food, the conversation turned more personal. She'd loosened up a bit and was more talkative than he had been since he was keeping his eye on Jackson who had a tendency to skip out with the cash, forcing band members to hunt him down to get their money.
"I've never been married," Celeste had shared. "Barely have opportunities for dating with writing and making deadlines taking up so much time."
"I can certainly appreciate that," he'd told her, half-heartedly.
He remembered the feeling of disappointment after she'd said that and wishing he appreciated that fame could be fleeting. If he'd done like Celeste, he would've gone on to possibly playing at Radio City Music Hall with a second shot at a Grammy.
Instead, there he sat at a book release party, having swallowed his pride and working gigs for his shady writing partner. Jackson, the same backstabbing predator he had blamed for costing him a Grammy, introduced him to underground parties where so much wickedness went on, Sanjay was repenting simply for the things he'd seen, and not anything he'd done.
"I can't totally blame Jackson," Sanjay whispered, stroking a hand over a Stellar Award that he'd won earlier that year. "I should've fought harder for what I wanted."
Including Celeste Francois
To learn more about Pat G'Orge-Walker, visit sisterbetty.com