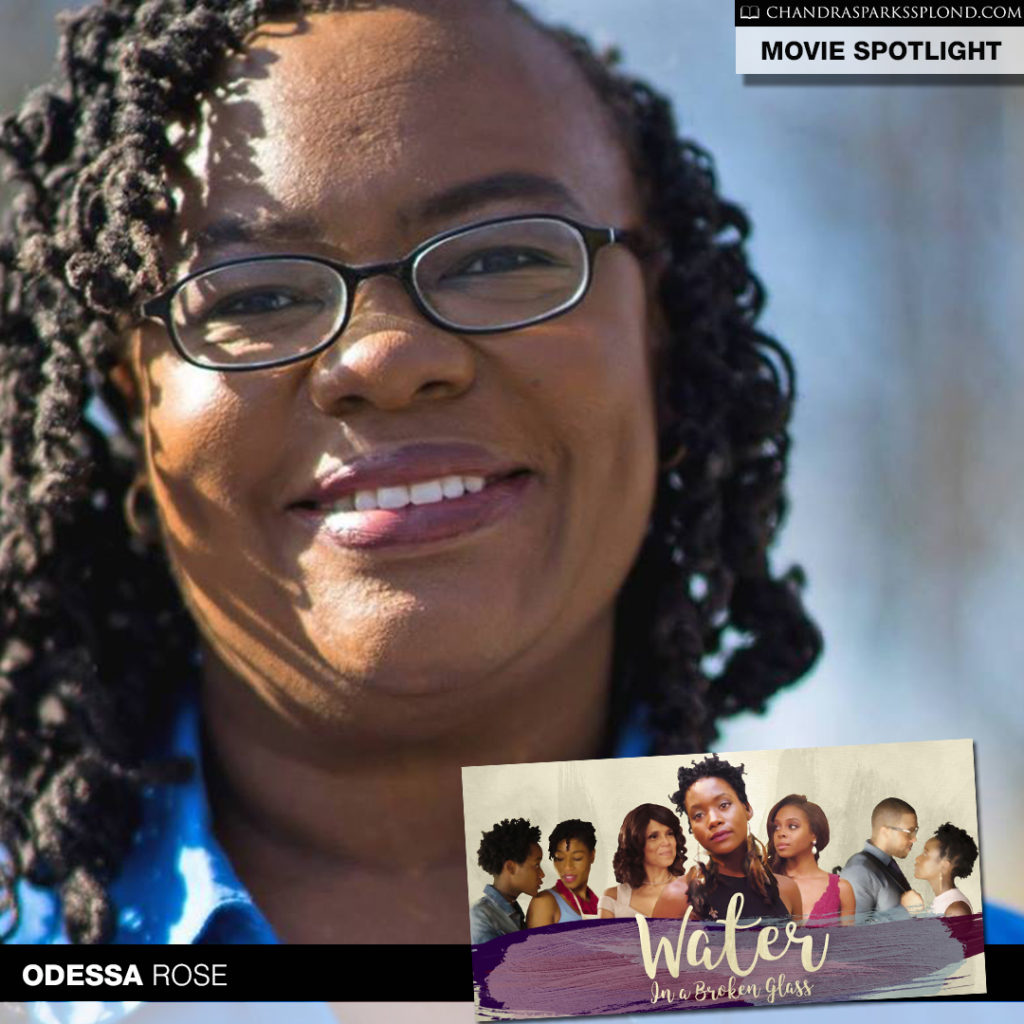 Author Odessa Rose's novel is headed to the screen. I recently spoke with her about Water In A Broken Glass.
Tell me about your movie, Water In A Broken Glass.
Water In A Broken Glass is about a painter named Tonya Mimms who becomes the centerpiece of a love triangle when she falls in love with an accountant named Malcolm Holland and a bookstore owner named Satin Pierce.  The story takes place is Baltimore, which is where it will premiere on Thursday, March 1, 2018, at the Senator Theater, 7 pm.
Why did you decide to adapt your book to the big screen?
I wish I could take the credit for Water In A Broken Glass being on the big screen, but that credit goes solely to filmmaker Jamelle Williams-Thomas.  Back in 2006, Jamelle was attending film school in California.  A friend of hers gave her a copy of Water and after reading it, Jamelle decided she wanted to turn it into a film.  She sent me an email asking for the movie rights.  After some negotiation with the publisher of Water, Jamelle received the greenlight, and 10 years later, filming began on September 15, 2016, in Baltimore.  And with the exception of my marrying my husband, Michael, and the birth of our three children, this has been the most incredible experience of my life.
What can viewers expect when they watch the movie? What can viewers expect?  They can expect to see an honest love story told like none they have seen before; a story that speaks of family, friendship, and sexuality in a voice they haven't heard; a story that forces them to ask themselves what it means to be true to yourself and if they have the strength and courage to be that free.  They can expect to see this intriguing story portrayed by the most talented, beautiful, award-winning actors in the business: Billie Krishawn-Davis as Tonya Mimms, Wes Hall as Malcolm Holland, Toni Belafonte as Satin Pierce, Candiace Dillard as Nikki, Lee Avant as Robin, Shani Ashley as Meyoki,Carlyncia Peck as Dr. Lloyd, and Victoria Rowell as Aunt Josephine.  Through the creative eye of Baltimore's own Kirby Griffin, they can expect to see some of the most beautiful cinematography ever shot of Baltimore, showing the city in a totally new and different light.  They can expect to hear a fresh soundtrack that captures the essence of Water In A Broken Glass, all written and performed by Baltimore's own recording artist Christen B.  And last but certainly not least, they can expect to be fully entertained.
What has been the hardest part of the production process? I asked Jamelle this question, and she said casting was the hardest part of the production process.  For example, casting the role of Satin Pierce was a nail-biting experience.  Jamelle had to shoot around Satin's scenes as they auditioned actresses for the role.  While the search for Satin was going on, Billie said it was going to be the hardest thing but when all hope seemed to be gone that was when the right person for the role would come along, and that's exactly what happened. The week came when Jamelle could no longer shoot without Satin.  And out of nowhere it seemed came Toni Belafonte, who was cast as Satin late Wednesday night, and Thursday morning she came straight to set and started filming.  And just as Billie said, she was perfect for the role of Satin.
What's the best business advice you have ever gotten?
The best business advice I've ever gotten is get a lawyer to read contracts before you sign them.
What advice do you have for others interested in seeing their books adapted to film?
Understand that once you sign the rights over, the film is out of your hands.  I didn't write the script, I didn't cast the actors, I didn't choose the location.  Jamelle was completely in control of all the things concerning the film.  I was blessed in the fact that Jamelle allowed me to be on set during filming, and she asked my input on small things.  Other than that, I was just a bystander, which was perfectly fine with me.  I loved every minute of it.  It was a great experience.  But you have to be able to give your baby entirely over to someone else's vision.  I was blessed in that Jamelle's vision mirrored mine.
What's the biggest lesson you've learned as an entrepreneur?
The biggest lesson I've learned is that you can't do it by yourself.
What's next for Odessa Rose?
Well, I'm shopping my third novel, Kizmic's Journey, for an agent.  I'm writing my fourth novel.  I'm also working on a piece and a foreword for two anthologies.
Do you have anything you would like to add?
I'd like to thank everyone who helped bring Water In A Broken Glass to the big screen.  We had a Indiegogo Campaign and people contributed like crazy, they shared the link, told their friends.  This wouldn't be happening without our friends and family.
To learn more about Odessa Rose, visit her website or connect with her on Facebook.