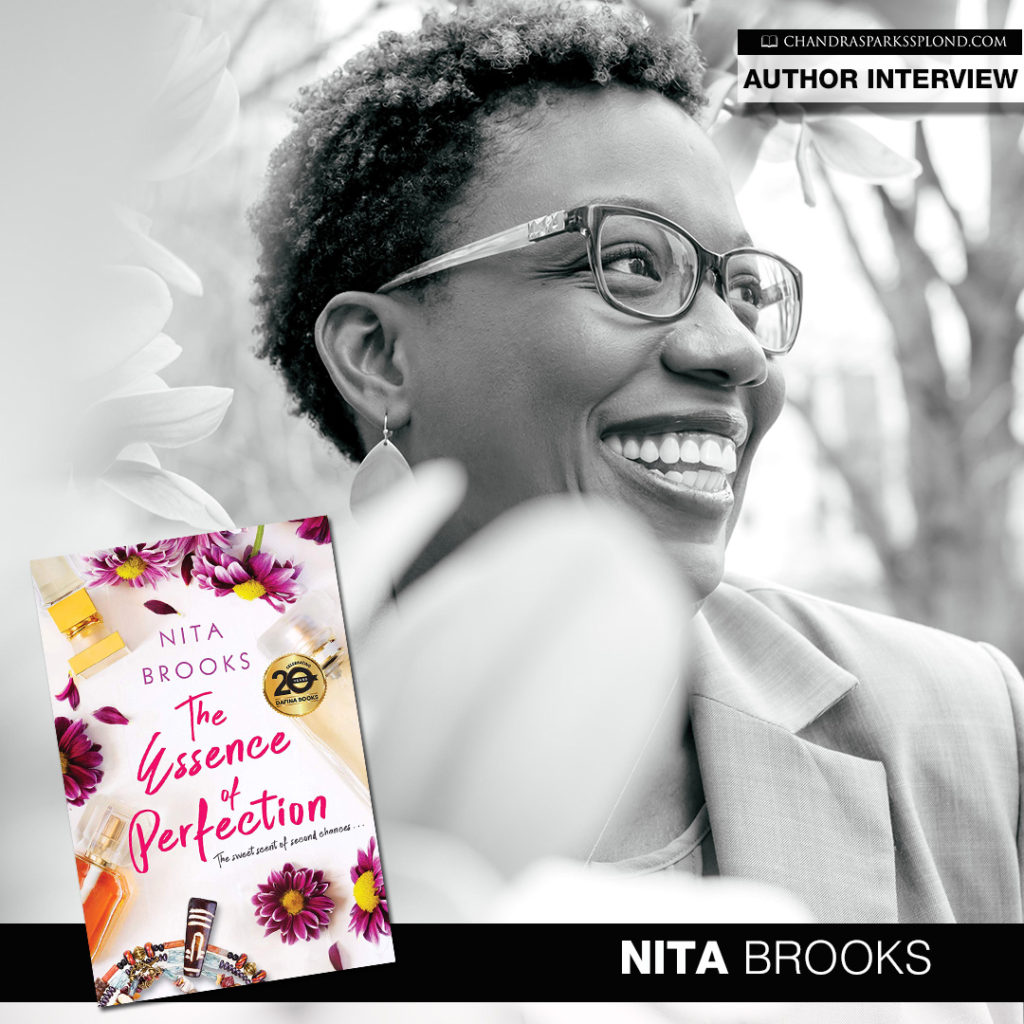 Author Nita Brooks is back with a new book. I recently spoke with her about The Essence of Perfection.
Tell me about your latest book, The Essence of Perfection.
The Essence of Perfection is about a highly sought-after perfume maker named Nicola King. Some of the richest and most famous people want her to make their perfume. Her life seems perfect, but when her list of regrets is revealed on national television, all of the things she wished she would have done is put in the spotlight. As she faces each one, she has to come to terms with one of the biggest regrets of her life, which also threatens her career.
Why did you decide to write it?
One reason is my personal love of perfume. I wear it almost daily and wanted to learn more about what goes into the process of making a scent and how they end up in stores. The other part was exploring the issue of belonging. It's something I've dealt with both in my day job and as a writer. Am I really as good as people think I am? It took some time for me to accept the compliments and believe in my abilities. Nicola goes through this in the book, and I hope readers not only appreciate the story, but learn to believe in themselves.
What do you want readers to learn from the story?
I hope readers learn that it's never too late to try something new. Nicola spent a lot of her life taking note of the things she should have done instead of doing them. Tomorrow isn't promised, so if you get the chance to try something you really want to try, go for it!
If you could pick another profession, what would it be and why?
I'd be the host of a travel show. I'd love to go around the world seeing new things and trying new foods, all on the network's dime. Lol!
What's the best part of being an author?
The best part is hearing from readers who enjoyed my story. Each email, message, or tag on social media brings a smile to my face. Often they come when I'm having a rough day and needed the extra boost.
What's the worst part of being an author?
I won't say this is the worst, but the hardest part for me is starting the next book. Sometimes it seems overwhelming, and I can't believe I actually wrote an entire novel already. Thankfully, once I get started and in the groove of the story, it gets a lot easier, and I enjoy the process.
What's next for you?
I've got a few ideas for a new book and am currently working on the proposals to get to my editor.
Do you have anything you would like to add?
Those who aren't familiar with me can check out my first book, Redesigning Happiness. It's about a celebrity interior designer starting a reality show with her perfect fiancé when secrets from her past resurface and threaten everything she's built.
Thank you for having me on your blog! I hope your readers decide to give The Essence of Perfection a try. People can learn more about me on my website, www.nitabrooks.com, on Facebook (facebook.com/authornitabrooks) Twitter and Instagram as @authornitab.
The Essence of Perfection Blurb
Among the uber-famous, she's the most highly sought-after fragrance maker—and a well-kept secret. But designing a scent for pop's newest superstar could take Nicola King and her family's business from elite to downright legendary. Of course, mystery is part of Nicola's brand—so no one knows she's actually an over-cautious person who always puts her own life on permanent hold. Until her ultra-personal list of regrets is accidentally put on a social media blast—and she's challenged to go after everything she really wants . . .
From finding a hobby to reconnecting with a family member, Nicola's getting some surprising results. But when she reveals her deepest, darkest secret of all to her troubled sister, the fallout threatens her budding romance, her career, and her reputation. Now between ambition, heartbreak, and hard truths, Nicola must risk the courage to fix the damage—and decide what success truly means . . .
Use my affiliate link to purchase your copy of The Essence of Perfection.